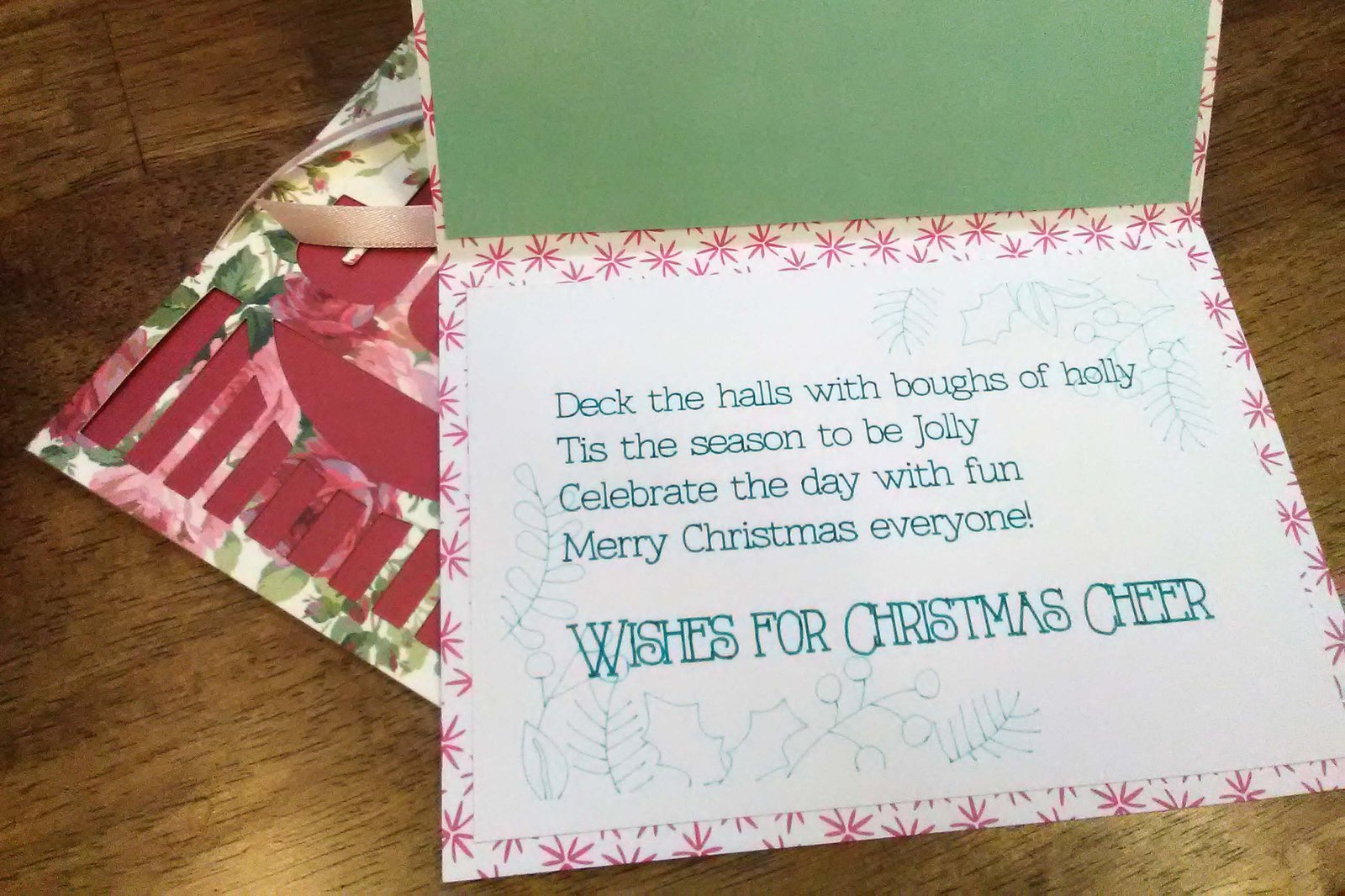 12 Sentiments for Cricut Holiday Cards
Having trouble coming up with messages for your holiday cards? Take a trip to days long past and check out these free charming sentiments from vintage greeting cards.  Use the drawing feature on your Cricut machine and Cricut pens to personalize your cards with one of these retro verses for your next cardmaking project.  But first, I'm sharing my 5 favorite Cricut paper and pen combos you can use to jump start the creative process.
5 Favorite Cricut Paper and Pen Combos
1)   This is a classic combination for holiday greetings featuring cream and glitter gold. One of the many insert card options designed for use with Cricut Joy, the glittering gold inside is revealed as your design cuts from the outer layer of the insert card. Use with Cricut Joy Card Mat and complementary glitter gel pens in black, gold, and silver.
CRICUT JOY INSERT CARDS - DIY GREETING CARD - CREAM/GOLD GLITTER, 10 CT
CRICUT JOY GLITTER GEL PENS, 0.8 MM (3) BLACK, GOLD, SILVER
2)   Turn the traditional Christmas palette on its head with this softer version in pastel pink and green. Fine point pens in midnight, jade, wine, gemstone blue, and crystal pink complement the hues of the vintage-style paper for crafting your own unique twist on holiday greetings.
CRICUT DELUXE PAPER PASTEL MEADOW
CRICUT FINE POINT PENS ANTIQUITY
3)   You'll love the vivid metallic shades of these felt-tipped markers for Cricut Joy. The metallic markers add shimmer and shine with thick, saturated lines and enhance the look of silver-lined insert cards for stylish, modern holiday cards.
CRICUT JOY INSERT CARDS - SILVER LINING SAMPLER, 10 CT
CRICUT JOY METALLIC MARKERS, 1.0 (3) VIOLET, COPPER, SILVER
4)   Craft playful holiday cards using these fun papers featuring an assortment of woodland critters.  These whimsical deer, bears and foxes will romp their way into your heart while colorful fine point pens in pink, yellow, orange, blue, and mint spread joyful messages to your friends and family.
5)   Floral lovers out there, rejoice! We have something special for you with this adhesive-backed deluxe paper designed by Anna Griffin. This mess-free papercrafting material for Cricut Joy features vintage roses and coordinating patterns and solids in pink, green and black. Fine point pens in classic black complement the look.
CRICUT JOY ADHESIVE-BACKED DELUXE PAPER -ANNA GRIFFIN ROSE, 10 CT
CRICUT JOY EXTRA FINE POINT PENS 0.3 (3) BLACK
12 Charming Vintage Card Sentiments
The dozen sentiments below were all featured on greeting cards and postcards from the early 20th century. The words and images associated with the cards are now in the public domain and available to crafters everywhere. While there are clearly some differences from modern speech and phrasing in the verses, it's maybe not surprising how little the actual sentiments themselves have changed.  If you're interested, you can check out the card images over on The Graphics Fairy.
Deck the halls with boughs of holly
Tis the season to be Jolly
Celebrate the day with fun
Merry Christmas everyone!
Wishes for Christmas Cheer
---
May every Joy that's seasonable
And every wish that's reasonable
Be granted to you this Christmas tide.
A Merry Christmas
---
One simple line will all my wish convey
God have you in His keeping day by day.
With Best Wishes for a Merry Christmas
---
Whatever is good, whatever is true
Goes with my Christmas wish to you.
A Blissful Christmas to You and Yours
---
See dear Santa's jolly face
As he comes on tip toe pace
Bringing with him joy and cheer
For all dear friends both far and near.
May Christmas Joy Fill Your Heart
---
May all your sweetest hopes come true
And make your Christmas bright for you.
A Jolly Christmas to You
---
May golden happiness
On times swift wing
Make your Christmas bright.
May All Your Hours Be Winged with Joy
---
Where'er on Christmas you may be
There may you safely rest
But Home with all its blessedness
On Christmas Day is best.
Wishing You a Merry Christmas
---
Though it's cold and gray and cloudy
That can't make Santa blue
Especially when he is flying
With good wishes straight to you.
Cheery Christmas Greetings
---
Bright hopes for the Future
Sweet Memories for the Past.
New Year Greetings
---
Had I all the wishes in the world to give
I'd give them all to you.
May Christmas Bring You Everything That You Are Wishing For
---
I find it's very hard to think
Of pretty things to say
So, I'll just send a loving wish
For a merry Christmas day.
May The Best of Christmas Cheer Be Yours
Thanks for stopping by! I'd love it if you'd share your favorite verse in the comments below.
- Lee Ann
Related Posts
12 Free Writing Fonts for Cricut Card Making
Font Websites to Use with Your Cricut