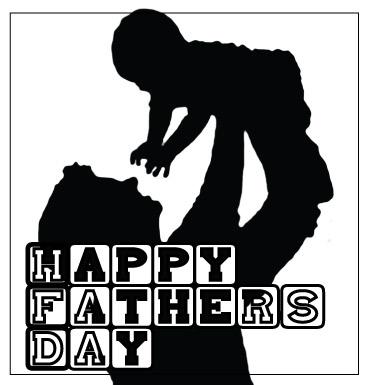 8 Father's Day Project Ideas to DIY
Father's Day is coming up fast, and I know that there is not a person I appreciate more than my husband!  He is giving and hard- working and a fantastic father to our kiddos!  I am sure you can relate, and therefore are searching high and low to find the perfect gift to give your guy.
Now there are many different types of guys out there, and I would like to make sure to cover all the bases when it comes to interests here.  I also know that you may have different areas of strength when it comes to crafting, so keep that in mind when choosing something to make, click below for some great ideas.
Let's get started!
1. Superdad
This is for the guy who can do it all, and you want to let him know!  Perhaps you have a die cutting machine and want to use a design to complete this super card, or you can use a pair of scissors and get your kids to help you by choosing a plaid or striped paper to make the outside of the shirt for this card.
2. Signs for Dad
This is a cute gift for any dad, and for any craft skill level.  This will be quick and easy to complete with a few items.  All you need is a camera and a chalk board.  You could also use a whiteboard if you have one of those too.  I would add to this project by having the kids make silly faces and unique sayings or phrases on the boards.
3. All About you Dad Basket
This basket is such a cute idea to customize for any dad too.  You can buy different items for this basket depending on your guy.  The labels are easy to change up, after you use the Free Printable Template for your basket.  Read more about this and LOTs of other great ideas over at the Dating DIvas.
4. Grill N Chill
I love this sign  because it could be used for multiple items.  It could be altered to hold tools in the garage or some other items that dad may use.  The other part of this that could be changed up to customize could be the hooks on the wood.  There are so many interesting ones that could be used on this project.  Check out more over at Lil Luna.
5. Garden Gloves of Love
These could be given to dads that are often found out in the garden.  I would suggest keeping these instead of using them in the mud, especially when paired with this poem to accompany them.  Every dad will want to cherish these sweet gloves and the words that go with them.  I found this project on Pinterest.
See these gloves daddy? They don't fit me just yet, my hand-prints are on them so you never forget.
I'm only small for a little while, So remember my hands and remember my smile. I love you daddy,
with all my heart. No matter how much I grow, we will never grow apart."
6. Bake for your Sports Fan Dad
If you love to bake, these sports fan cookies are the perfect treat for you guy.  Most sports have a "ball" so you can personalize the treats for any sport.  I think these golf cookies are adorable and you can read more about how to make these specific cookies at Sweet Sugar Belle.
7.   Comic Crazed Dad
This last idea for Father's Day is another sign suited for the Comic Book Dad.  It will thrill any dad to see these special words to describe your guy!  You could use vinyl to create this sign and use a variety of backgrounds such as a piece of wood or a canvas to paint on.  You can purchase  this sign on Etsy, or come up with your own version tailor fit to your dad:
8. The Handy Man Dad
If your Dad is into DIY, try personalizing a hammer for him.  It's a sentimental and functional gift he will love!
If you love to craft, then it seems only natural to DIY a gift for the special guy in your life for Father's Day.  Hopefully there are a few ideas here to help you figure out just what you want to make for Father's Day.  Are there any other ideas that you have found for projects for Dad this year?