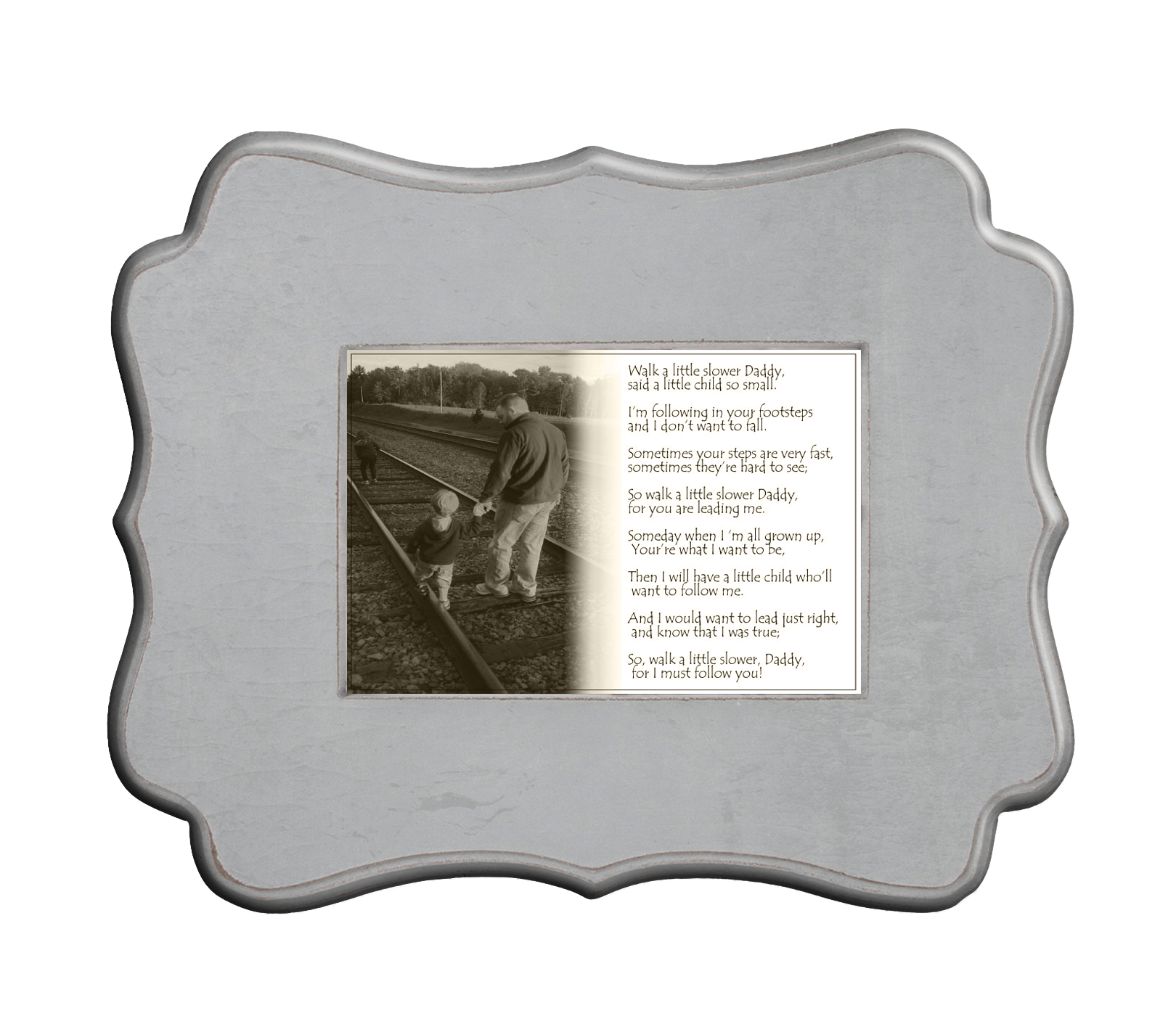 Father's Day 1-2-3 Framed Photo Gift
Father's Day is this weekend! Do you have a gift ready to give to your special guy? Whether you need to make a gift for your husband, your father or your grandfather – this one can cover them all!
This project is quick and you can literally make it in less then thirty minutes unless of course you're like me and spend hours looking through pictures to find just the perfect one.  In that case, you may need to add some additional time to this project, or if you have a specific scene in mind, just take a new picture.
Step 1.
Get a picture.
I used this one, which I though fit nicely with the poem that I chose to go with it.
It may be helpful to have a poem picked out before choosing your photo in case there is a certain theme that you are looking to have in the photo such as this one, which is called "Walk a Little Slower Daddy"- which brings us to step two….
Step 2.
Write it
Choose a poem that is fitting for your dad/husband/grandpa.  There are tons of ideas online, and if your are feeling extra creative, write it yourself.  That will add just the perfect element of personalization to this gift.  Here is the one I used for this project,  but I have kids that are still under 10, so you may need to find something more fitting for your family.
Walk a little slower Daddy
"Walk a little slower, Daddy!" said a little child so small.
"I'm following in your footsteps and i don't want to fall.
Sometimes your steps are very fast, sometimes they're hard to see;
So walk a little slower Daddy, for you are leading me.
Someday when I'm all grown up, you're what i want to be.
Then i will have a little child who'll want to follow me.
And i would want to lead just right, and know that i was true;
So, walk a little slower, Daddy, for i must follow you!!"
*I have also seen this project done with footprints of your child on the poem instead of a photo.  Another very cute idea, if you have even less time to get a picture ready.
Step 3.
Frame it
I altered this photo a little in Photoshop, but it would be just as easy to print out the poem and picture separately and put both of them in a side by side photo frame.  After you frame it, the only thing left to do is wrap it up and give it to your guy on Sunday!
Happy Father's Day to all the Dads out there!  What are some simple DIY gift ideas that you have to share for Father's Day??