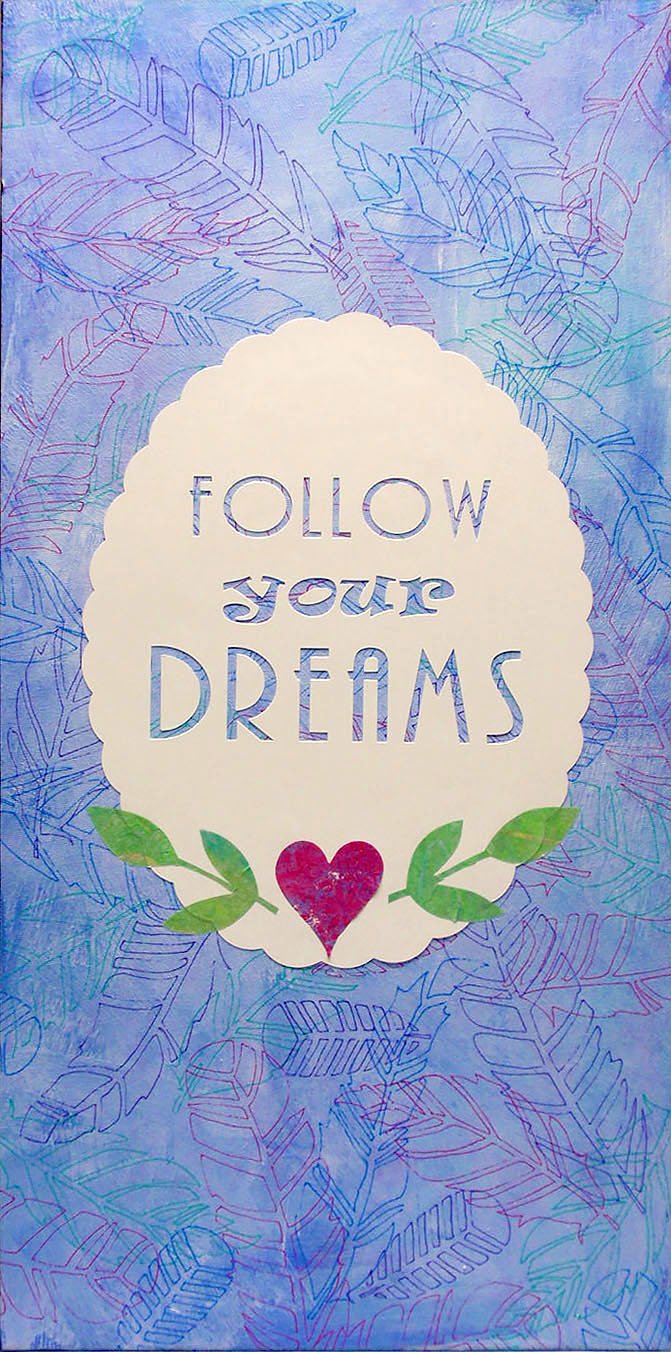 Follow Your Dreams Canvas: Mixed Media Cricut Project
This painted project uses original stencils cut from heavy paper or stencil film with a Cricut die cutting machine.  The stencils plus colorful gel pens create an attractive pattern on the painted surface and an interesting background for your choice of inspirational text.
Supplies:
Canvas board (12×24 inch shown)
Clear gesso (optional)
Gel Pens
Heavy watercolor paper or stencil film
Acrylic paint, choice of analogous colors (colors next to each other on the color wheel)
Brayer/paint roller or old gift card
Tracing paper and feather images
Black marker
Scanner or digital camera
Glue
White cardstock, 12×12 inch
Directions:
Squirt some dabs of acrylic paint randomly onto the canvas board.
Roll a brayer over the paint dabs or use an old gift card to spread the paint across the entire surface of the canvas board.
Squeeze some dabs of white paint randomly on the canvas board.  Repeat rolling with a brayer to spread and blend the paint on the surface.  Allow to dry.
If your painted surface is slick or glossy, you may need to coat the dry acrylic paint with clear gesso so that the gel pen ink can stick to the surface.  Test a gel pen on a small section from the center of the board that will be covered by the lettering.  If the pen will not write on the surface, brush on a coat of clear gesso.  Matte acrylic craft paints usually do not require any preparation using clear gesso.
Place tracing paper over a feather image (or images) and outline the basic shapes of the feather using a black marker.  Color in the shapes, leaving space between each shape, to create the design for the feather stencil.  The idea is to make a simple, high contrast, black and white image that can be easily manipulated in Cricut Design Space.
Make a digital scan or photograph the feather.  Create a new project in Cricut Design Space and upload the image.  Identify the image as a 'Simple Image'.
Erase the white background on the image using the 'Select & Erase' tool in Cricut Design Space and save the resulting image as a cut file.
Add your feather(s) to a new project and size them as needed.  Make the project, cutting the stencil from your choice of heavy watercolor paper or stencil film.
Use your new feather stencils to draw random overlapping feathers across the canvas board background.
Create a new project in Cricut Design Space and cut the message from cardstock.  The sample uses a scalloped oval (a free Design Space image) and free system fonts.  The lettering is 'sliced' from the oval so the lettering appears as a cut out.
Glue the scalloped oval with the message to the center of the board.  Glue or paint any additional details like this heart and leaves cut from patterned paper.
Related Posts
Dream Catcher! Applying Vinyl to Canvas
Reversed Canvas with Cricut Iron-on Vinyl