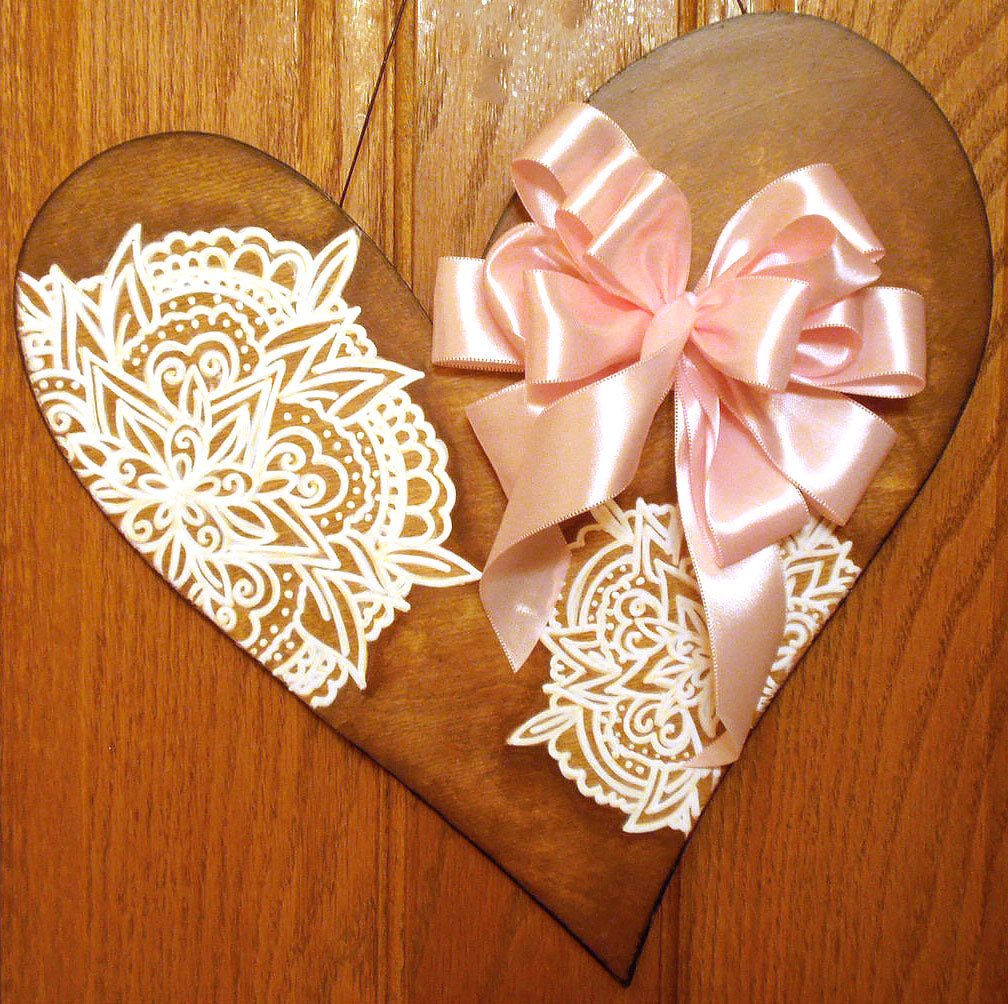 Wood Mandala Heart for Your Door
Learn how to make a charming heart wreath with this easy DIY project. You'll need a wooden heart, white paint pen, transfer paper, brown stain or paint, ribbon, white glue, varnish, and a cord for hanging. Simply stain or paint the heart, transfer a mandala design onto it, trace the design with a white paint pen, darken the surrounding areas with brown paint, ink the edges, apply varnish, add a ribbon bow, and attach a cord for hanging. Enjoy your beautiful creation!
Supplies:
Wood heart, 12-14-inch
White paint pen
Transfer paper
Brown stain or paint
Old permanent ink pad, black or brown
Ribbon, 1.5-inch
White glue
Varnish
Cord for hanger, 12-14-inch
Directions:
Stain or paint the heart shape using stain or a wash of brown paint. Allow to dry.
Print the mandala design on paper. This mandala was a free design found on Pixabay and adapted for this project.  Use this one – or find or design your own mandala.
Transfer the mandala design to the heart using transfer paper. Refer to the image for design placement.
Trace over the design using a white paint pen.  Allow to dry. Depending on the type of pen used, you may need to trace over the lines again one or more times to achieve the desired opacity.
Darken the areas around the mandala designs using a wash of dark brown paint.  Allow to dry.
Use a baby wipe or damp paper towel to remove some of the dark brown paint to add texture to the heart.
Ink the edges of the heart brown or black using an old, permanent ink pad.  Do not use a good or favorite ink pad as the wood edge will damage the ink pad.  I use one pad that I reserve only for this purpose.
Apply a coat of varnish to protect the painted finish.
Tie a bow created from ribbon of your choice to adorn one corner of the heart.  Check out one of the many on-line tutorials like this one from DIY Projects to learn how to make a bow, or use a purchased one.  Attach the bow to the heart using white glue.
Attach the cord to the back of the heart for a hanger.