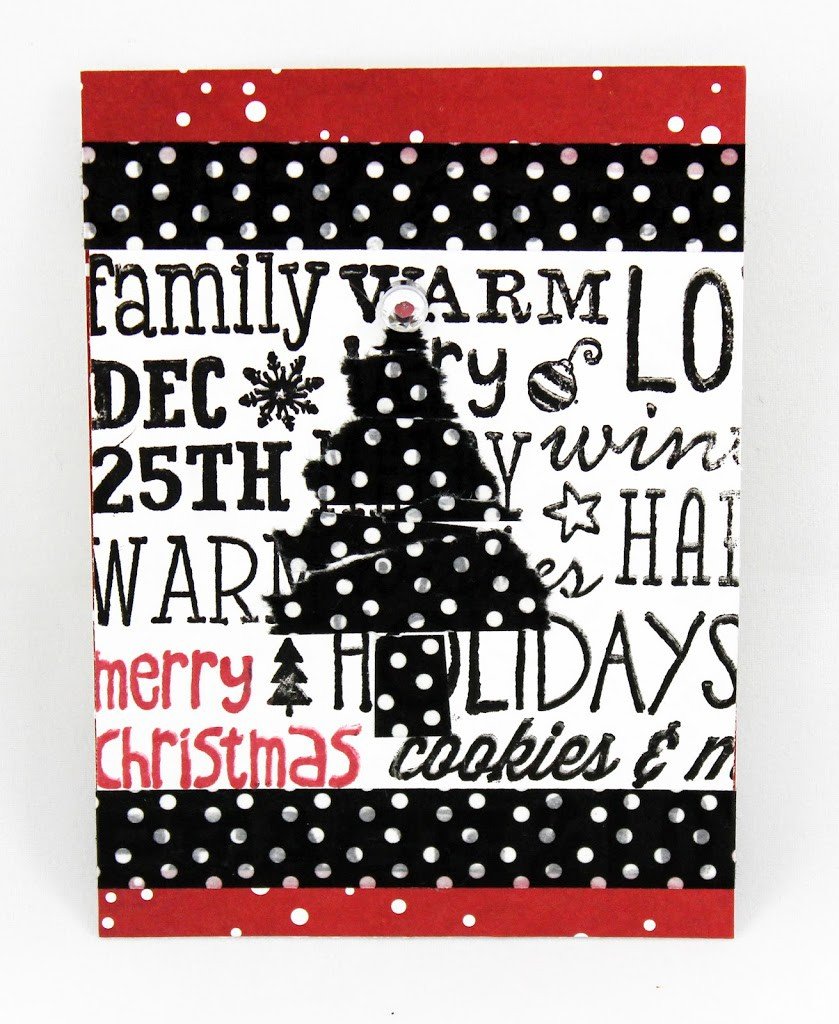 5-Step Washi Tape Tree Christmas Card Tutorial
I have been a busy little elf – working on all kinds of simple and quick holiday craft ideas to share with you all! Here is a simple 5-step Christmas card that anyone can create in no time at all!
 1. Cut out your card base. For this card I cut the base paper (Red polka dot paper- SEI Holiday Traditions Collection) 4×10 , scored and folded it in half to make a 4×5 card. 
2. Cut a white square 4×4 inches. Using my Megan Elizabeth Ink Edgers,I inked the entire Hero Arts Cling Holiday Stamp with my 1:00am Black Ink Edger (except for the words Merry Christmas). Then I inked only the words "Merry Christmas" with my Red Check Me Out Ink edger. Stamp onto the white paper and then adhere to your card. TIP: The small 1in x 1inMegan Elizabeth ink edgers are perfect for inking parts of stamps and using multiple colors on one stamp! 
3. Next, add a strip of SMASH polka dot tape to the bottom and top of your stamped paper. TIP: You can use any Washi, Vellum or decorative tape you'd like!
4. Next, tear off small pieces of tape and stick them to the card to create a tree like image. For the tree part i ripped the tape for a more rigid effect. For the trunk I cut the tape with my scissors.
5. Last, add a bit of bling to the top of your tree using Megan Elizabeth Girl's Best Friend Sparkle Lightz!
It's as simple as that! Hope you all enjoyed the card and got some holiday card ideas! 
Don't forget to comment and share your thoughts!
 SEI Holiday Traditions Paper Collection
American Crafts White Cardstock
Megan Elizabeth Ink Edgerz
Hero Arts Cling Be Jolly Stamp