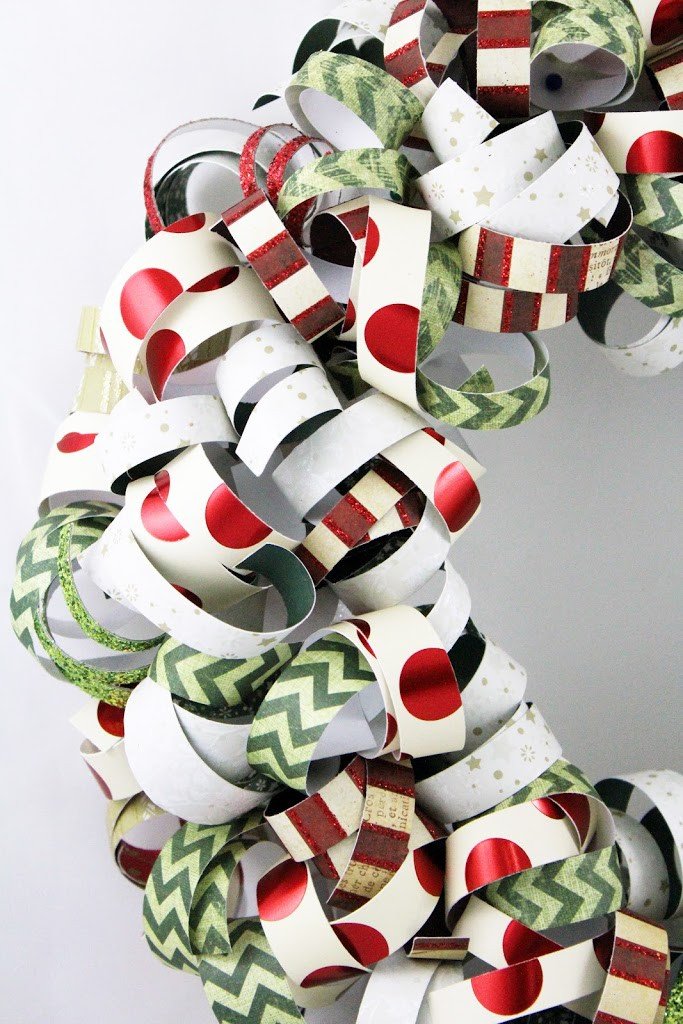 A Wreath For Every Season -DIY Curled Paper Wreath
Hi everyone! Today I wanted to share a project with you that I did a few weeks back – A curled paper wreath! I love the first one I made so much, I made 3 more with my sisters and mom!
First I must admit – I got the idea from someone else- Here is the video the inspired me and shows great step by step directions on how to make this wonderful wreath!
For my first wreath I decided I wanted to make a classic red and green Christmas wreath with a little touch of Abbey (that's me)! If you don't know what a touch of 'Abbey' is- it means Bedazzle! (Sparkle, glitter or shine)
I dug through my paper stash and chose a combination of chevron, polka dot, stripes and sparkle for my wreath! With hints of red foil and white glitter paper for shine, the papers all worked together beautifully!
Here is it- my finished curled paper Christmas wreath. If you did not watch the video-  Essentially all you do it cut 1/2 inch strips of your different papers, curl them with your bone folder and using a ball point pin, pin your curls to a foam wreath!
The following weekend after finishing my Christmas wreath I went up north to our family cabin and crafted a few more with my sisters and mom. Here is my sister Amy's wreath…
She used a combination of blues oranges and browns with some textured burlap and polka dot papers! This wreath turned out great and the colors really could be used year round.
My other sister Andrea (a.k.a Dre) did a 'winter' themed snowflake wreath with reds, greens and blues! She had debated to do a Christmas wreath, but wanted one to hang all winter long, which here in WI is a long time!
..and lastly here is my sister Amy working on my mom's wreath. My mom was outside relaxing in the sun with the kids and Amy took it upon herself to start it for her.
My mom's wreath was made using deep rich burnt oranges, brown and creams! It was a beautiful fall afternoon in WI to craft outside. That weekend was actually 'peek' leaf changing time so color inspiration was all around us!
Hope you all loved the wreaths we made and I hope you try it too! I swear it's easy! A bit time consuming…yes, but a great project to do while watching a movie or doing crafts with the family!
WHICH WREATH IS YOU FAVORITE?