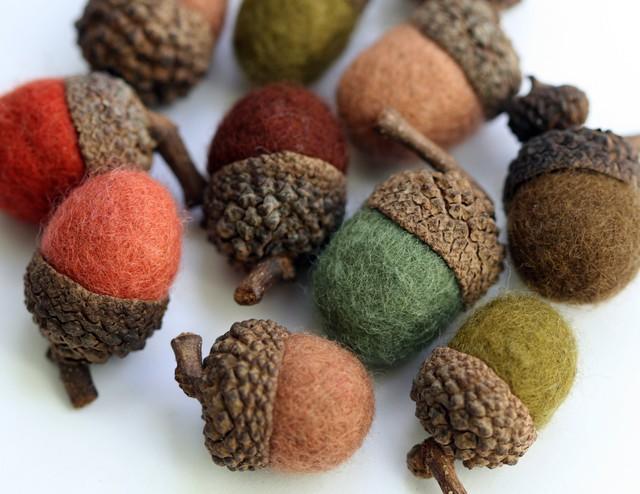 Acorn Accent Fall Projects Ideas
As I walked along on a beautiful FALL afternoon last year with my dog Brewer (After the Milwaukee Brewers), I realized my neighbor has a HUGE Oak Tree with thousands of acorns! Every few days I would see him sweeping them off of the sidewalk and I got an idea!
I had seen these around before. They are DIY felt ball acorns. This picture is brought to you by the ZMFelt Etsy shop.
So I went off of that idea and made a version of my own. Instead of using felt balls I used large brown sparkly beads! All you have to do is match up the acorn top to the bead size and hot glue the bead into the cap. All it needs is a dab of hot glue. If you put too much it will ooze out of the sides.
The pictures are a bit dark, but in person they really are pretty!
They sparkle in the light and you can spread them out as decoration almost anywhere or use them as a vase filler!
Here are some other SUPER DUPER CUTE acorn Fall projects i am dying to try!
Make a simple and chic felt acorn garland like Louis Rastall did!
…or make this BEAUTIFUL acorn ornament by Sweet Something Designs for the holidays! I LOVE this one and WILL be doing this!
Hope you all loves the acorn ideas and are exited for the upcoming FALL season!
WHICH PROJECT ARE YOU DYING TO TRY???