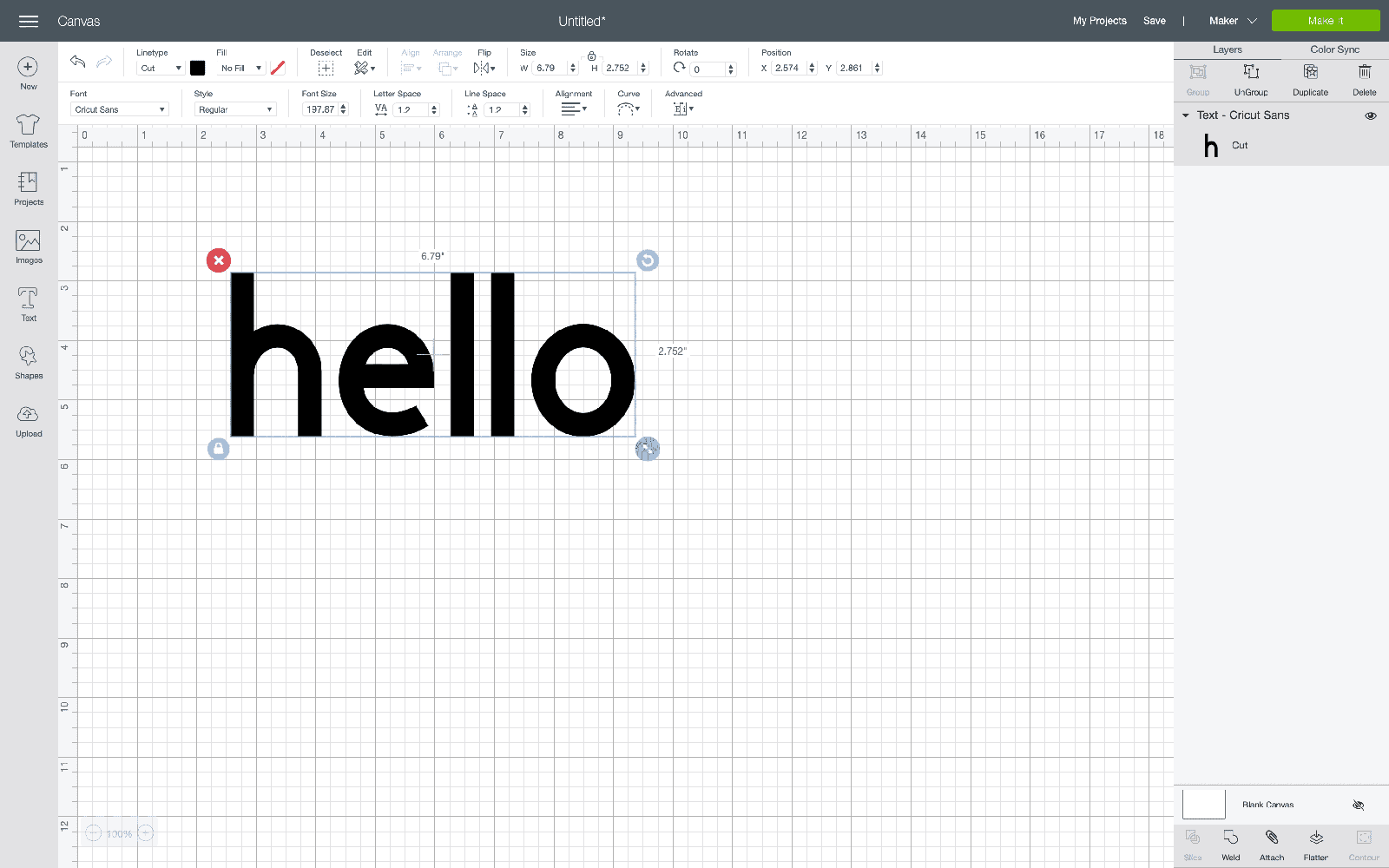 All About Text: Cricut Design Space
Let's talk about text in Design Space! Adding text to your projects is always a fun option and there are lots of ways to work with text in Design Space. In this blog post, I'm going to cover all the basics of text on a Mac or PC. A lot of the same principles will apply when working on a phone or tablet, but the buttons will be in different areas on the application.
Overview:
How to Add Text
How to Resize Text
How to Change a Font
All Fonts vs. Cricut Fonts vs. System Fonts
How to Use Filters
Writing Fonts vs. Regular Fonts
Basics of Script Fonts
How to Move Script Font Letters Together
Preparing Text to Cut or Draw
How to Add Text
Adding text is super simple! On the left-hand side of Design Space, click on "Text". A text-box will pop up onto your canvas and allow you to start typing. As you can see, I've typed "Hello" here. That's all there is to add text! Now let's unpack this a little bit more.
How to Resize Text
There are two ways to re-size your text. First, click on your text. It needs to be highlighted to work with. Once you've clicked on the text, you can resize by clicking on the arrows in the bottom right-hand corner of the blue box surrounding your text. Do you see the arrow pointing towards it? You can simply click and drag your text. As long as you leave it locked (which I highly recommend— you can see it in the bottom left-hand corner), then it will stay proportionate.
The second way to resize your text is to manually type in the dimensions you want. Take a look at the top toolbar, where the other arrow is pointing towards. If you know what specific dimension you're looking for, you can type it in here. Again, I recommend leaving the lock on (see the circled area above the area). This way, if you know you want your text to be 4" in width, it will automatically size the height to be proportionate.
How to Change a Font
To change a font, head to the top toolbar (shown above) and simply click on the drop-down menu that says "Cricut Sans". Note: Cricut Sans is the default font that will always show up when you start a new text-box. Once you click on that, a new menu will pop up where you can change your font (see below). Whatever you change your font too, the name will appear where Cricut Sans is to the font you chose.
All Fonts vs. Cricut Fonts vs. System Fonts
This is the screen that will pop-up when you change the font! When you first get to this screen, you will be seeing all of the fonts that are available to use— both fonts from Cricut and fonts on your computer. That's simply the difference between the two. Cricut fonts are from Cricut and system fonts are the ones on your computer! If you look at the image above, you'll see where you can filter between the fonts.
Tip: You can download new fonts to your computer and use them in Design Space! Simply download them from the internet and install them to your computer. You'll need to close and re-open Design Space if you had it open while you were installing the font.
Tip: To search for a font name, simply type in the name of the font in the search bar to the right of the Cricut/system tabs!
How to Use Filters
You can also filter through the fonts to easily find what you're looking for. To do this, click on "Filter" to the right of the search bar. When you do that, another menu will open up (see above). You can filter through: My Fonts, Multi-Layer, Single Layer, Writing and Saved for Offline. This will be really helpful when you're searching for specific fonts!
Writing Fonts vs. Regular Fonts
While we are here in the filters tab, do you see the button that says "Writing"? If you didn't know already, you can use pens with your Cricut to write or draw images or text. It's honestly one of my favorite feature! Cricut has created fonts specifically for these projects. I'm not going to go into all of the details in this post, because I've actually created an entire post on how to draw with your Cricut. Click our Gift Tag Tutorial to check it out!
Basics of Script Fonts
I wanted to highlight script fonts in this post because we get a lot of questions about them! I changed our font in Design Space, as you can see above, to Alexander Lettering. When you use a script font, regardless of a Cricut font or a system font, they will always appear with spacing between the letters— like you see above. If this is the look you're going for, then you're golden! If not, continue reading on to see how to fix this.
How to Move Script Font Letters Together
Do you notice the difference between the two fonts above? It's a super simple fix in Design Space— we just need to move the letters together! There's two ways to do this. The first is to adjust your letter spacing. Click on your font and then head up to the top tool-bar and look for "Letter Spacing". See it below? Currently it says "1.2".
You can click on the arrows to adjust the spacing. If you increase the number (arrow up), you'll increase the space or move the letters father apart. If you decrease the number, by clicking the arrow down, you'll decrease the space. In other words, you'll move the letters closer together. This is exactly what we want: less space! You can simply click the arrow down and you'll see the letters move closer together as the space between decreases. You can also manually enter a number. I do this sometimes if I know there's a lot of space that needs to be decreased. 
Tip: You can also enter in numbers manually into this space. A lot of times, you'll have to go into the negatives to get the look you want.
In addition to this, there is another way you can move the letters together.
You can simply ungroup them and manually move them together (see above). Do you see how I have highlighted the second "l" and the "o"? When I'm on my computer, I like to highlight the letter/s I want to move and then use my keyboard to click and move it over. This way, the letters will stay aligned horizontally. You can just click and tape your arrows to move them where you want! You can also click and drag with your mouse as well.
When I'm moving script letters together, I usually do a mix of both these techniques. I've found that with the manual spacing (increasing/decreasing the space in the toolbar), it gets the job done for the MOST part, but there's usually some spacing I want to fix manually.
Honestly, I wish there was a way that Design Space would automatically space them together. Maybe one day!
Preparing Text to Cut or Draw
The last thing I want to share with you guys is how to get your text prepared to cut! We'll be looking at both examples in the image above because they're slightly different in terms of cutting. Let's click on "Make It" in the top right-hand corner of Design Space and see what happens:
Do you see the difference between the two fonts? Let's unpack this. Here's what it looks like in our layers panel:
Let's start with the script font. Since we went in and changed the spacing, the font got separated into individual layers since we manipulated it. Do you see the difference between the Cricut Sans font (the one we didn't manipulate) and the Alexander Lettering (script one) font that we manipulated? Since it's in individual layers, that's why it's all separated when we go to the mat preview screen:
To fix this, we will need to either attach or weld our text together. I recommend using attach because you can always detach and make changes. You cannot do this with weld— once you weld and save, you can't undo what you originally had! When you attach, the letters will technically still be on their own individual layers, but they will be "stuck" together like this:
Bam! Fixed.
As far as the Cricut Sans font goes, it's important to note that when you do not change/manipulate a text (like we did with the script one), it will all stay together when you go to cut it! The reason the script one got separated was because we manually changed the design.
If we hadn't manipulated the script font, it would have cut as is, just like the Cricut Sans font:
So just remember, when you change a font, you'll need to attach or weld it to get it to stay together when you go to cut.
That's all I have for you guys today! A general overview of how to work with text in Design Space. Thanks for reading!
-Courteney 
Related Posts
How to Use the Drawing Feature in Design Space
How to Change Operation/Linetype in Design Space