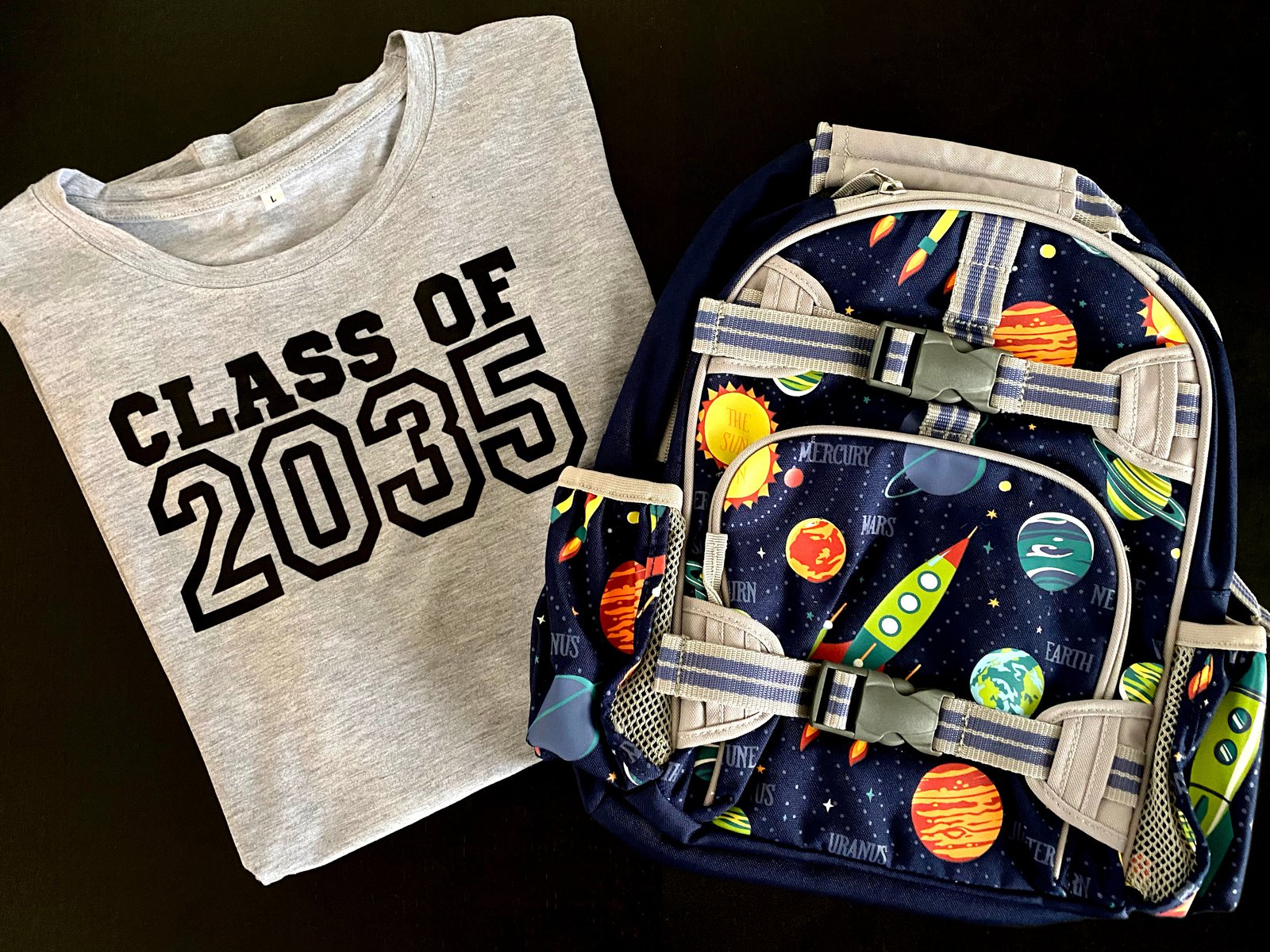 Back to School Infusible Ink T-Shirt
It's back to school time! I have a shirt for my older daughter of the year that she graduates high school on it that I take a picture of her in every year on the first day of school. My youngest is starting preschool this year so I thought I would do the same for him. It's fun to see how much they grow each year and hopefully the adult size shirt will fit them ok when they graduate!
Materials Needed:
• Infusible Ink Transfer Sheet (I used this one)
• Cricut Infusible Ink T-Shirt
• Cricut Die Cutting Machine
• EasyPress 2
• Cricut EasyPress Mat (or towel)
• Cricut Standard or Light Grip mat
• White Cardstock
• Butcher Paper (comes with Infusible Ink transfer sheets)
• Lint Roller
• Scissors
Directions:
1. Make Your Design
I kept it simple and used the phrase "Class of 2035," but there are some other neat ideas on Pinterest.
2. Cut Your Design
Place your transfer sheet liner side down on your mat. Make sure to mirror your design in Design Space before cutting.
3. Weed and Apply
Use tweezers or your fingers to weed your design. Trim around your design so it fits under your EasyPress.

Put a piece of white cardstock in your shirt to protect your project and place on top of your EasyPress mat. Use a fresh piece of lint roller on the entire surface of your shirt. This well help prevent imperfections during your transfer.
Cover your shirt with butcher paper and preheat your shirt at 385º for 15 seconds.
Remove the butcher paper and let cool.
Place your design face down on the shirt with the liner being on top. 
Place butcher paper over your design. Make sure it is larger than the heat plate on your EasyPress.
Press your design at 385º for 40 seconds. Make sure everything stays still while pressing.
Slowly lift your EasyPress when done and let your project cool completely before removing butcher paper and design. Then you are done!
Related Posts
Personalized Back to School DIY with Cricut Adhesive Foil
Fun Mask Designs, Dirty and Clean Mask Buckets, and Ribbon Lanyard Using Cricut and Easy Press Mini