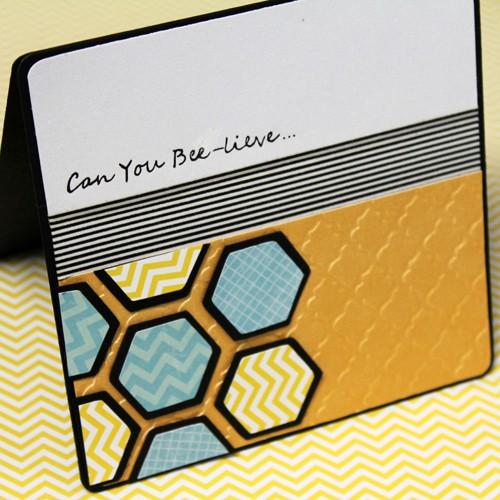 Bee-utiful Spring Card Tutorial – Part II
Yesterday it was Happy Valentine's Day and today it's Happy Firday!
In yesterday's post I showed you all part I (the front) of this card and am so excited for you to see the inside! Usually the inside of cards are simple and just words, but not this time!
"Can you Bee-lieve… Its almost Spring!". . .
 Check out that adorable 3D spring and bumble bee! Just recently, I have come down with a spring fever and am itching for sun and color! The grocery's store being packed with beautiful fresh flowers (especially tulips, my favorite!) for the holidays don't help the situation much either!
A while back I pinned a beautiful spring card photo onto our Craft-e-Corner Cards! Pinterest Board and it was the perfect photo to get me pinspired, I mean inspired, for this card!
Using my Cricut Expression 2 Machine I cut out a solid circle at 2.5″ and hand cut it into a swirl. Using my adhesive runner I adhered down the start of the spring to the bottom of my card (with intentions to cover it up later). I added adhesive to the very center 'end' part of my swirl and let it lay flat. By closing the card and pressing down the swirl attached to just the right spot on the top of my card!
For the inside I cut out a black and white layered rectangle for the sentiment and rounded the corners. I put this just high enough to cover the start of my 'spring'. Of course to add a little yellow SHINE to my card I added just a few pearl dots my SUNNY YELLOW Pearl Pen! This little bottle of sunshine is my most recent crafting addiction, a must-have for spring and summer crafting!
. . .and check out this AWESOME video where Megan Elizabeth shows us how to create your own pearl strands with Pearl Pens!
That fun technique blows me away and is so much fun! Oh the possibilities of these little Viva Decor Pearl Pens! Anyways, back to the card!
So here it is in action. . .well, kind of!
 Open the card and see. . .It's Almost Spring!
. . .and open it a little bit further and out springs a little bumble bee! This adorable bumble bee was cut out using my Cricut Expression 2 Machine and the Walk In My Garden Cricut Cartridge! Another great Cricut craft room must-have for spring and summer!
. . .and there you have it! My Bee-tiful card for spring complete and ready to share!
WHAT DO YOU THINK?
Have YOU ever addded 3D elements to your cards?