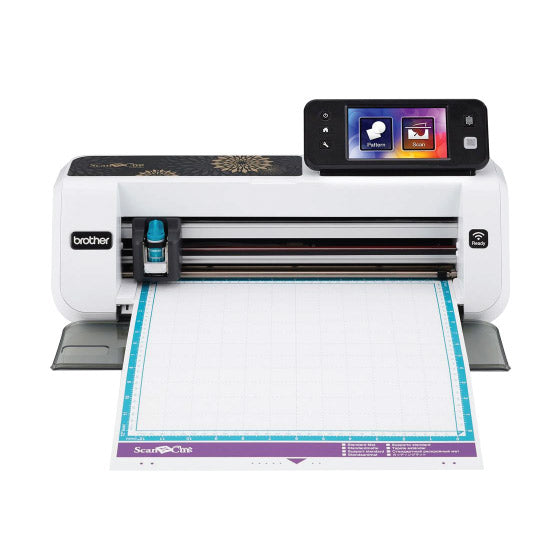 Brother ScanNCut2-Quilt, Scan, Cut, Craft!!
Quilting is a long and delicate process that may take a lot of time. There is a way to reduce your time spent on the cutting phase, so you still have to time to get dinner on the table!
Are you like me and want every seam and fabric square perfectly and evenly cut, but find yourself not having enough time for accurate measuring, snipping, and sewing? Don't worry! Transitioning from sewing clothing to quilting can be overwhelming considering the precision and accuracy involved in cutting out your quilt shapes.
We may have the solution for you to save time, along with the same crafting quality, so you can finish your DIY quilting projects on time for the holiday season, gifting, birthdays, and baby showers!
You don't have to cut your fabric by hand anymore. Save time with Brother's digital cutting machine for precise accuracy in cutting hundreds of exact shapes over and over! Your quilting work will look much more professional as well!  This machine can draw out your seam allowances for you as well as cut out your shapes whether you are making simple squares or tumbler blocks. You can set the machine to size your shapes, and add on that ¼ inch seam allowance, and once you get to sewing, all you have left to do is follow along the pre-drawn lines on your fabric squares!
With a high-quality built-in 300DPI scanner and a large LCD touch screen display, the Brother ScanNCut2 Machine is perfect for fast, accurate, and easy fabric cutting. It also features the ability to read SVG data files, with over 600 built-in designs and a high tack fabric appliqué sheet.
The other unique feature of the ScanNCut2 Machine is that you can scan virtually anything into the Brother ScanNCut2 Machine and send directly through USB cable to upload your designs onto the device.  If you choose, you can create custom-cut shapes or outlines to add to your own unique crafting patterns.
Brother has some very detailed PDFs for projects.  Click on the images below to see one!
Get a head start on keepsake quilting with top-quality quilting tools, and technology, for all your quilting projects. The possibilities are endless! This machine really allows for lots of projects whatever your craft!
Share your unique quilting designs with us below! Or, tell us what other machines you have used to get the job done. We would love to know!