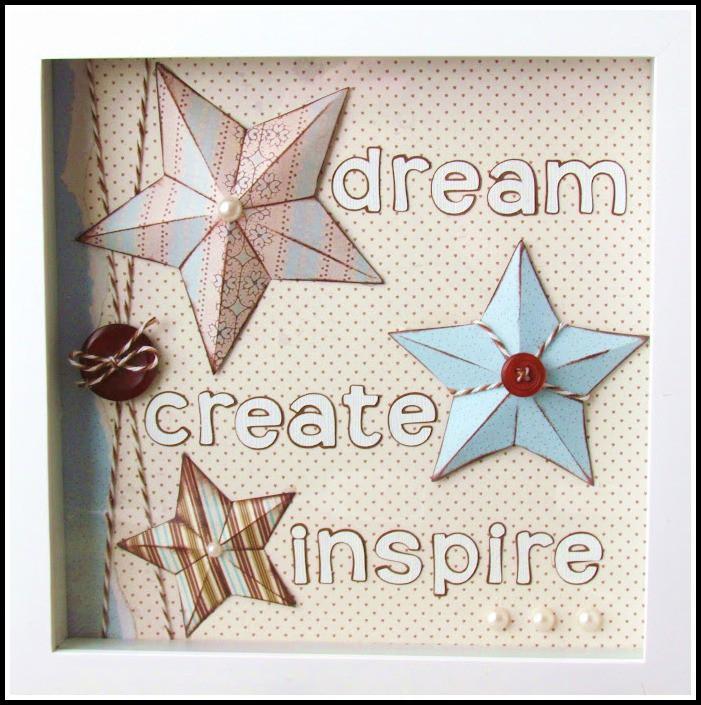 Build Your Own Shadow Box
What would YOU create with this blank shadow box? A shadow box is a perfect
way to craft and
display your most cherished memories or to create beautiful wall decor! It's a 3D scrapbook page filled with possibilities. Use almost ANYTHING y
ou can think of to create your own one-of-a-kind masterpiece.
Get Inspired  by some of the shadow box creations below
…
Vicki created a shadow box displaying a beautiful picture of her niece's baby girl. She added a 3-D ribbon bow, flower embellishments and a pin to add some character to her box. This box screams beautiful baby girl and I love it! 
I can't help but get inspired to 'box' some memories of my own little peanut Lo (Lauren)!
This next Shadow box is SIMPLY beautiful! Really- It is the perfect example of less is more. Jennifer kept all the elements one color and added a B&W photo to create a very vintage and classic feel. If you look close there are even a few dabs of sparkle glue to add a bit of shine! 
This next shadow box made by Holly is wonderful! A perfect example of how you can create a shadow Box for decoration! Just add a few design elements of choice and a few inspiration words and you have a wonderful masterpiece for any room! Place it on a shelf, hand it on a wall or even place it on a table to display your work of art!
I love the burlap detail on this box. Layering different textures will make your photo POP! Sara did a wonderful job at displaying her beautiful family.
I hope you all enjoyed the projects!
Which shadow box is your favorite?
What do YOU love to put in YOUR shadow box???