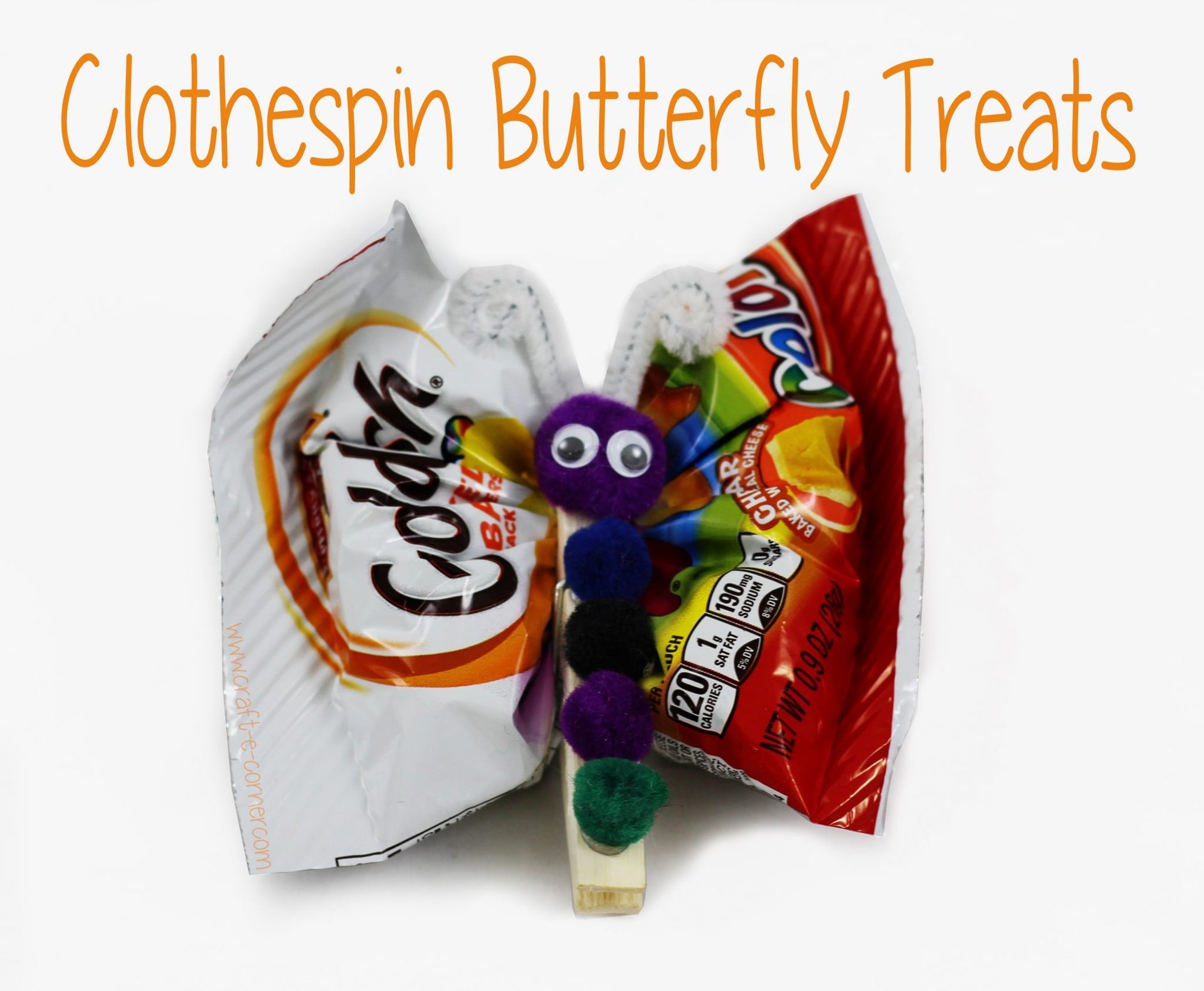 Butterfly Treats for Back To School Fun
If you have younger kids going back to school, you'll likely need a class treat some point soon.  Be it birthdays, a special occasion or just a surprise in the lunch box, having a fun treat is something your kids will love!  Why not make these cute butterfly treats?
These butterfly treats are easy to make and they're always a hit.  Bonus, the middle part can be reused over and over again.
For each butterfly clothespin treat you want to make, you'll need 2 wiggle eyes, 1 clothespin, 4-5 smaller pom poms, 1 larger pom pom (for the head), chenille stems (any color), hot glue and a snack sized bag of Goldfish crackers.
To start with, cut your chenille stem (aka pipe cleaner) into three equal parts.  This helps maximize the antennae that you get per chenille stem!  I cut with a pair of craft scissors.  Take each of your sections and fold it in half:
Next curl the ends over.  I used a pair of pliers to help with this, but you can do it with just your fingers too.  Use a little hot glue to attach the antennae to the end of your clothespin that opens:
Once you have your antennae attached, put another glob of glue and attach your larger pom pom for the butterfly head. 
Next glue on 4-5 smaller pom poms.  I didn't take time to sort pom poms or to make "girl" butterflies or "boy" butterflies.  Everyone got a mix of colors!  This helped when passing out the treats- there was no searching for a specific color or color combination.
To finish off your butterfly body, glue on a set of wiggle eyes:
Now comes the tricky part!   Getting a bag of Goldfish crackers into the clothespin to make the butterfly wings is not as easy as you'd think!  The key is to let the air out of the bag, but you don't want to just POP the bag!  Use a sewing needle or straight pin, poke a small hole in the bag.  I chose to do it in the seam of the bag:
Once you let the air out, you can pinch the bag in the middle and clip the clothespin on to make your finished butterfly.
If you're making a classroom full, make them in stages and have plenty of hot glue on hand!
Don't feel limited to using pom poms either, check out a similar ideas using zip locks and paint from Juggling with Kids:
Wouldn't these be great party gifts too?  Plus, when you're done with your snack, you have a super cute caterpillar.  I have a few of these floating around for my daughters lunches and clip them on whatever I can throw in a baggie.  Sometimes I'll clip one to her napkin, just because it makes her smile.
I hope you enjoyed this project and feel inspired to make your next school treat something special!