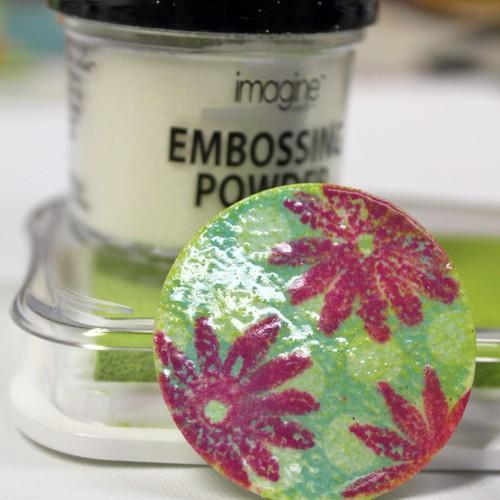 Craft Circle: DIY Gloss Embossed Embellishments.
 Earlier this week I featured a super simple distressed flower card I made using a circle punch and today the circle continues! I am officially adding Circle Punch & Embossing Powder to my must-have crafting supplies list! Today I will show you how to create simple and fun gloss circle embellishments! Once you get the process down they only take a few minutes!
 First choose a fun patterned paper with a simple background design. (Try not to use a paper that is too busy) Punch out a circle using a Circle Paper Punch. I used my EK Success 1.5″ Punch.
 Next I used a sanding block to distress my edges a little bit. You don't have to do this step if you don't want to, I just really like the tattered and worn look.
 Next ink the entire paper circle with VersaMark Watermark Ink.
TIP: Rather than putting the ink on the paper, put the paper on the ink! Open your ink pad and lay your circle right onto the pad with the pattern facing down. Use your finger and push and run on the circle until you get good coverage.
  Quickly take a second Ink Pad and color of choice and lightly pat the ink pad onto your circle until you have desired coverage. I added some bright Apple Green Ink around the edges of my circle. You want to be quick before the VersaMark Ink dries.
  Cover your entire circle with Tsukineko Clear Embossing Powder and us your finger to lightly pat to make sure you have full coverage. Normally I would not tell you to pat down the powder, but since the entire circle needs to be covered it is OK.
 Get out your heat gun and heat the embossing powder until fully melted.
I usually let the paper dry for a few seconds before moving it.
 Next choose a stamp design and a contrasting Ink color for your top embellishment design. I used a small flower stamp and my Bachlorette Megan Elizabeth Ink Edgerz. Get your stamp nice and juicy and ink right on top of your embossed circle.
TIP: Be careful not to push to hard or your ink will smudge. Since the surface is glossy the stamp image may not fully transfer, or you might have to ink the same image twice. The faster you stamp and cover it with embossing powder (next step), the better.
  Cover your stamped design with the same Clear Tsukineko Embossing Powder and hit it with your heat gun once again.
 That is it! Now you have a one-of-a-kind circle embellishment for your cards, scrapbook layouts & more. You can use different shaped punches, patterned paper, stamps & color combinations to create as many embellishments as you'd like!
 Oh the possibilities…
I had just a few minutes to spare this morning so in about 3 minutes I whipped up this star embellishment perfect for a patriotic feel.
On a side note, these would make really cute earrings and a necklace. Just a thought!
Hope you loved the tutorial and please SHARE your pictures if you try this. You can post them on the
Craft-e-Corner Facebook
Page or tag Craft-e-Corner! We love to see your work too!
I highly recommend all of the high quality products I used!
What do you think?
What kind of embellishment would YOU make?
(Comment Below!)