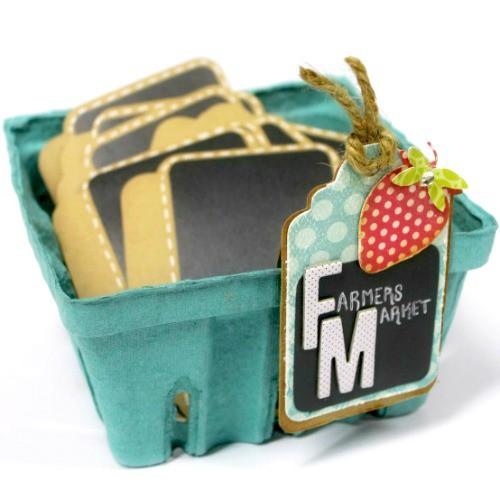 Cricut Preserves Farmers Market Recipe Basket Project
One of my favorite parts of summer is the farmer's market! There is nothing quite like the the fresh produce, beautiful wildflower bunches and the buzz of friends and townspeople. Not to mention the support of local farms and growers!
Here is a simple and sweet project I crafted to hold all my farmer's market recipe and meal ideas…
It all started with a simple strawberry basket and the Cricut Preserves Cartridge. The Cricut Preserves Cartridge was a great compliment to this project because it is jam packed with fruit shapes as well as recipe card and tag shapes galore!
First, choose a tag shape and cut it out to fit into your strawberry basket using paper of choice. I cut my tags out of Kraft Cardstock. I first cut out a recipe card shape, but it was too short for my basket so I went with a simple tag shape instead.
Using my Cricut Expression 2 Machine, I cut my tags out at 3.8″. I used the auto fill feature to cut multiple tags at one time.
To make my recipe cards reusable, I used
Chalkboard Vinyl
for my writing surface!  Genius, I know… I measured the length and width of my card (minus the 'tag' hump on top) and then cut down my
Chalkboard Vinyl
into several rectangles, one or each recipe card.
I rounded the corners of my chalkboard pieces to match my cards. Next, stick your
Chalkboard Vinyl
rectangles onto your cards. The vinyl is just like a sticker and adheres very well to the paper. I added a White Gel Pen dashed line around the chalkboard writing surface to give it that 'handmade' feel.
The tags are not done, but for now let's move on to decorating the strawberry basket…
Using the Cricut Preserves Cartridge, I chose another tag shape and cut it out using Kraft Cardstock. I cut out the exact same shape in a teal polka dot patterned paper just a few notches smaller than the Kraft Cardstock tag. I distresses the edges of both tags with my Megan Elizabeth Chocolate Ink  Edgerz and a sanding block.
Next, I added a small chalkboard square with rounded edges to my tag for contrast. I added the letters F & M in American Crafts Polka Dot Thickers and wrote the words 'armers & arket' in White Gel Pen.
For a rustic vibe, I added some hemp cord through the top of the tag.
To finish up my basket tag, I cut out a single strawberry from the same Cricut Preserves Cartridge. I distressed the edges with the same Chocolate Ink Edgerz. Using Zip Dry Adhesive, I added one single Sparkle Lightz to the center of my strawberry leaves and, white the glue was still wet, sprinkled a little bit of Ranger Dry Fine Stickles around the base of my Sparkle Light.
The pink polka dot strawberry was just what this tag needed to sweeten' it up a bit.
Once the tag was completed, and the adhesive was dry, I took a piece of folded Kraft Cardstock and hot glued it to the back of my tag. I will use this to hang my tag from my basket without permanently adhering it to the basket. This way I can change out the tag if I choose to later on.
Here is the basket so far with the recipe cards and the hanging tag. I still have a few finishing touches to add to the basket and have to finish my recipe tags so stay tuned…
I hope you love the project so far and happy crafting to all of you!
*Comment below with your thoughts*