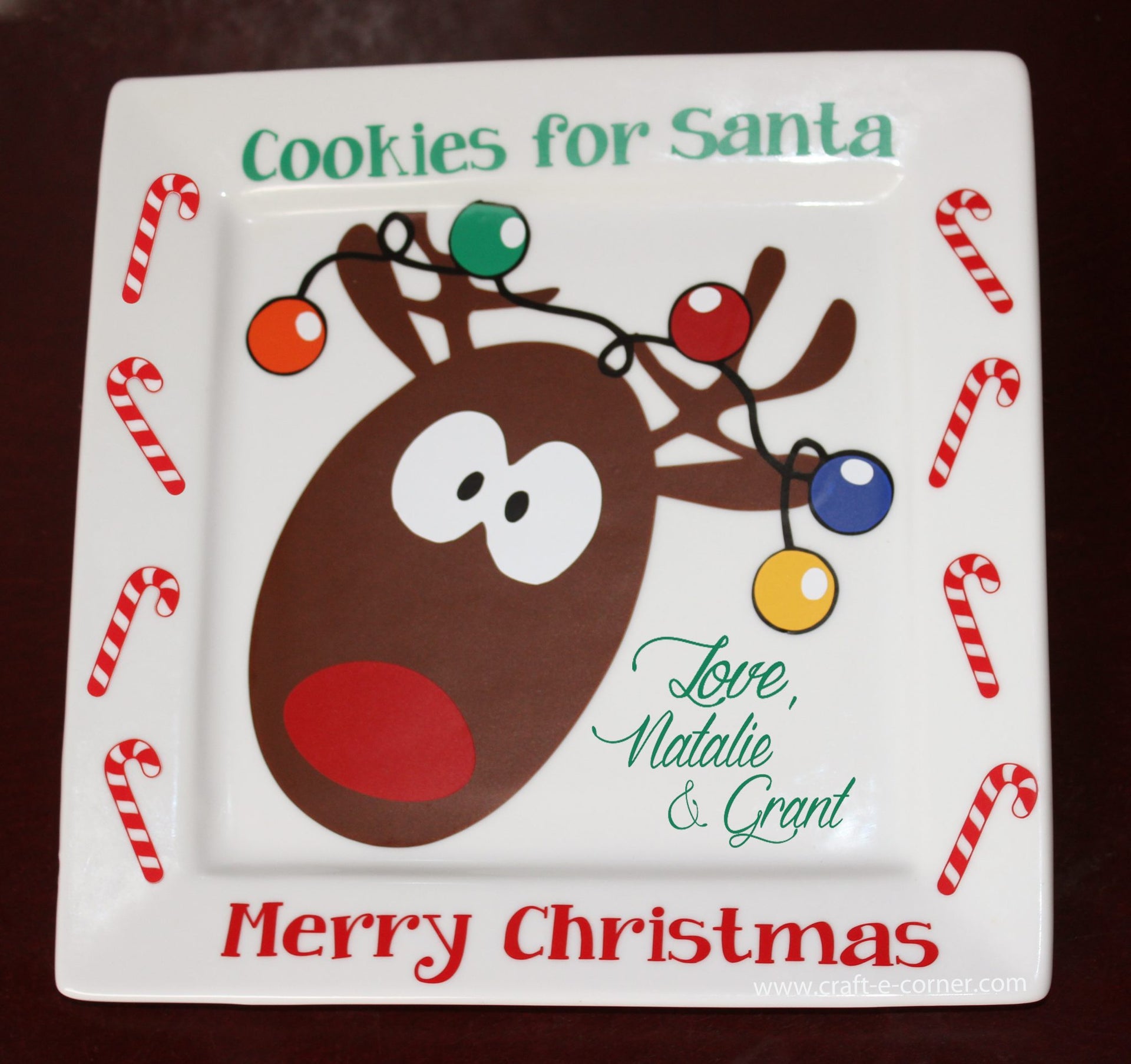 Design #10: Reindeer! Cookies for Santa Plate Project
Leaving cookies out for Santa on Christmas Eve is a favorite holiday tradition in our house.  I think our favorite cookies to make for Santa include classic sugar cookies and peanut butter cookies with a peanut butter cup in them! Yum!
And cookies taste so much better when you have them on a cute plate… don't you think?
I really think this is a fun file and you can use it for a variety of different holiday projects.  It looks like Rudolph got into a little bit of a tangle in the lights! 
This is design #10 out of our 12 Exclusive Craft-e-Corner Vinyl Designs.  >>CLICK HERE TO BUY ALL 12 VINYL DESIGNS<<
When you first open this file, you will see the complete and grouped reindeer on the left.  You will also see all the parts separated by color:

To make my cookies for Santa plate, I measured my pate and drew two squares the same size as the plate in the software.  I dragged the fully grouped reindeer into the middle of the plate and put it at a slight angel.  A bit of his antlers overhung the inside of the plate, so I used the knife tool to trim those off (I promise this will not hurt one bit Rudolph, hold still!):
Once I had my reindeer sized to fit, I ungrouped everything and then sorted by color utilizing my whole mat:

Next I loaded up my cutting mat with pieces of vinyl:
This allowed me to cut all the pieces at once!  This project is a great way to use up scraps of vinyl!
To help you align your vinyl, make sure you turn on the grid marks in your software.  To do so, go to the Grid Settings Window:
Then choose spacing and divisions, I like divisions of 4 because it will give you 1 inch squares to help align your items:
Once I cut all my pieces, I assembled the reindeer by hand.  To place the reindeer head, I used the wet method of application.  This helped so I could move the vinyl around.  One I was happy with where it was placed, I used a scraper tool to work all the moisture out from under the reindeer and used a paper towel to sop up the water.  Next I placed the nose, eyes and lights.  To finish off the plate, I used some transfer paper to add the words around the edge of the plate.
A note about vinyl safety!  
You do not want your vinyl to come in contact with food.  It's not safe to eat off of.  This is a cookies for Santa plate, so you would want to put something between the cookie and the plate.  We use a napkin because Santa probably needs a napkin after his snack anyway.  This will also help keep your vinyl clean, you don't want cookie crumbs to get on your design.
Alternatively, you could use a clear plate and layer the vinyl from the back so you could still use the plate without a napkin.
A few other ideas for this design would be to cut it out of paper and use it as a gift tag!  You could also use heat transfer material and make it into a fun Christmas sweater (hello ugly Christmas sweater party!).
You could also add it to a mug, I bet hot chocolate would taste wonderful in a cute reindeer mug:
See more about my 12 Exclusive Craft-e-Corner Vinyl Designs here.  >>CLICK HERE TO BUY ALL 12 VINYL DESIGNS<<