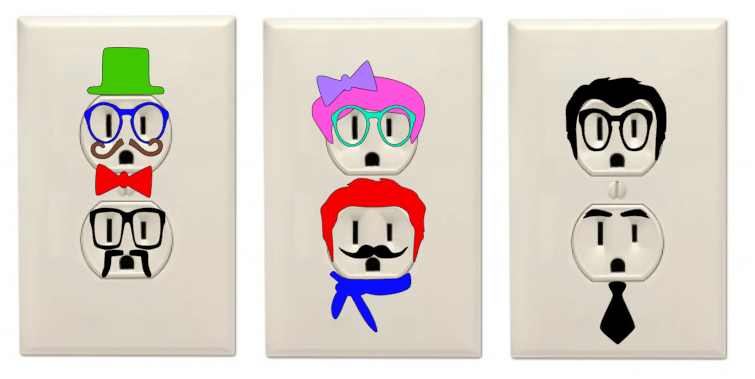 Outlet Personalities! Adding Vinyl in Unexpected Places
Have you ever looked at something that, once you see it, you can't un-see it?
The internet is full of these images… the cigar sticking out of the brick wall, a cowboy silhouette that just looks like random lines and so much more.  I once saw a picture of an outlet with a mustache on it and ever since I just can't un-see their little faces.
So one of the designs I made was for outlets.  These are sized to fit a standard outlet in the US and I think they are so fun! 
I sized down a collection of hats, glasses, mustaches, eye brows, hair and even little ties, bow ties and a scarf, because these aren't just ANY old outlets… they're fancy!
This is a fairly simple project.  Just set up your machine to cut vinyl and cut out the pieces you'd like to add to your outlet.  You can have lots of fun with these by using different colors, building up with layers and more.  Even just adding a simple tie to an outlet will make people see it as a face…
A few words of caution:
Use your best judgement on doing this project.
First- if you have little ones, you may not want to do this project.  Or at least not on outlets they can see.  You obviously don't want to encourage kids to pay any attention to electrical outlets, so keep it out of reach.  Even if you don't have kids, keep in mind that some kids might be in your house at some point (birthday parties, watching the neighbors, etc), always use caution.
Second- if you are planning on using the outlets you add these to, make sure the vinyl is well adhered to the outlet and not coming loose or going into the holes of the outlet.  These designs are all sized to fit AROUND the holes, you don't want them going IN the holes or blocking the holes at all.  Vinyl is a plastic material (it's made out of the same stuff as PVC plumbing) and it could possibly cause a fire or an electrical short if your get a piece jammed inside your outlet.  I would recommend checking the vinyl before using the outlet every single time, or only adding designs to outlets you don't use (which would be safer all together).  This could also just be a temporary project for a laugh and then remove the vinyl.
If these warnings have you leery of using these designs for the purposes above, fear not!  There are lots of uses for these beyond just putting them on outlets!
Do you have an Elf on the Shelf?  Your elf could decorate up a framed photo with some of these shapes and even get in on the action themselves.  Vinyl can be peeled off the glass so you won't harm your photo and your elf won't have to permanently sport a fu manchu (unless you want him to, of course):
You can also size up any of these designs and cut them out of paper.  Add a stick and you have instant photo booth props:
You can also add these designs to digital scrapbooks, cut them out of heat transfer material and add them to shirts or add them anywhere else you can think of!  They really are fun and versatile shapes so feel free to have a little fun!