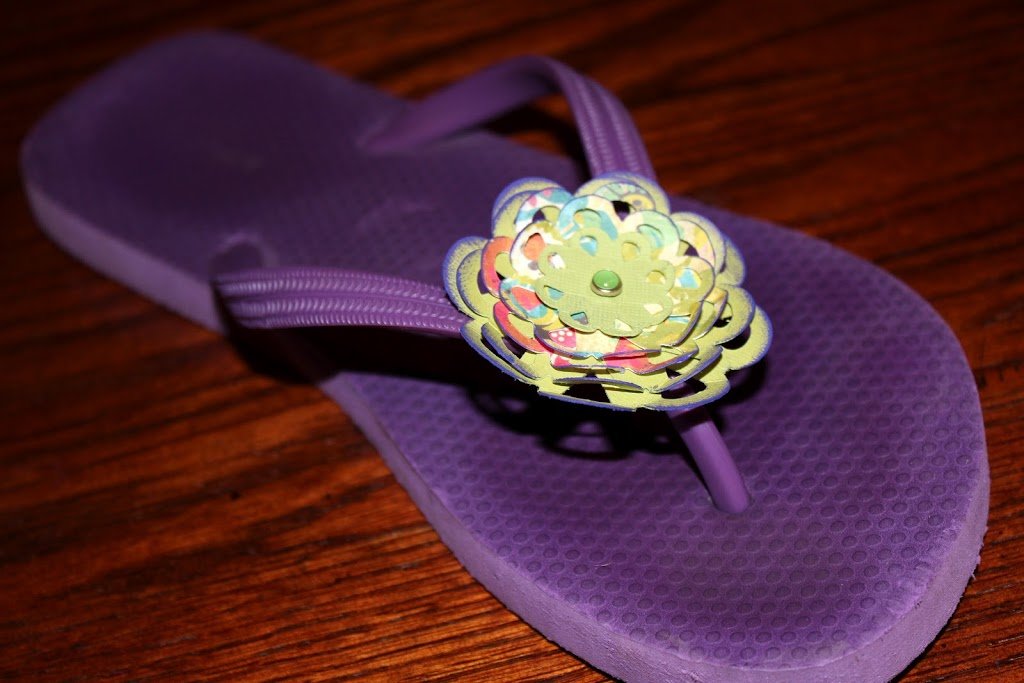 DIY Fab-u-lous Flip Flop Embellishment
Happy FRIDAY! Us lucky ducks here at Craft-e-Corner have off Fridays all summer long ( Awesome, right?) but I figured I'd squeeze in a FABULOUS flip-flop tutorial I worked on last night on my day off!
My inspiration…


Susan over at the Cricky Blog made these cute flip flops and I had to give it a shot!
So here are my plain jane purple flip flops that I am going to beautify!
 They are pretty old so don't mind the foot imprint in them. I love when you wear shoes enough they fit your feet perfectly
Of course for this I used my wonderful Cricut Expression 2 Machine. For the shape I just kept it simple and used one of my pre-loaded images. I figured, if it comes out good I can be ambitious and try more intricate flower later!
I <3 my E2!
…and for paper I used this sheet. You might have seen it in some previous projects of mine. I have had it forever and am squeezing as much use out of it as possible! I'd say it's a mix between vintage and modern whimsy.
Of course I always use my spatula. Wouldn't cut without it!
I ended up cutting out 5 different shapes each shape .25 inches less than the previous – starting at 2″ and working my way down to 1″.
This was my very 1st shape at 2″. Not to big, not to small – just perfect
I then added a little purple POP with my 'Lush' Megan Elizabeth Ink Edger.
I love how the green and purple work together.
I then used a brad to put all my pieces together. I was going to do a button and add some other embellishments, but the flower was so pretty alone i thought a simple brad would do it!
I folded up the edges for some dimension. I love how the inked edges look and am very happy with the final flower!
TA-DA! Here it is, the final product. I hot glued the bottom of the brad on to the flip flop. I know it's not a permanent solution. but either is the flower. That's whats nice about these, they are quick, easy, and you could make different colors and varieties for all occasions and to coordinate with outfits!
FABULOUS – if I don't say so myself!
Which flip flop would YOU choose to wear??? 
I vote for the flower for SURE!
Hope You all enjoyed the tutorial and PLEASE try it! You won't be let down, it's super easy and the options and varieties of things you can make are endless!
…next time…I'm thinking fabric flower? Would any of you care to see a tutorial on that?
Have a wonderful weekend!