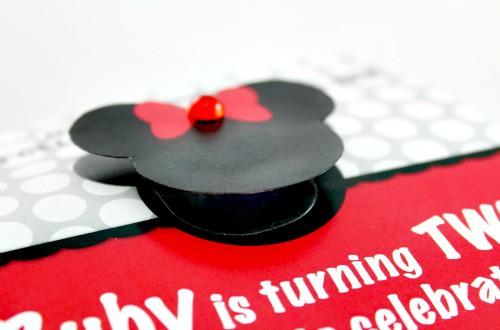 DIY Party Ideas – Action Wobble Birthday Card & More!
Hello & Happy Tuesday!
 For the past few days, I have been browsing around the
Craft-e-Corner Pinterest Page
and looking at who follows what and what things interest YOU all the most! 
The results are in and our most popular Pinterest board…by
far
… is 
DIY Party Ideas
!
I guess we've got some fun followers who know how to par-tay! 
I thought I would feed into this fun idea and share a few more DIY party ideas before diving back into my Spring crafting…
Last December, our good friend Karlee threw a Minnie Mouse themed birthday party for her daughter Ruby. Here is the DIY invitation she created using Action Wobble Springs!
  Action Wobble Springs are small adhesive springs that you can add to 3D Stickers, Die Cuts or Chipboard Embellishments to add action to your card! It's hard to tell, but the Minnie Mouse head on this cad is actually 3D and wobbles! Here is a closer look…
 Never used Action Wobbles? Check out this short video tutorial of how to make an adorable bumble bee card card using Action Wobbles and the Cricut Create A Critter Cartridge! 
(You can fast forward to the end to see the Action Wobble in action!)
Off topic from Action Wobbles, another adorable DIY party idea is making water bottle labels. Using Silhouette Sticker Paper, you can design your own labels, print and stick!
Karlee even designed a 'Nutritional Facts' box which is so stinkin' clever and super cute!
Serving Size: 1 Birthday Girl
Calories: Who's Counting?
% Daily Value:
Love…………100%
Fun…………..100%
Beauty………100%
Happiness…100%
I used the Silhouette Sticker Paper for the first time last December to make water bottle labels for Lauren's Penguin & Polka Dots Party. I then used it again for my sister's baby shower! Seriously though, if I am involved in the party planning, you know there will be water bottle labels because they are cheap, fun and simple!
Well, that's all for today! Make sure to head over to our Pinterest page and follow our
DIY Party Ideas Board
and join in the crafting fun!
Please feel free to leave a comment below and tell me what you think of the ideas, posts, or whatever you'd like! I love hearing your thoughts!
Happy Crafting, 
Abbey