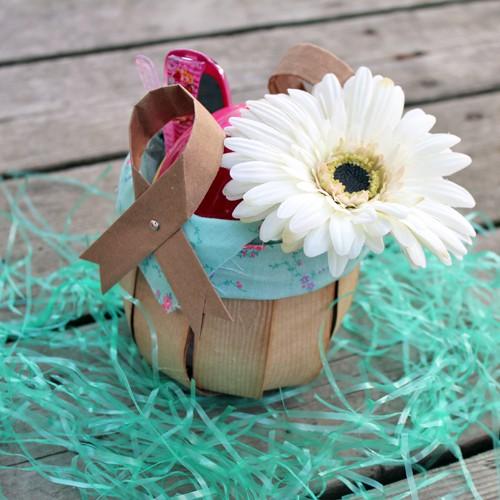 Recycled Grocery Bag Easter Basket Project Tutorial
Happy Friday! This past Wednesday marked the very first day of SPRING, and let me tell you, it did NOT feel like it! On the bright side, even with 12 degree temperature and a few feet of snow left on the ground, my craft room is still exploding with Spring!
My daughter Lo (Lauren) is now 15 month old, and this Easter, I am so excited to give her her first Easter basket! I did not want to go overboard and spend a lot of money (I mean, come on, she's only 1!), so this year I challenged myself to make a basket for her. To make the challenge even harder, I decided to use all (almost) recycled materials.
The base of my basket is a paper grocery bag.
I first removed the paper handles from the bag to be used later. Next I cut the bag into multiple 1″ wide strips. (I ended up using  total of 7 strips) The bigger the basket, the more strips you will need to cut.
I used an A4 size folder so it didn't fit the entire length of the strips. I embossed both ends of the strips leaving about 2 inches in the center that was not embossed. The center of the strips actually end up being the bottom of the basket, so I was A-OK with it not having the "wood grain" look.
For an even
more
realistic look, I added some brown distressed edging and color to my strips using my
Megan Elizabeth Wrap Me In Chocolate Brown Ink Edgerz.
  Above you'll see two strips. The strip on the right I inked a bit to hard and it smudged. Ugh! I swear to you, I
cannot
complete a project without something going wrong. No worries though! I used the strip anyway, flaws and all!
Next comes my favorite part, the fabric! I picked up this beautiful recycled teal and pink fabric at Goodwill a few weeks back and it was just what I need to add a bit of girly to my "wooden" basket!
For the top ring of my basket, I glued together two shorter strips to make a longer piece. I cut a strip of my fabric about twice as wide as my paper strip and the same length.
Using ONLY a hot glue gun, NO sewing, I glued my fabric around my paper strip. Yes, I do own a sewing machine, but we have a love hate relationship. Right now, we're on hate. I do like using glue most of the time for simple fabric & paper projects like this one because not everyone can sew and this make the project more 'doable' for many!
With the inked side DOWN, hot glue them to one end of your longer strip. You'll want to leave about an inch or so of your long strip on the end for gluing later. Also, glue your shorter strips below the top edge of your fabric strip so you do not see them over the top of your basket.
This part might seem tricky but it's really not! Here goes…
Take your fabric strip and round it like the top of a basket like seen above. Next, take the bottom of your first strip and swing it under and glue it to the fabric strip next to your last strip.
Next do the same ting with your second strip. Swing it under and continue gluing them in a row. Eventually your basket will come together and your last strip with complete the round basket.
Once I glued my basket together I folded over the fabric and glued that down as well. I liked the "shabby" fabric look so I wasn't to picky about how the fabric fell.
Now is where I tell you that my basket did NOT come out perfect. The length of the strips, and how they fell and laid when I glued it all together, was quite a nightmare at first. Just follow the steps and you can come back and "fix" it later.
 A little hot glue can go a long way. On the outside of my basket, a few of the pieces were laying funny so I adjusted them and glued hem into place where I liked them. On the inside, one of my strips was a hair too long and kept bubbling up. I ended up cutting it and gluing it back to the bottom so it laid nicely.
You will be covering the inside of the basked with more fabric, so it does not have to be pretty! For the inside of my basket I simple cut a large chunk of my fabric and laid it inside and adjusted it to line the entire basket. A few of the corners of the fabric peeked over the top so i folded them over and glued them in place. This part is trial and error and in all honestly you don't even have to line the basket if you don't choose to do so.
Lastly, I took my paper bag handles, which I had removed before starting the project, and cut them down to size to match my basket. I cut the ends into pennants and hot glued each handle into a cancer ribbon shape. Using a brad, I attached them to the outside of my basket! Now not only is my basket made of recycled materials, it's a sign of HOPE and support for cancer as well!
There you have it! A beautiful recycled and eco-friendly Easter basket for my little Lauren!
The basket turned out pretty small, but I still found a few small goodies to go inside.
Hope you enjoyed the tutorial and I now challenge YOU to make an Eco-Easter basket of your own!
What unique materials would YOU use to make an Eco-Easter basket?
(Comment below with your answer, I'd love to hear all your thoughts on this post!)