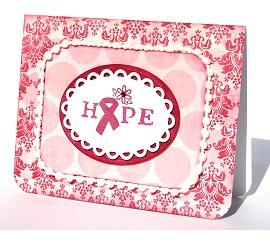 DIY Simple "Hope" Inspirational Card
A PORTION OF ALL OCTOBER CRAFT-E-CORNER PROCEEDS WILL BE DONATED TO THE NATIONAL BREAST CANCER FOUNDATION
Happy Tuesday! I cannot believe we are already on our second week of our Craft Pink! breast cancer blog Series and there are so many more beautiful projects to share with you all! I am so excited!
  Today's project is brought to you by Hampton Art Stamps designer Dana Warren. She created this "Hope" card using the

BloomingMemories  & Breast Cancer Ribbon  Stamps by Hampton Arts Stamps! She chose a beautiful Dark Cherry Pink for the ink color and some beautiful pink patterned My Mind's Eye paper!
…and what card isn't complete without a little bling! Dana added a single Studio G pink rhinestone for the flower center! Too stinkin' cute!
 Here are the full directions on how to recreate this card!
Make card base from cardstock. Trim pattern paper and adhere to card base. Round bottom corners.

Stamp damask pattern over pattern paper, lightly ink edges.

Trim pattern paper to 4 x 3 inches, round corners. Use double sided tape around the wrong side edge. Adhere the mini pom pom ribbon around rectangle.

Die cut oval and scallop oval from rustic cream stock.

Scallop oval: stamp alphabet to spell HOPE, instead of the O stamp the breast cancer ribbon. Color flower leaves lightly with green colored pencil. Adhere pink rhinestone to flower center.

Oval: use ink pad and color oval. Adhere this oval to the 4 x 3 panel with pop up dots

Adhere scallop oval to pink oval with pop up dots.

Adhere panel to card base.
I HOPE you loved Dana's card as much as I did! (For supplies list see bottom of post)
A healthy diet and exercise not only keep you looking and feeling great but can help reduce your chances of breast cancer!
Can a healthy diet help to prevent breast cancer?
A nutritious, low-fat diet (30 grams or less) with plenty of fruits and green and orange vegetables can help reduce the risk of developing breast cancer. A high-fat diet increases the risk because fat triggers estrogen production that can fuel tumor growth.
Can physical activity reduce the risk of breast cancer?
Exercise boosts the immune system and helps you to keep your weight in check. With as little as three hours of exercise per week, or about 30 minutes a day, a woman can begin to lower her risk of breast cancer. This doesn't require going to a gym either. Power walking is more than sufficient!