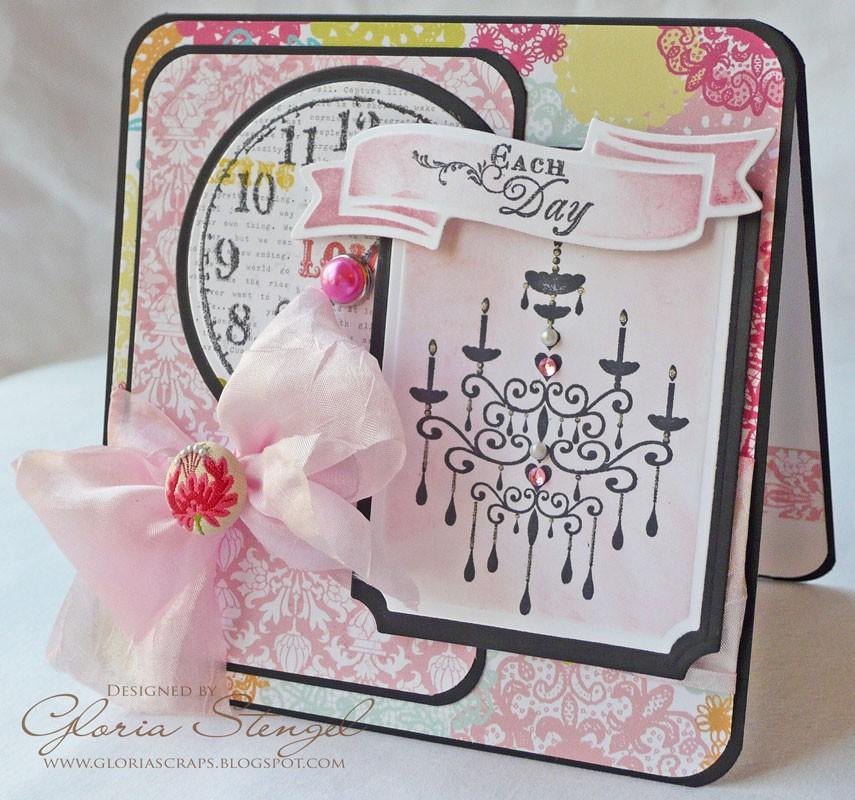 " Each Day" Glamorous Card – Craft Pink!
A portion of all Craft-e-Corner proceeds this month will be donated to the National Breast Cancer Foundation. So shop at Craft-e-Corner and craft for a great cause!
Today we are featuring a card made by the very talented
Hampton Art
designer
Gloria Stengel
! She created this perfectly pink and super chic "Each Day" card to support breast cancer awareness. Isn't it GORGEOUS!?
I am speechless at how pretty this card is! I love the elegance of the chandelier. The pearls and pink rhinestones are perfect and make the stamp really pop! My favorite part is the colorful doily patterned paper that she used for the background! I LOVE the soft pinks against these bright colors. Not many people can pull off these combinations but Gloria did it just perfectly!
…here's a closer look.
Take a look at the inside of the card! This simple sentiment is a great way to finish off a card! I love how simple this is but it ties in so well with the front of the card. Gloria added two more rhinestones to the inside too! Love, love, LOVE this! Did I say that I love this card yet, because I DO!
FILL IN THE BLANK:
Each Day________________!
I think that each day…you should make sure to do a breast cancer self examination!
When breast cancer is detected early, at a localized stage, the survival rate is 98%. 
Early detection includes doing monthly breast self-exams, and scheduling regular clinical breast exams and mammograms.