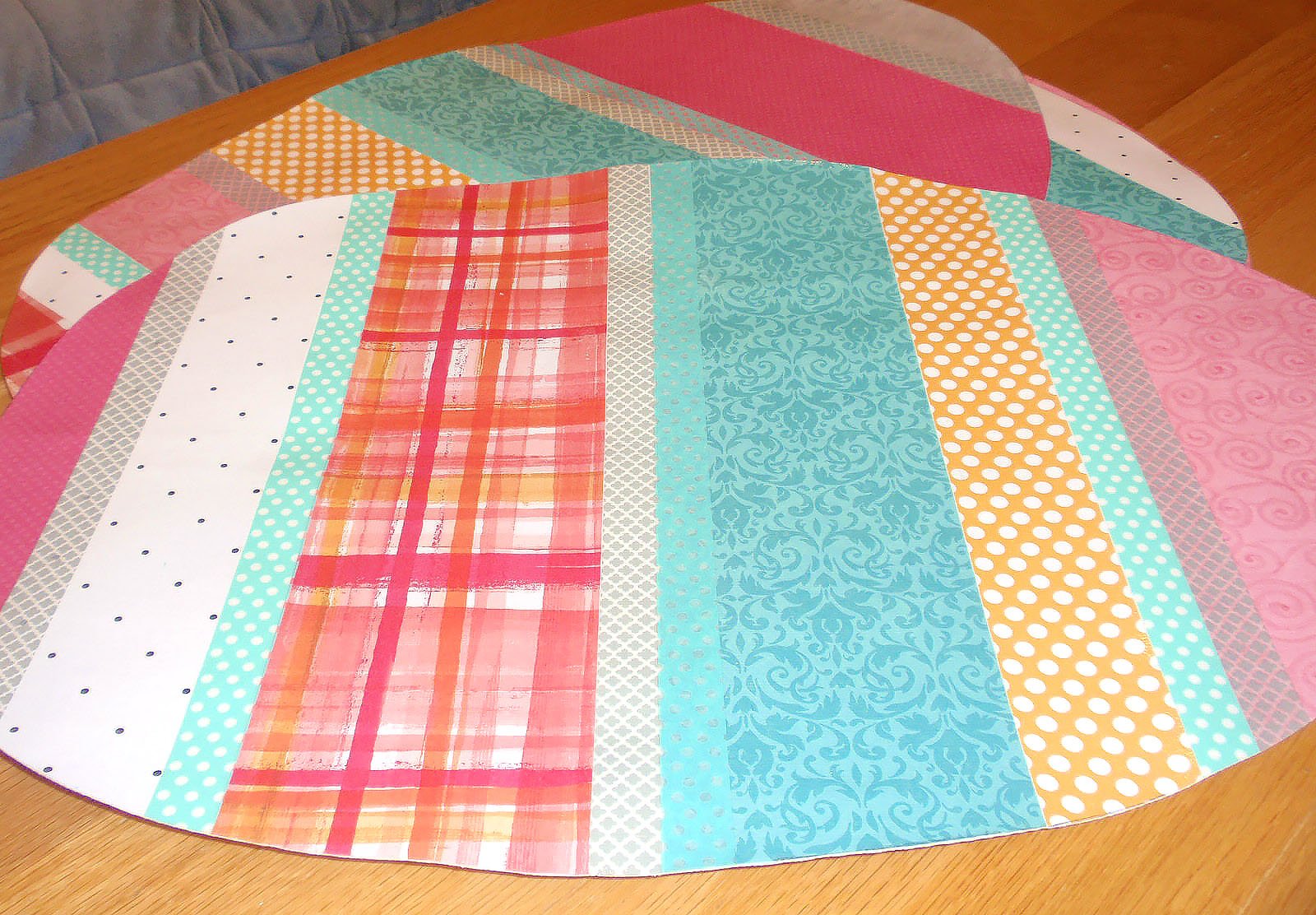 Decoupage Paper Easter Egg Placemats
Easter is just around the corner, and if you're looking for an easy and creative way to spruce up your Easter table, look no further than these Easter egg placemats! With just a few supplies, including gessoed canvas material, scrapbook paper, and polyurethane varnish, you can create customized placemats that wipe clean with a damp rag. In this blog post, we'll walk you through the step-by-step process of creating these adorable placemats, from choosing the paper to gluing it down and applying the finishing touches.
Supplies:
Gessoed canvas material
Scrapbook papers,  12×12 inch
Washi tape
Gel medium or decoupage glue
Old gift card
Polyurethane varnish
Directions:
Apply a coat of gesso to the canvas or use pre-gessoed canvas.  Rough cut a piece of canvas about 15×20 inches for each placemat.
Choose a variety of scrapbook papers and paper tapes to use for your placemats.  You can create 4 placemats from 8 sheets of 12×12 inch paper.
Cut the papers into 12-inch strips of varying widths, from about 1.5 to 3 inches.  A paper trimmer is a handy tool to complete this step, but you can also use scissors.
Determine how you'd like to organize the strips across your placemat. When you're happy with the arrangement, set the strips aside in order so you can easily recreate the design when you are gluing.
Glue each strip to the canvas using the following technique.  Brush a layer of medium or decoupage glue over the canvas beneath each strip.
Lay a paper strip on the wet glue and smooth it in place with your hand.  Brush more glue on top of the strip.
Use an old gift card or similar tool to press the strip firmly to the canvas and remove excess medium.  As long as the medium is wet on top of the strip, you can also use a damp finger to press the paper well to the canvas.
Butt consecutive strips and tapes edge to edge as neatly as possible to cover the canvas completely. When all the strips are glued in place, allow the paper and canvas to dry.
Create an egg-shaped pattern approximately 16 inches wide and 12 inches tall from scrap paper and cut from each canvas.  Apply a coat of water-based polyurethane varnish to the front and back of each placemat for durability.
Related Posts
Cricut Easter Project: Applying Vinyl on Eggs + Free SVG!
DIY Fabric Bunnies using a Cricut Maker