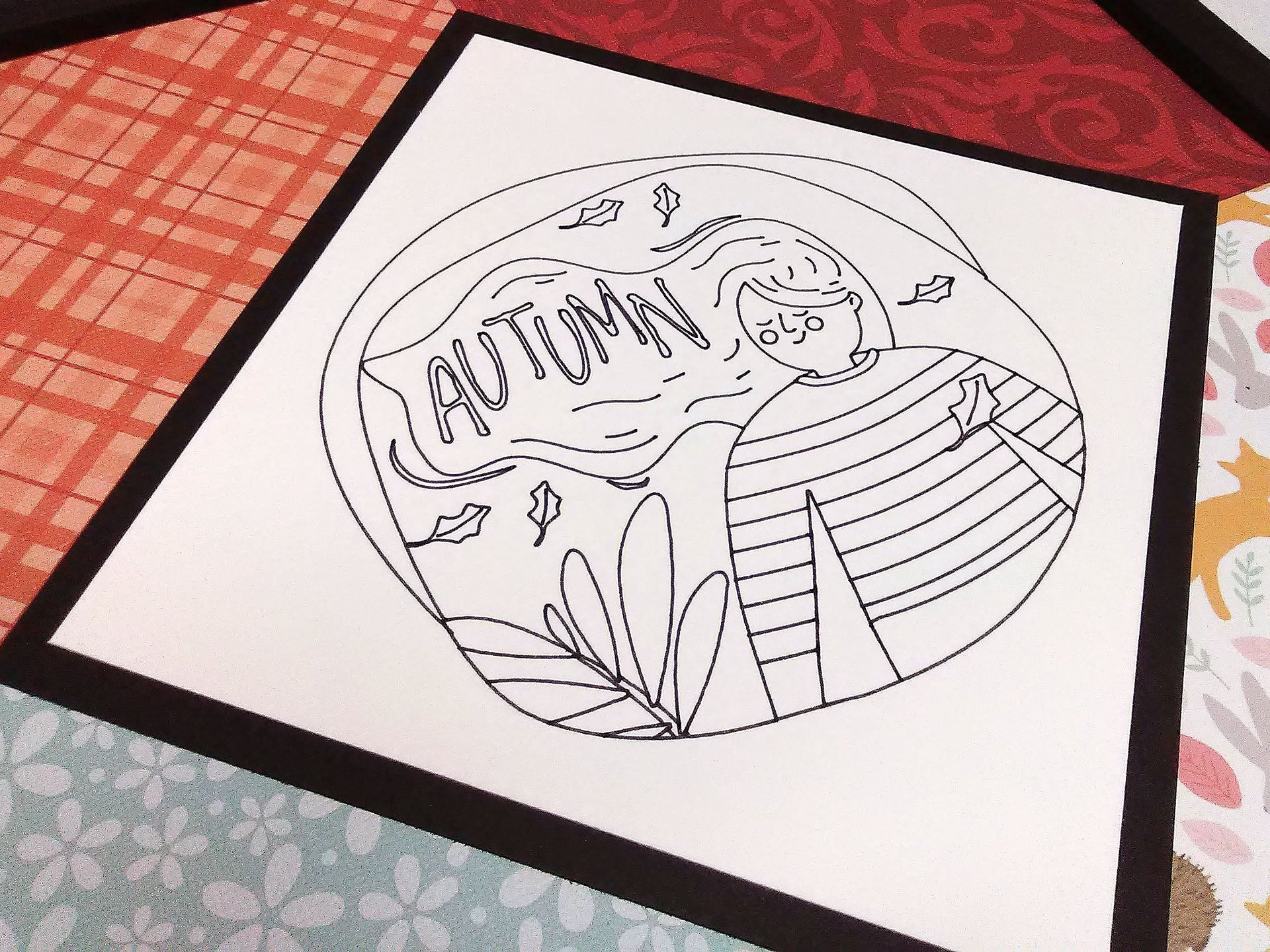 Easy Fall Sign Using Cricut Pens and Autumn Papers
Use Cricut pens and fall-themed papers to create this charming autumn sign – fast. Get the look of a hand drawn illustration without the work by selecting a pre-made design from Cricut Access.
Materials:
Square wood frame or sign, your choice of size
Acrylic paint, black or color of your choice
Assorted fall-colored scrapbook papers or cardstock, plus black and white
Cricut machine with black pen
Directions:
Paint the edge of the frame using black acrylic paint or another color of your choice.
Measure the opening in the frame.  Take half the measurement and cut 4 squares of scrapbook paper or cardstock to that size.  For example, the opening in the sample frame is 10 inches, so each paper square should measure 5 x 5 inches.
Select a design from Cricut Design Space with a hand drawn seasonal appearance, like this one, #MD77B33A. Using your Cricut, draw the design on white cardstock using a black pen and cut it out in a rotated square (square diamond).  Cut an additional, slightly larger square from black cardstock.
Extend the hand drawn appearance to the 4 squares of scrapbook paper by doodling around the main shapes in each design using the black pen.
Adhere the 4 squares of scrapbook paper to the back of the frame using spray adhesive or other adhesive of your choice. Layer the white square with the drawing on top of the larger black square and adhere both in the center of the frame.
Related Posts
Thankful Chalkboard with Cricut Explore Air 2
13 Fall Craft Projects to Create with a Cricut or By Hand