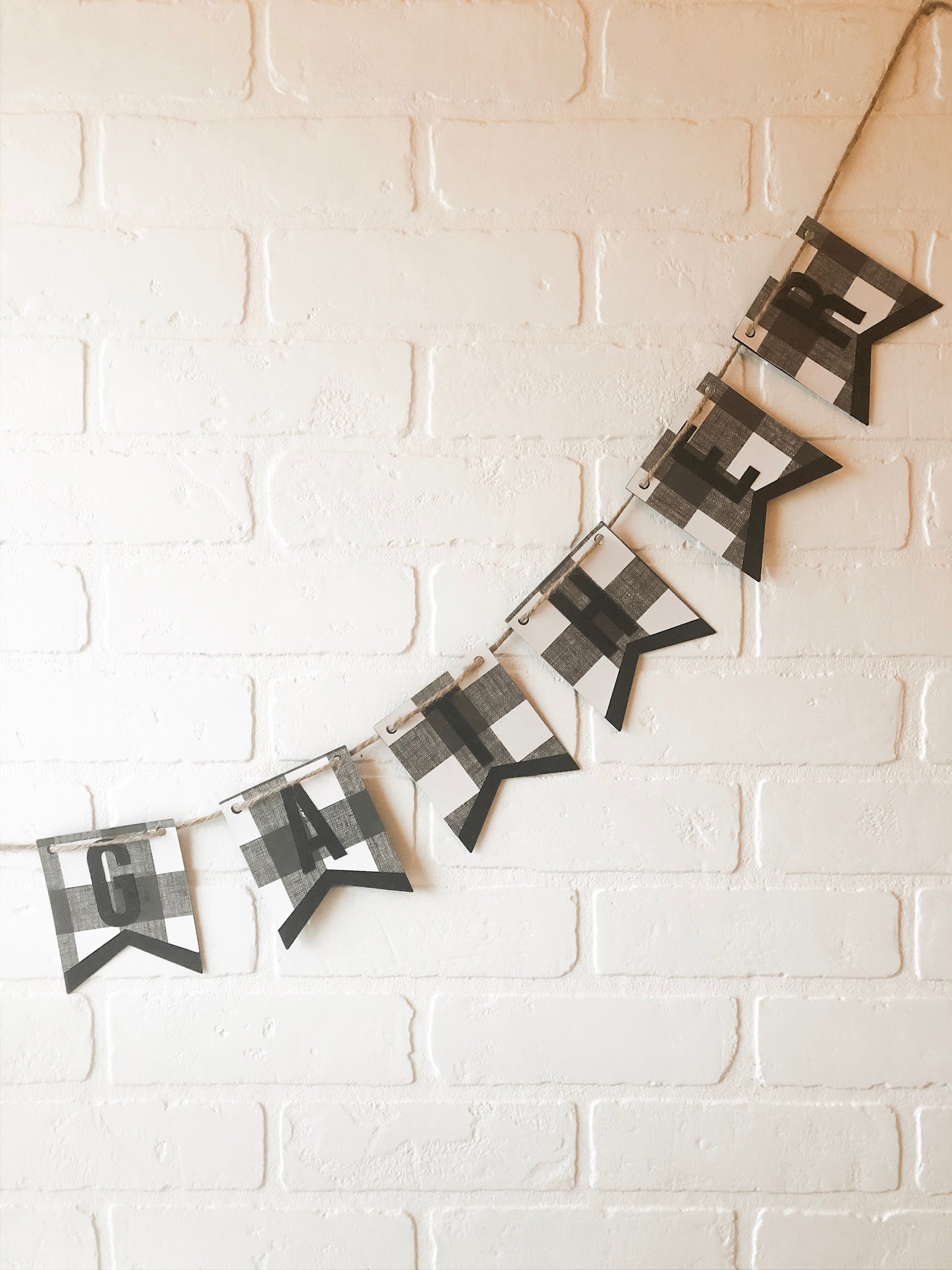 DIY Fall "Gather" Banner
My favorite season is officially here! I love crisp weather, football games and the change of colors. It's also the first season that I really decorate my house for. I'm a pretty frugal person, so most of my decorations either come from the Target dollar section or were made on my Cricut. So today, I'm going to show you how to make a simple banner using your Cricut! If you've never made a project with your Cricut before, this is a great one to start with.
Find the project in Design Space here.
Materials:
Buffalo Check Cardstock
Glue Stick
Glue Sponge (optional)
Twine
I've uploaded this project in Design Space, so if you want to make it, all you have to do is get logged into Design Space and then click here for the project!
To get started, we are going to get everything cut. I will be using the black kraft board for the base of the banner and the inside letters, so depending on how large your banner is, you'll probably need two sheets of the kraft board. I like to use the StandardGrip Cutting Mat for this paper since it's so thick. Note: if you're using an Explore machine, you'll need to choose "Custom" on your Smart Dial and then search for "Kraft Board" on your computer or phone.
Once that is done cutting, then we will cut the buffalo check paper on a LightGrip cutting mat. For the cutting setting, I chose "Light Cardstock".
Now we are going to assemble our banner. To do this, you'll need some glue. I'm using a glue stick and the Glue Sponge, but you can use any glue products you have on hand. 
We'll start by apply the buffalo check paper to the kraft board. You don't need a ton of glue, so you can be pretty frugal with this. Make sure to line up the holes and push out any air bubbles.
Once those are dry, we will apply the "Gather" letters to each pennant. I'm using the Glue Sponge for this. If you use this product, just be careful to not get glue on the paper. It'll dry clear, but you'll be able to see it. Simply press the letters in the sponge and lift. Again, you don't need tons of glue for this. You can use a ruler to get everything lined up or you can just eyeball it like me. 😊
The last thing to do is loop some twine or string through it -- and then you're all done!
The best part of this project for me was that I had everything I needed on hand! I didn't have to buy anything additional to make it. Think about what you have in your craft room and what you can make to decorate this fall! Happy making, friends!
-Courteney
Related Posts
13 Fall Craft Projects to Create with a Cricut or By Hand
Easy Fall Sign Using Cricut Pens and Autumn Papers