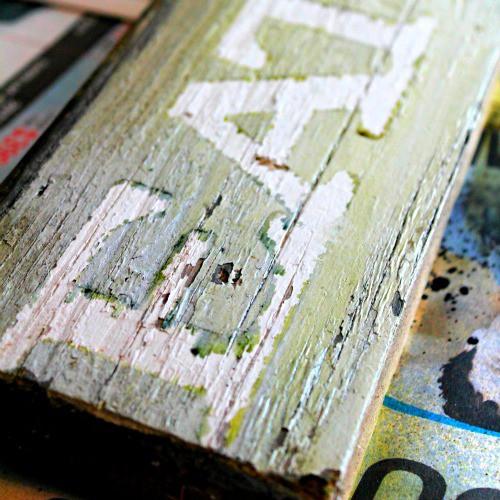 Eat. Sleep. Fish! Walnut Ink & Wood Project Tutorial.
EAT. SLEEP. FISH.
It's like Eat Pray Love, but for men (my father specifically). Today we are going to venture into new territories and stray away from paper and flowers to create this awesome wood sign that cost me only $1.30! (I am not kidding)
Earlier this week I showed you guys a layout I made using Walnut Inks on paper and today we are going to use them on wood. 
Just to recap, Walnut Inks are an antiquing solution that help create an aged look on almost any project. Use these inks on paper, leather, wood & more! I love the versatility and colors of these Inks!
Anyway, so here's the scoop…

It all started with a piece of wood…
 I picked this piece of wood out of the salvaged wood bin for $.05. at my local Re-Store.
No Joke…a nickle! The board as about 3 feet long and was in pretty rough shape, just the way I like it! I like the rustic look and the white paint was a great backdrop for the Walnut Inks.
First things first, sand and prep your wood! Give the board a good sanding and wipe it down with a clean cloth. I just sanded mine by hand, no tools needed here!
Next I cut my words out of Silhouette Vinyl using my Cricut Expression 2 Machine. I evenly spaced my letters to read the words EAT SLEEP FISH. Rather than Ink inside the letters (like a stencil), I am inking around the vinyl letters.
You can use any colored Walnut Inks you choose. For this project, I used Willow (greenish) and Cornflower (bluish). Spray the Ink directly onto the board and, using a paper towel, wipe the ink the length of the board. The more Ink the darker the color.
Since there was paint on the board already, the Ink did not saturate the wood like I was expecting. After the first full coat of ink it mearly stained the paint with a light color. I liked it, but wanted a more vibrant color. To get more color I let the ink dry a few minutes and then repeated the process a few more times.
Here is the board after a few coats of Ink. It was hard to see if the color would show, but once I removed the vinyl letters, the bright white paint showed through quite well. After letting the board sit a few days to fully dry, I added one last coat of ink and removed my letters.
For some last minute touch ups, I used a white charcoal pencil to color over where the ink had seeped under the vinyl letters slightly. When all was said and done, I sprayed it with a clear coat sealant for protection.
(The colors in image above are not the 'true' colors of the project)
Last summer I bought a pair of rusty old fish hook chains at a rummage. These vintage hooks are what they use to hang fish on in the "old" days. I got the 2 chains for $.50, a total steal if you ask me! The chain was just what I needed to hang my sign, and at a cost of $.25 I couldn't go wrong!
I had plans to  spray paint the chains, but for this project the rustic feel was perfect as-is.
I drilled two holes into the top of my board and screwed in two eye hooks ($1.00 at local hardware store) for hanging. I then hooked the two ends of my vintage fish chain onto the sign and the sign was complete!
Overall I was thrilled with how the sign came out and I especially loved the fish chain hanger. I have a soft spot for rustic and distressed items so this was right up my alley. I am 100% happy with the Walnut Inks and would highly recommend anyone to try them out.
My dad turned 60 last week and I gave this to him for our family cabin. Needless to say, he loved it!
What words would you use on this sign?
*Comment below with your answer and make sure to tell me your thoughts on the project!*