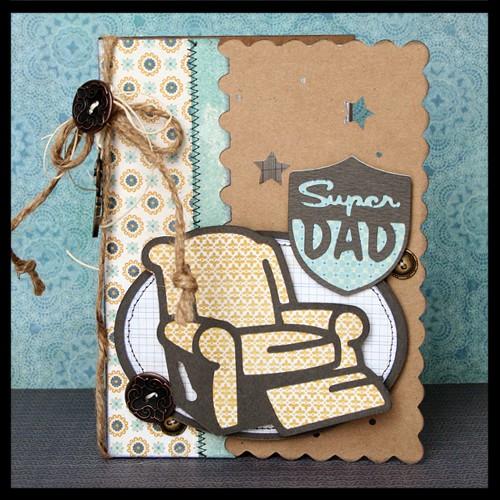 Father's Day Projects
 Father's Day is right around the corner and we wanted to share some ways YOU can scrap and craft your Father's Day memories this year…
I personally am super excited about this Father's Day because it will be Kevin's (my Hubby) 1st Dad's Day and he is very excited. Since our little lady Lauren is only 6mo, I will be picking up the slack on gifts and a scrumptious dinner- but she will bring all the smiles and love!
 First up? CARDS! Every Dad deserves the perfect card…
This card was made with the Father's Day Cricut Cartridge.
Is your dad quite the handy man? Make this super 'handy' tool belt card and give dad a gift card to his favorite hardware store! This would make a great birthday card for dad too!
This card was made using the George Cricut Cartridge.
Is the dad in your life an outdoorsy type? Does your family love to go camping? Then you need to check out this super fabulous layout made by
Cindy
over at
Cindy's Scraptastic Designs
.
 This layout is SO CUTE! I LOVE it! My favorite is the bear peeking out from the tree. This layout is made with the Campin' Critterws Cricut Cartridge which just HAPPENS to be on sale NOW- until June 19th, 2012.
Campin' Critters Cartridge is a very popular cartridge and has so many awesome images on it!
Here's a video tutorial on a stinkin' cute skunk card. (hehe get it?)
 Hope you all enjoyed all of the ideas and the video!
Stay tuned for more Father's Day ideas…
Feel free to comment, we love to hear from you!
WHICH PROJECT WAS YOUR FAVORITE!?