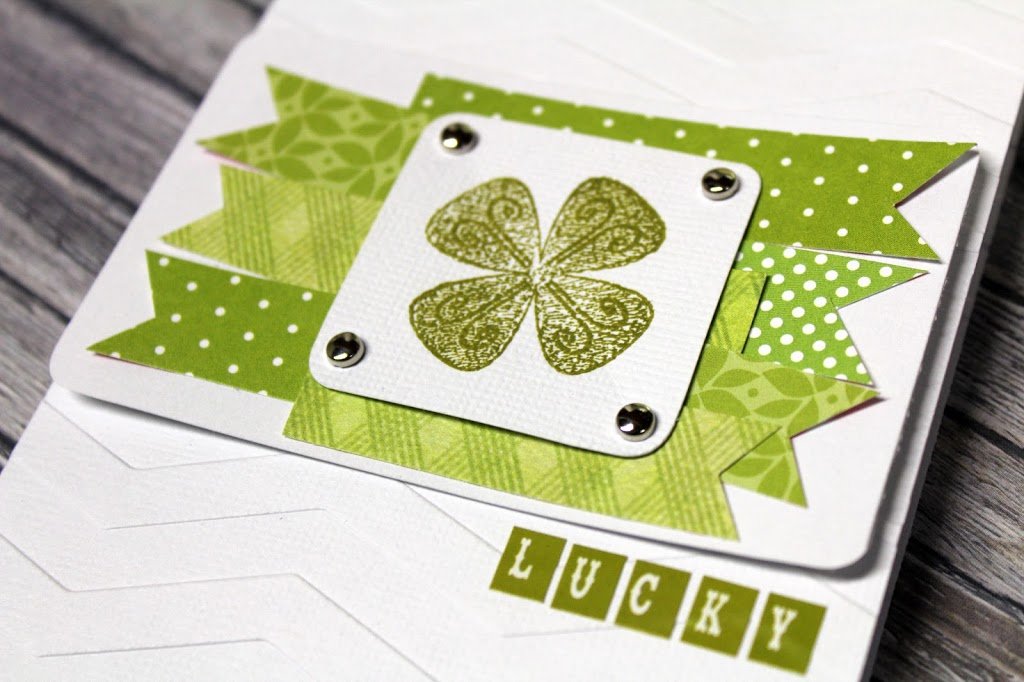 Fifty Shades Of Green! Lucky St. Patricks Day Card
Are you feeling Lucky? I hope so, because St. Patty's Day is this Sunday and it's time to celebrate all things green! I am a wee' bit Irish, and growing up St. Patty's Day meant the smell of corned beef and cabbage, soda bread, and green pistachio pudding for desert! Now that I am married and live over an hour away form my family, the best I've got is to CRAFT green! This is my daughters first St. Patty's day where she can eat real food so maybe, just MAYBE, I will attempt a home cooked St. Patrick's Day Meal.
Anyways, in light of this bright green holiday I thought I would share my 'Lucky' card with you all…
 I started out with an A2 size basic White American Crafts Cardstock card with rounded corners. I then embossed the top and bottom using my Cuttlebug Machine and my Chevron Embossing Folder. I then cut a rectangle just a hair smaller then the width of my card and popped it off of the page with Pop Dots.
I then raided my scrap paper stash and pulled out 4 different patterned papers in various shades of greens. I then simply cut out various sized strips and hand cut them into pennants on one end. 
Don't get me wrong, I love my die-cutting machine, but sometimes just a pair of scissors and a good idea is all you need!
Using my glue glider I adhered my strips in a random pattern onto my white raised rectangle to create a green background for my shamrock stamp. Now came my stamp dilemma. 
This whole card was based off of a stamp that is found in my Fancy Pants Doodles & Things Stamp Set that I absolutely love! I am not really sure if this stamp was intended to really be a shamrock, but it is now! I originally intended on stamping directly on the card (like above), but really hated how it turned out. Ugh! I hate when that happens!
LUCKILY (pun intended) I had stamped the image on a scrap piece of my white cardstock before stamping on the card and LOVED how the test run looked, so I improvised! OK, so I have decided to admit to you that behind the scenes of all my projects, there is always at least one whoops! I always go with the flow and try and work with what I've got. In this case, I just covered up my mistake!
I cut my test stamp out into a rectangle and punched holes in the four corners to adhere it with 4 mini silver brads. It was just what I needed to cover up my first stamp (yuck!).
 I was LOVING all of the different shades of green, especially the color of the shamrock stamp. I used my Versafine Spanish Moss Ink Pad. The color is so rich and beautiful! I even like the name of the ink, it was a 'natural' fit for this card!
Here was my 'completed' card, that was, until I decided it needed ONE more thing
… the word LUCKY!
I added the word lucky using my Megan Elizabeth Green Mini Alpha Stickers.
…and there you have it!  A bot o' Irish craftin' for ya!
 (that was a combination of my horrible Irish accent attempt mixed with my 'yooper' Wisconsin accent. Too funny!)
Now I ask YOU… Fill in the blank:
I am LUCKY ________________.
*By the way, a follower of ours pointed out something that is very true, it's not luck, but a blessing.* Touche! I still like to pretend that luck exists though, just for fun.