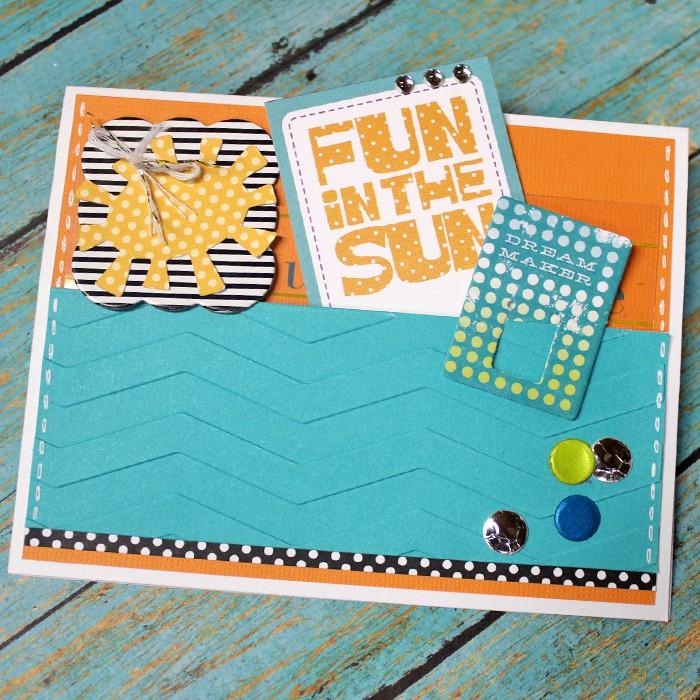 Fun In The Sun Pocket Card Tutorial
 Happy June! I know that it is not officially summer yet, but it is in my book!
It was a beautiful weekend here in Wisconsin, and all of the sunshine and bright colors inspired me to make a summer card…
With any project the very first thing I do is brainstorm. Rummage through your supplies and start layout out papers and embellishments that all go together.
 You might not end up using everything, but put it all aside just in case.
If you are anything like me your project changes a lot from start to finish. That is the beauty of crafting – coming up with ideas and inspiration along the way! My card is themed around a 'Fun in the Sun' journaling card that I had from the Echo Park Summer Days Collection Kit.
 To highlight the sunny theme I cut a sun out using my Cricut Expression 2 Machine and the Cricut Doodlecharms Cartridge. I cut the sun out using a yellow polka dot paper from the Sunshine & Happiness Kit Collection Kit. 
For the base of my card I cut a standard A2 size card using White Cardstock. I topped that with a layer of solid orange cardstock, slightly smaller than my card size. Next I added a strip of black polka dot paper and a thick strip of teal cardstock that I embossed using my Cuttlebug Machine and a Chevron Embossing Folder. When I adhered my teal block, I only used adhesive on the bottom and two sides, creating a 'pocket' for my journaling card.
Next I added a black and white striped chipboard piece I had in my stash and adhered my paper sun right on top of that. I poked two holes through the chipboard piece and  my card front and tied it onto my card with a white and gold glitter twine. I then adhered a clear sheet strip that had the word 'unforgettable' on it.
TIP: I used a solid adhesive runner to adhere the clear sheet but adhered it underneath my teal pocket to hide the adhesive.
Here is a close up of my tied on chipboard piece. The contrast of the yellow against the black and white really makes the sun "shine!"
Next I added three sparkly Megan Elizabeth Sparkle Lightz to my journaling card. I liked this little tag from my stash too. It's hard to see but it says "Dream Marker."
Lastly, I added a few Candi Dot Embellishments to the bottom right of my card to balance out the chipboard embellishment on the top left.
Write a fun note to a friend and slide in your journaling card. Pop on the little Dream Marker and your card is complete!
  Oh yes, and of course, I just had to add white stitching. My white Gel Pen is almost never left out of a project! A craft room MUST-HAVE!
The Dream Marker tab that is from the Just Chilling Chipboard Accents Pack.
I hope you all liked the card!
Have a super sunny day and thanks for visiting!
-Abbey-
What do you think? 
* Comment below, I love hearing what you all think of my work*