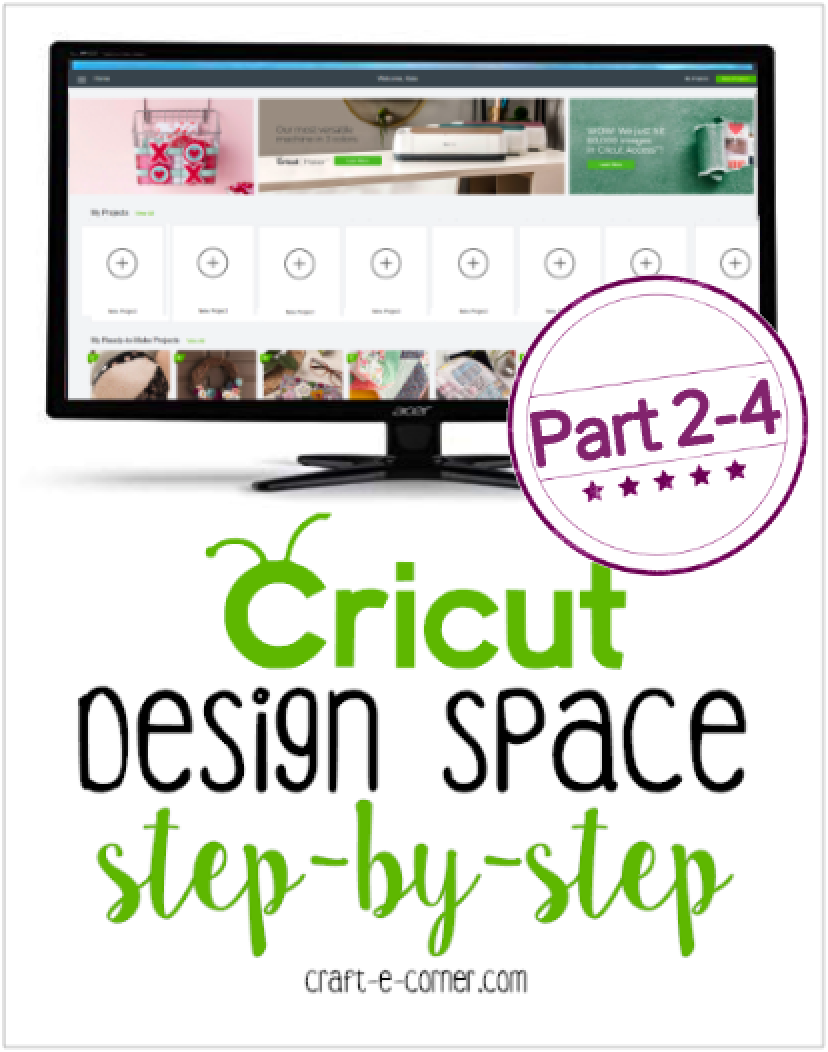 Getting to Know Cricut Design Space (Parts 2-4)
Design Space is the program that you will use to make files and projects that you can create with your Cricut machine.
There's lots to learn, so let's take a look at sections 2-4 of the home page in a little more depth.
If you're just jumping in on this post, you may want to stop over and check out the Getting to Know Design Space: Cricut Home Page (Section 1) first.  We cover the header (section 1) which includes all the details on the handy hamburger menu in the upper left-hand corner.
If you've already checked out section 1, let's move on and cover the rest of the home page with sections 2-4.
SECTION 2: Cricut Highlights Role
Section 2 has current ads and promotions. Cricut may post specials here, new features or tools. This is basically the highlight
roll of what's going on at Cricut and it will change periodically.
SECTION 3: My Projects
Section 3 holds your projects. When you work on a project and save it, you'll be able to quickly find it in your projects. When you create and save a new project, they will appear in  your new projects list.
To add a project to your projects list, create your project in DesignSpace and click on Save in the upper right hand corner:
Once saved, you will be able to access your project within this section of the home page.

You can also click the + button to start a new project.
SECTION 4: Project inspo for days

Section 4 is not only the largest section on the Home page, it is also arguably the most fun! This section is full of project inspiration by theme, season, material, project type and more. This section changes frequently so you'll always find fresh inspiration.
Find a project or design that you'd like to save for later? Add items to your favorites to easily find them when you need them simply by clicking the star under the project from the home screen:
To view your list of favorite designs, go to the Canvas and click on Projects from the left-hand menu:  
From there, in the upper right-hand corner, you can sort by categories. Choose My Favorites from the drop-down menu:
Only your favorited designs will show:
Now that we've walked through the home page, you should be ready to get started working with new designs!  Keep an eye out for the Canvas posts coming up, there will be a lot of information on how to use all those buttons!
Related Posts
Cricut Design Space: What are SVG files?
Using, Linking and Accessing Cricut Cartridges in Cricut Design Space