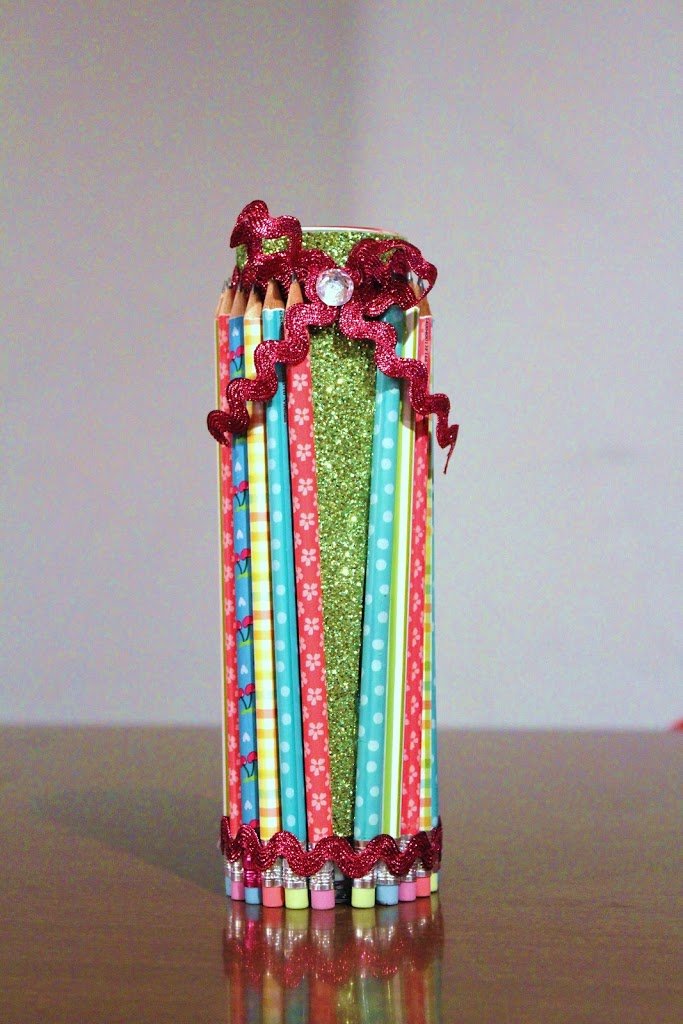 Glitter & Glue, How Do You Do? Glitter Writing Tutorial
In a previous post, I shared this Back-To-School vase I made for my niece Bella. I do love it as is, but I thought it needed just a little something more so I decided to personalize it justt for her!
Using some of my old scraps I created a watermelon colored name tag to go on the vase! I layered a piece of pink American Craft Cardstock, a piece of green polka dot paper, and last added a square of the American Crafts Glitter Cardstock! I then cut out the letter B on my Cricut Expression 2 Machine at 2″. I used my ATG Gun as adhesive on the entire tag.
 For the glitter writing I used a technique I just came upon and LOVE. At this summers CHA conference in Chicago we got some samples of products and for this project I used two of my favorite! First off, the Tombo Glue Pen ROCKS! It's like a gel pen but adhesive. You can write out or draw designs with it and cover them in glitter like I did here. I wrote out the words "is for Bella" and covered it in the NEW (Not yet released, available soon!) Ranger Stickles Dry Glitter (in PINK of course)!
 Just think of the possibilities! Add almost any design or shape to any project! The pen would be fantastic for gluing on small intricate details to projects too!
(Here's a sneek peek at another project I did. I added pink glitter lines to my black & white Washi Tape!)
…TA-DA!!! Here is my finished back-to-school vase for Miss Bella Rose! B is for BEAUTIFUL!
What do YOU think of this project? I'd love to hear your thoughts!