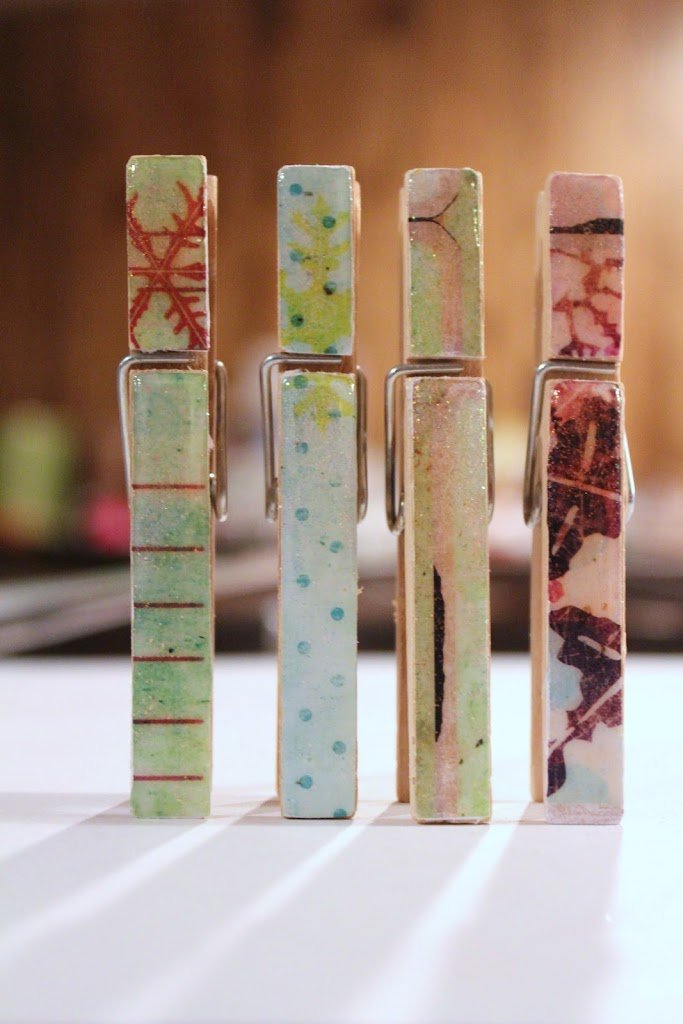 Glitter & Mod Podge ~ Christmas Clothespin Tutorial
Mod Podge ROCKS! Yep, I'm a fan! I have been using the standard Mod Podge decoupage paste for years until I recently learned at how many different types of 'Mod Podge' there are! I was in heaven! 
 Today I am going to show you all a project using the NEW Mod Podge Dimensional Magic.It comes in three colors; clear, silver glitter or gold glitter! For this project I am going to make some festive winter themed paper covered clothes pins. This project is super easy and takes no time at all!
I started off with a bare wood clothespin. (They come in large packs and are fairly inexpensive)
First, choose what paper you are going to use to cover the clothespin. For this project I used an old sheet of Arctic Chill Paper by Jackie Eckles. You can choose any paper you'd like!
Next, place your paper on top a cutting board or surface. Then place your clothespin on the part of the paper you want to cut, and using an xacto knife, carefully trace the clothespin.
After you cut out the clothespin shape, glue it on top on the clothespin. I used my thick tip ZIG pen for this part and it worked great!
Here are the 4 clothes pins I created. Each one from a different section on my paper. I love how each clothespin is different but the colors all work well together! If you look closely you can see some of the snowflake patterns on the clothespins.
My favorite one it the blue/green polka dot clothespin!
The next step is to add the Mod Podge Dimensional Magic on top of the paper to create a hard clear coat so the paper doesn't come off. I used the clear dimensional magic, but still wanted some sparkle. I decided to add some of the NEW Ranger Stickles Fine Dry Glitter in Diamond White to the wet dimensional magic
Here is what the clothespin looked like after I added the Dimensional Magic (it's still wet). It is self-leveling, so make sure your clothespin is laying flat. I did not realize this at first but the clothespins I was using are slightly angled so the wet Dimensional Magic was thicker in some spots than others. While it was still wet I sprinkled on the glitter. Dimensional Magic dries clear so anything you add to it will show. I left my clothespins for a few hours to let them dry. The drying time will depend on how think you make your coating.
Here is another close up of one of the clothespin when dry. The Dimensional Magic created a beautiful hard clear coat over the paper and was the perfect finishing touch to these clothes pins! I would recommend this product to anyone! I like that you don't have to use a brush to apply it so it leaves no brush marks. Also, you have the option to create a thickness of choice with this product without using multiple layers.
Here are my completed clothespins. I am not sure what I will use these for yet.
Let's take a vote!
WHAT SHOULD I USE THESE FOR?
 picture holders?
  fridge magnet clips?
hang my Christmas cards along a ribbon with them?
 Other?
Here are a few other great holiday clothespin crafts…
…Use ribbon and clothespins to hang your cards like they did on Beautiful Home Ideas. So clever!
Reduce, reuse & recycle!
Recycle, eh
the site features this great idea for a clothespin Advent Calendar! hand goodies for the kids and personalize this idea to your liking!
Well, that's all folks! Have a great rest of your week and happy holiday crafting!