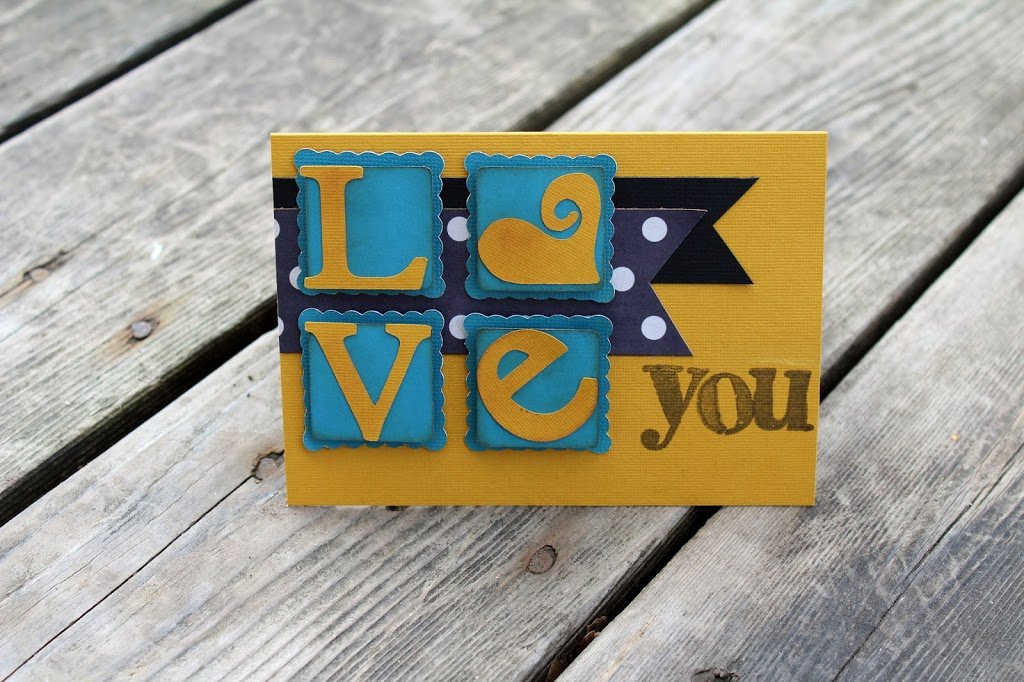 Gold & Blue Masculine Valentines Card
 LOVE YOU CARD….with just the right amount of 'manly'
Right after the New Year, I asked our followers on Facebook what did YOU all want to see more of  this year…and one answer was more "masculine" projects.
Lets be honest, the craft industry is pretty women dominated and a large majority of projects seem to have a more 'feminine' touch! Don't get me wrong, I love crafting with fun girly colors, and would LOVE to see more male crafters, these are all just mere facts.
So I took on the challenge and made a card for one of the most girly and feminine holidays (Valentines Day) and make it manly…
Using a combination of blue and mustard yellow (
LOVE
this
color
combination!) and some very basic shapes, I made this "Love You' card!
Even though the card still has a few feminine touches, like the swirly heart and the scallop on the edge of the squares, the bold and rich colors and sharp edges of the pennants give it just the right amount of 'manly!'
My kitchen is a bluish grey color so this card looks great displayed on my table! A friend asked who I got the card from… my reply? Myself!
Not really, I will send this to someone special, but for now it does look great displayed on my table.
All of the shapes were cut out using my Cricut Expression 2 Machine and the Cricut Accent Essentials Cartridge, my go-to cartridge at the moment!
I inked the edges of the blue squares using my Wrap Me In Chocolate Ink Edgerz and 'pop'ed them with the Megan Elizabeth Adhesive Foam Sheet. The word 'you' was stamped with the letter from the Fancy Pants Doodles & Things Stamp Set.
Hope you loved the card!
* I love seeing your comment so share your thoughts below*