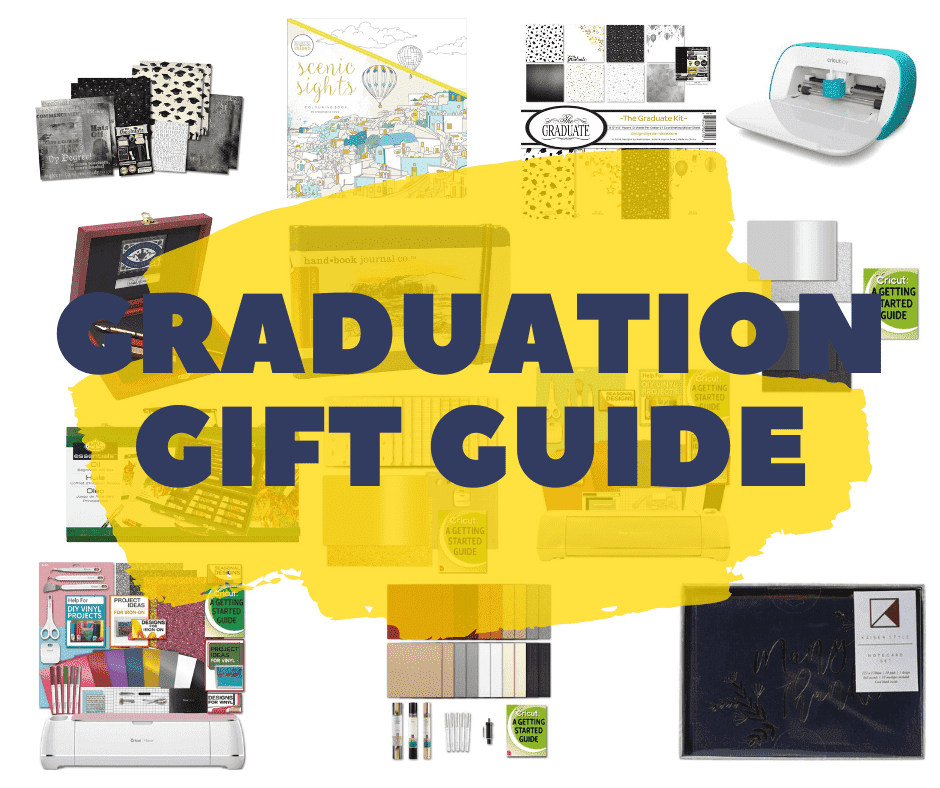 Graduation Gift Guide
Even though we won't be celebrating our graduates in the traditional sense this year, it doesn't mean we can't forget to celebrate them for all their accomplishments! Today we are sharing some gift ideas that would be perfect for the graduates in your life.
This is the perfect kit for cardmaking and scrapbooking! Learn the art of traditional writing and making seals. This package contains one gold marble dip pen holder, one 41 crown fine nib, one brass mini seal with a Quill design, one 10ml sepia ink bottle, one 3-3/4x1/2x1/2 inch red floral wick wax and one 3- 3/4x1/2x1/2 gold floral wick wax stored in one 1-1/2x8-1/2x5-1/4 Victorian style Chestnut wood storage box.

Turn your inspiration board intentions into action with a little help from your DIY best friend, Cricut Joy. Ridiculously easy to set up and use, this smart little cutting and writing machine helps you make more in less time, so you'll find yourself personalizing, organizing, and customizing every single day. Cut vinyl decals for custom water bottles or wall decor. Quickly make kitchen or office labels. Bust out a birthday banner or a just-because card. And it's the perfect size for a dorm room!
This coloring book has 40 pages with various different scenes that your graduate can bring to life! This would be a great brain break activity for your graduate in their collegiate career.
If you're planning on eventually throwing a party for your graduate, this bundle may be perfect for your decor! This bundle provides all the supplies needed to create attention grabbing decor, party invites, cap decoration, party favors, cake topper, and personalized t-shirts.
This set has everything the beginner artist needs to get started with oil painting. This set contains ten Essentials Oil Paints; six artist brushes; one bottle of Refined Linseed Oil; two canvas boards; one palette knife; one pencil; one eraser; one sharpener; one plastic palette; one well palette; and one instruction book. All of this is tucked inside a wood box!
This Cricut Maker bundle would be the ultimate gift for your graduate. It's the ultimate smart cutting machine! With the ability to use more advanced tools, Cricut Maker gives you the freedom to make virtually any DIY project you can imagine, from 3D art to home decor, jewelry, iron-on, vinyl, and paper projects.
This kit contains eight sheets of 12x12 inch scrapbooking paper and two sheets of stickers. The perfect way to remember all those years of school!
Show your loved ones how much they mean to you with a handwritten greeting card. With beautiful sentiments to suit every milestone, ensure that any occasion is a special one. This 5.5x4 inch package contains 14 cards with foil accents and coordinating envelopes.
Let your creativity shine with this bundle of Cricut products that are perfect for your next project! With your new tools and mat and your Cricut Embossed Foil Paper and your Cricut Party Foil Sheets you will add some shine and dimension to your personalized creations for birthday parties, anniversaries, work celebrations, holidays, graduations, and more!
Travelogue Sketchbooks feature artist-grade paper that is great for use with pen, ink, pencil and markers. Each book is bound with finely-woven European cloth, made with rounded corners, and includes a clear storage envelope on the inside back cover and elastic closure- all combining to offer the utmost durability when traveling. Accepts light watercolor washes without buckling. This package contains one 3.5x5.5 inch drawing journal with 64 sheets.
This is another great bundle option if your graduate loves to do some serious crafting! It comes with vinyl and tools to get your graduate started.
The perfect start to your next paper crafting project! This package contains eight 12x12 inch single-sided papers in four designs (two of each design) and one 12x12 inch coordinating sticker sheet.
If you're looking to bring the bright and shining decor to birthday parties, anniversaries, work celebrations, holidays, and more, Cricut Party Foil is your go-to! Use with all Cricut cutting machines.