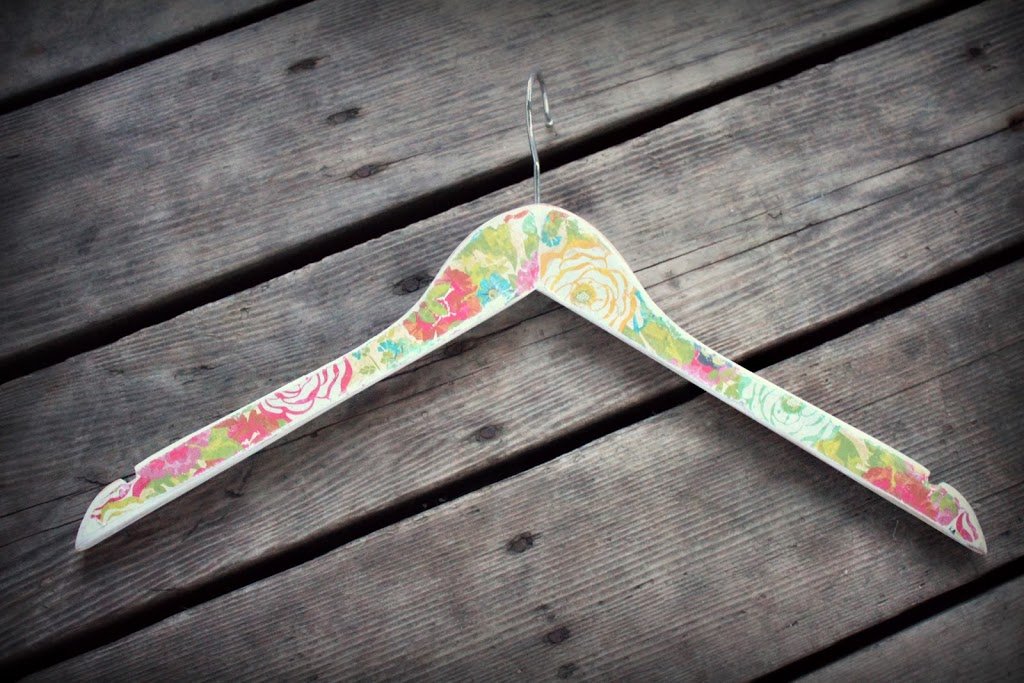 Great Gift Idea! Vintage Wire Name Hanger Tutorial- Part 1
Hi everyone! Sorry for the lack of posts lately. We've been crazy busy here at Craft-e-Corner.
I started to play with a new toy this week called the Wire Wind It Tool. My very first project I created with it was this vintage inspired wire name hanger.
This project was super simple and the Wire Wing It Tool really was easy to use. Here are the steps to re-create your own hanger, along with some useful tips, tricks and ideas along the way…
It all starts with an old wooden hanger. I got a bag of these at my local thrift store for $.99! There are a lot of different styles of wooden hangers, but for this project the large, flat, hangers (like the one above) work the best.
Remove the bar that expands across the bottom of the hanger. This specific hanger had a bar that pulled right off, and left two small holes, which is perfect! (you'll see why later)
 Next, take a fine grit sand paper and give the hanger a good sanding to prep it for painting.
Once my hanger is sanded and smooth, coat the hanger in a white paint using a foam brush. Don't worry about any streaks or brush marks in the paint, they just add to the character.
TIP: One coat should do, but if you do not want the distressed, streaky look, you can give it another coat. A heat gun works great for speeding up the drying process.
Now it's time to pick out a fun 12×12 patterned paper. Since I wanted my hanger to look more vintage and girly, I chose a bright floral paper.
Before moving on to the next part…
Once your hanger is completely dry, give it one last sanding. I sanded my hanger until I could partially see through to the wood grain (above). The more you sand, the more distressed your hanger will look.
Next, lay your hanger down onto your paper and trace one half of the hanger.
TIP: If your using a sharpie, like me, don't trace too close to the white hangar. I tracked mine slightly bigger and then cut slightly inside the tracked line.
Since we want the paper to fit exactly to our hanger shape, cut slightly inside of the traced area.
Once your first piece is cut and matches up to your hanger, flip it over and use it as a cutting guide for the other half of your hanger.
Now your paper is cut to the correct shape and ready to adhere. Go ahead and brush some Mod Podge onto your hanger, like glue. Lay your paper in place and rub it to remove any bubbles.
(Do not put Mod Podge on top of the paper yet…)
Once your papers are podged (glued) to your hanger and the Mod Podge has dried, lightly sand around the edges of the paper. Be careful not to sand to hard or your paper will rip. Start sanding softly and add pressure as you see fit. This last sanding is the most crucial and is what will really give your hanger that vintage distressed look
Once your hanger is sanded and you like the way it looks, go ahead and Mod Podge over the top of the paper. You can Mod Podge the entire thing if you choose.
I tell you not to Mod Podge earlier because one, you still have to sand, and two, if you Mod Podge something down and then immediately Mod Podge over it without letting it dry, you will get major wrinkles and bubbles.
Your hanger is now COMPLETE!
If you love your hanger as is,  great! Go ahead and make as many as you want. If you want to see how to add some wire detail and a personalized wire name (above), stay tuned for Part 2!
Here is a peek at the next step in personalizing your hanger with wire.
I hope you loved the project so far!
What do you think?
*Make sure to leave a comment below, I truly love hearing your thoughts, ideas, comments and concerns*