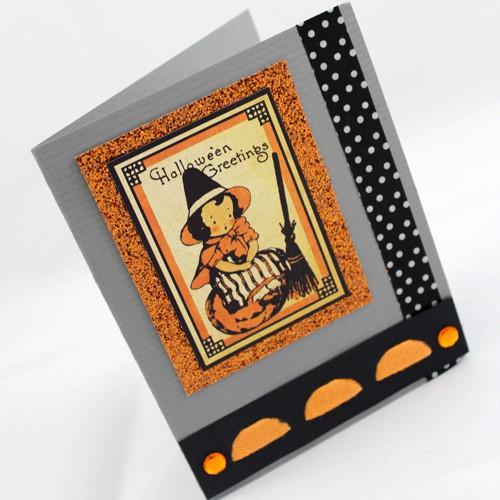 Halloween Greetings – Card Inspiration
Here comes Fall… with fall comes Halloween!
Check out these fun cards I created for this fun time of year!
To create this card I did the following.
1. I got my base cardstock for the actual card
2. Then started creating the bottom ribbon embellishment.
     a. First I cut a piece of cardstock to size
     b. Then used the Scallop Sew Ribbon Tool & Stencil with the orange ribbon
     c. Lastly, added  two rhinestones for some extra 'bling"
3. Next I added a strip of fun black and white polka dot washi tape along the edge
4. Then I cut out a great little image of this cute witch from the Graphic 45 Happy Haunting collection
5. Lastly, I framed my witch image with some amazing orange American Crafts Glitter Paper.
Here are some basic instructions for the second card:
1. I started this card with a lighter weight cardstock for the base of my card.
(Tip: The Sew Ribbon Tool works better on a heavier cardstock.)
2. Next I used the Scallop Sew Ribbon Tool and Stencil to create a neat pattern across the bottom of my card.
3. Again, I used a super cute design from Graphic 45 Happy Hauntings collection
4. Then mounted my Halloween image onto a orange and then black piece of cardstock
5. Lastly, I added a few cute orange pearl embellishments between the ribbon pattern.
Thanks! Hope you enjoyed the project and have fun creating your own Halloween cards!
Which is your favorite card?!?