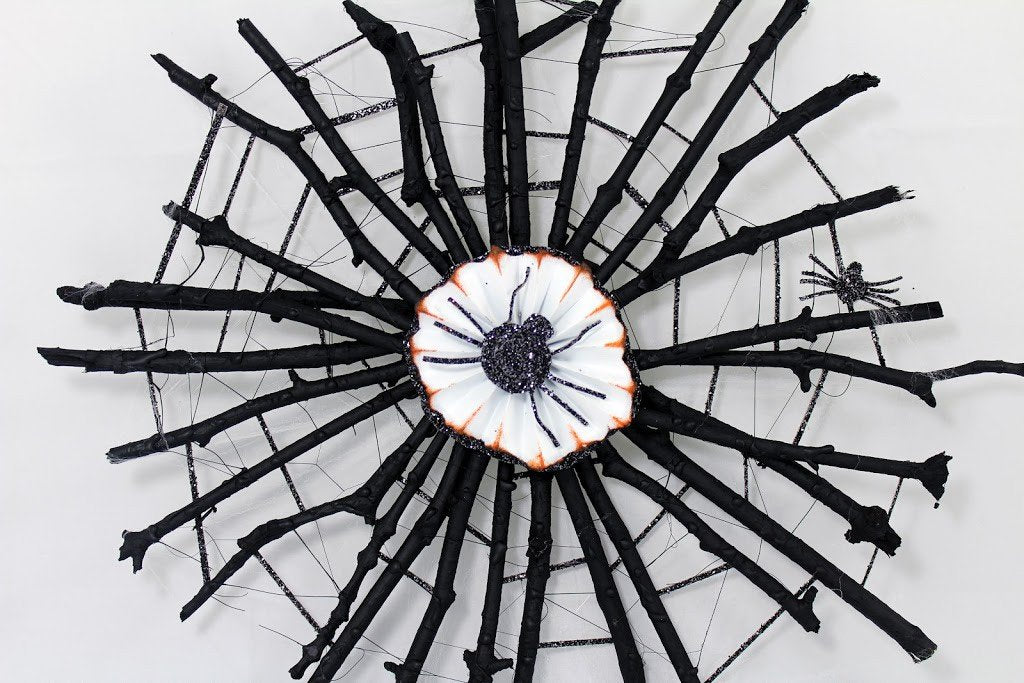 Halloween Spooky Spider Stick Art Tutorial
Happy Halloween! Well, maybe not yet, but happy Halloween crafting!
You can never start holiday projects too early! Creepy spiders, spooky skeletons, grumbling ghosts and MORE! MUA HAHAHAHA!
 (that is my evil excited laugh)
 Check out this Spooky Spider Stick Art I made this weekend!
I gathered all the sticks from my backyard and broke them to be about the same size. I then laid them out into a web shape. To adhere them all together I used a massive amount of
hot glue
in the center. Once it dried, I flipped it over and did the same thing to the other side.
 …and those annoying hot glue "strings" that are always in the way and all over everything? KEEP THEM! I actually took my hot glue gun and dabbed the sticks to creates these string webs between the branches.
 After everything is dry, I spray painted the entire thing with a
black matte finish
. I sprayed both sides, one at a a time.
 I then hot glued on extremely thin pieces of black
American Crafts Glitter Paper
strips for a little sparkle. I glues these on the back so the glitter would shine through.
For the center I made a white paper rosette with torn edges. First I inked the edges with my
Megan Elizabeth
Orange Sweetness Ink Edger
followed by the
Black 1:00am Ink Edger
. I glued the rosette onto a piece of the glitter cardstock for a little bit of bling around the edges and handmade a glitter spider for the center!
Here's the final piece! It looks great against my white front door! The contrast really makes it POP and the sunlight from outside makes the black glitter paper sparkle beautifully!
Hope you enjoyed the project and get inspired to make your own spooky stick art.
What is YOUR favorite Halloween color to craft with?