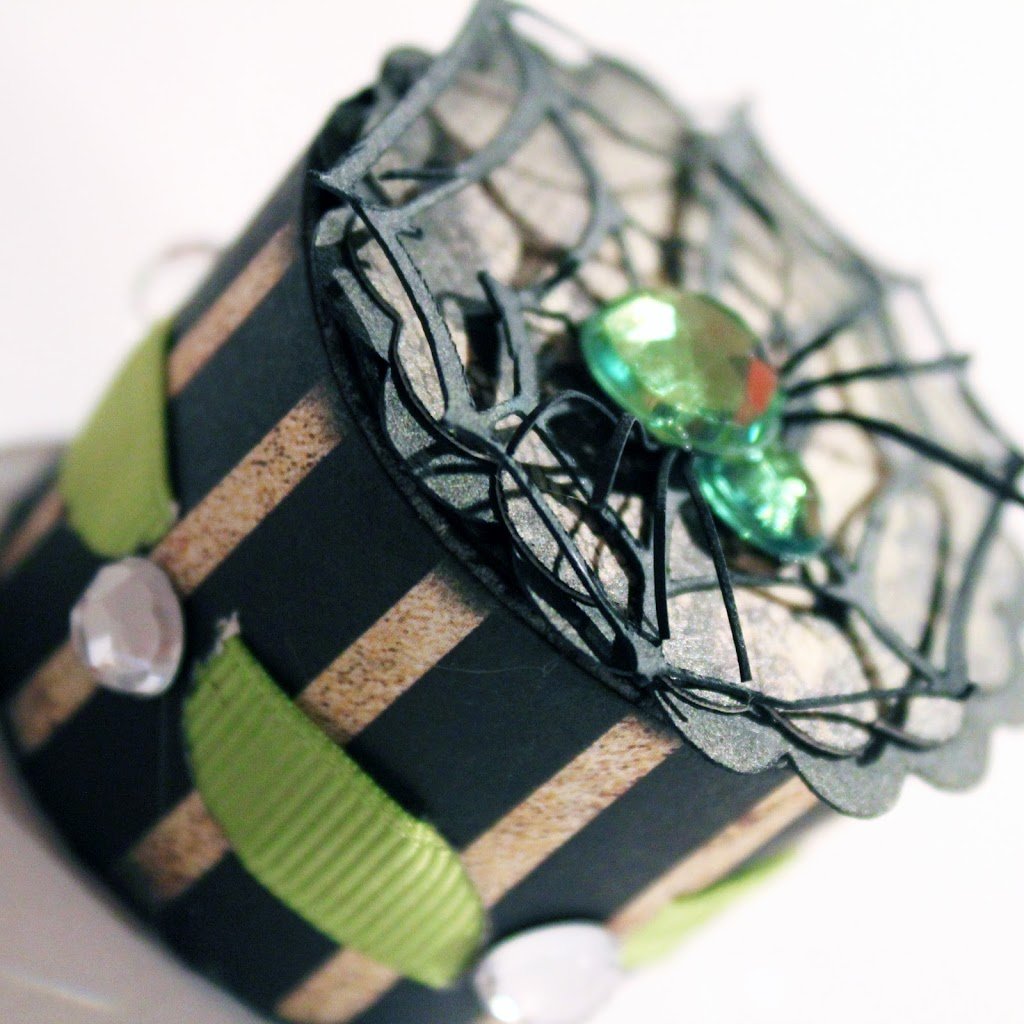 Halloween Toilet Paper Roll Treat Box Tutorial
Hi everyone! I hope you all are enjoying crafting for Halloween as much as I am. Here is a treasure box I made using some new products we just got in at Craft-e-Corner!
 I know that a lot of you might not craft for Halloween because it's just one day, but all of my projects are simple and don't take much time at all!
 I have an 8 month old daughter and her bed time = my craft time!
For the outside of the box I cut a 1.5 in wide strip of Fabscraps Classic Black Striped Paper. Using my NEW We R Memory Keepers Sew Ribbon Punch Tool and Green Ribbon I created this ribbon pattern across my strip of paper. This was my first time using this tool and it was SEW easy and I love the pattern it created!
TIP: To create the "frayed" look, i just took my sharp scissors and ran the blade along the edge. Then I used my Megan Elizabeth 1:00am Ink Edgerz Ink Pad to ink the edges black. I use these little guys on almost every project I do and highly recommend them!
To make the box I recycled an old toilet paper roll and cut a section off just a hair shorter than the width of my paper. Hot glue it on and you have your base for this little box!
TIP: At this point, if you wanted to keep the ring as is, you could use it as a Halloween napkin ring! You could easily create a bunch of these for a party or your kitchen table!
For the top I cut out 2 scalloped circles with my Cricut E2 Machine, one slightly smaller than the other. I then Cut out a spider web from the Happy Hauntings Cartridge and crinkled it for a little dimension. I hot glued the very center onto my scalloped circle and then added two 3M Gems to create a spider!
To keep the lid on I cut a thin ring off of my toilet paper roll, cut the ring open and trimmed a small amount off. Then I glued it to the bottom to create a ledge so the lid would sit on top of the box nicely.
Here is the final box! It's perfect side for a few pieces of candy, a few spider rings or whatever trinkets you can think of!
Hope you liked the project!
WHAT WOULD YOU PUT IN THIS BOX?