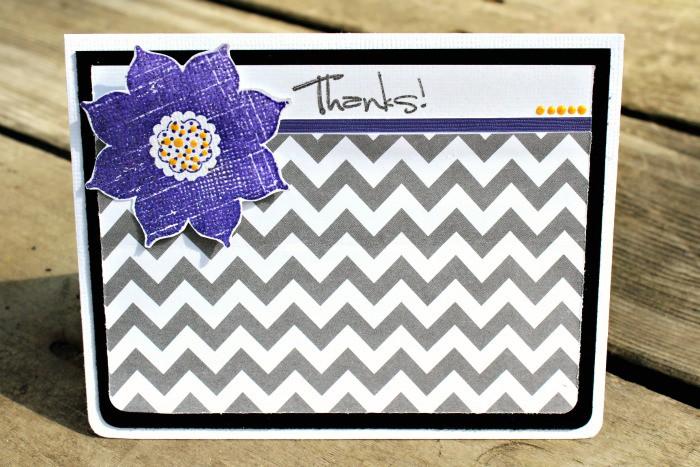 Heat Embossing With Colored Ink & Thank You Card
Hi everyone! Guess what? Last night I heat embossed for my very first time, ever!
I know, I know, I am a little late in the game but it's never to late to try something new right?
You know when you hear a new song and love it so you play it over and over again? Well, that it how I am with heat embossing – totally obsessed!
 To make this beautiful purple sparkly flower I took a piece of scrap white cardstock and stamped my flower in purple Lush Ink. TIP: Make sure your stamp is inked up and juicy so your embossing powder sticks well. Once you stamp your image onto the paper, sprinkle the entire stamped image with the
Tsukineko Sparkle Embossing Powder
. Shake off any extra powder back into the jar.
Using a heat tool slowly start to heat the embossing powder. Start heating from a distance and slowly move the heat gun closer until you see the powder start to melt. Then slowly move the heat gun over the entire flower until the powder is evenly melted.
 Next using scissors, carefully cut out your embossed flower and 
CHECK OUT THAT SPARKLE
!
For some of you who have never heat embossed before, here is a quick video tutorial and a few tips & tricks on hot to heat emboss!
Hope you loved the card and have a fabulous day!
Have you ever heat embossed? What is your favorite heat embossing technique to use?