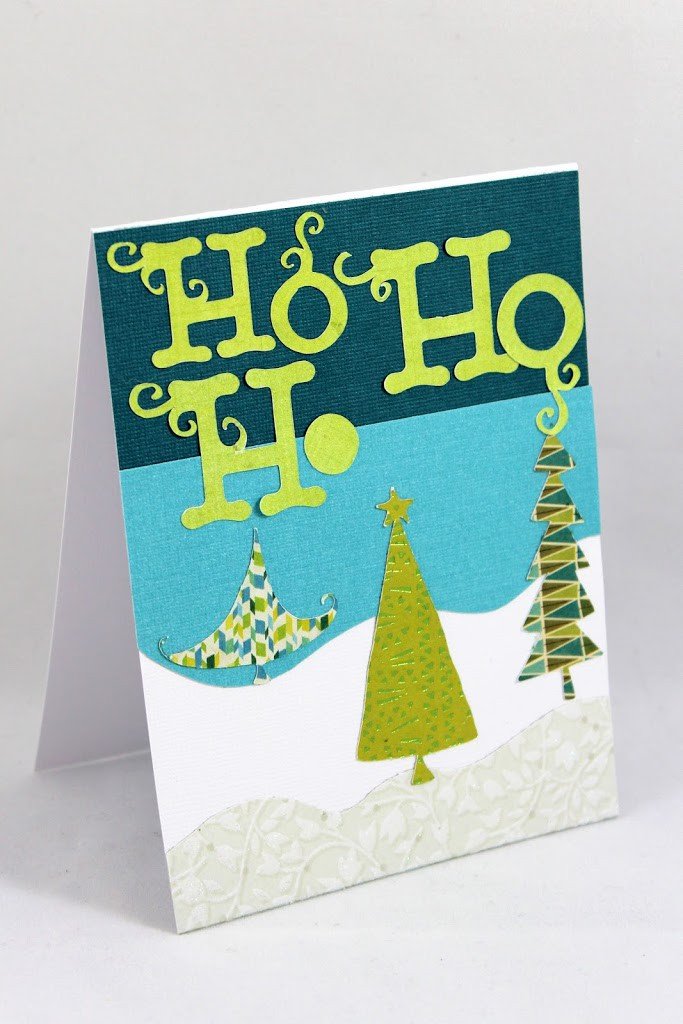 Ho Ho Ho-liday Modern Christmas Card Inspiration
I know it might seem early to some of you but Christmas is going to come FAST and it's a great time to get a jump start on your holiday cards!
Here is a simple modern tree 'Ho Ho Ho' card to inspire you!
I used the Christmas Cheer
Cricut Cartridge
to cut out the three different tree's on my
Cricut Expression 2 Machine
. Love love love this Cartridge! My favorite is the 'curly' tree on the left. It reminds me of the grinch, one of my favorite holiday movies.
I used a few shades of blues and greens for this card so it had a winter feel. I love the classic red and green for holiday cards, don't get me wrong, but this card had a bit more modern feel so I used the non-traditional colors.
Oh yes, and of course there's a bit of sparkle in everything I do! For the snow, I used a white paper from the new S.E.I holiday line that had a bit of sparkle to it. Now my snow glimmers like real snow shining in the sun! The green paper also had a bit of foil shine to it.
Well, there you have it. Just a few cuts, some bright modern colors and fun shiny papers and…
 WHA-LA! You now have created a beautiful holiday card to give to someone special.
Hope you like the card and happy holiday crafting!
Do you like a more modern feel for your Christmas crafting or do you like a more traditional Christmas feel?