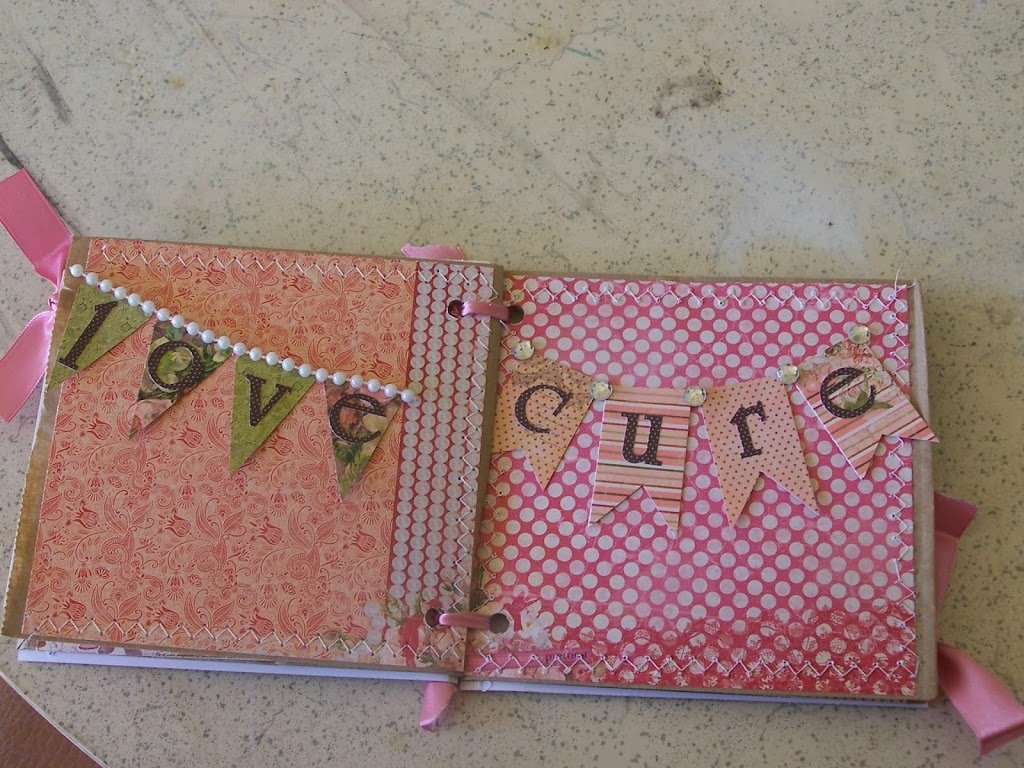 Hope, Love & Cure Paper Bag Mini Album
A portion of all Craft-e-Corner proceeds this month will be donated to the National Breast Cancer Foundation. So shop at Craft-e-Corner and craft for a great cause!
Craft Pink! is a blog series we are doing all month long featuring pink inspired craft projects to promote breast cancer awareness! Every week we will share different projects created by featured design team members from
Helmar
,
Die Cuts With A View
,
Graphic 45
,
Hampton Arts
&
Memory Works
.
Today's Craft Pink! breast cancer project is brought to you by Memory Works design team member
Cathie Hollins
! She created a beautiful inspirational "You Are Beautiful" mini paper bag album featuring the words
Here is the cover of her album. I just love the silky pink ribbon and pearl accents!  Take a close look…Cathie sewed on the paper which creates a beautiful 'sewn' border around the page!
These are just a few of many inspirational words that send the powerful message of breast cancer awareness! My favorite page in Cathie's album is the "cure" pennant page. I just love the polka dots…and look at those rhinestones! They add just the right amount of bling to this pretty pink piece!
Cathie used the Bo Bunny Little Miss Collection for this piece. The collection overall has a very feminine feel and features some beautiful patterns and designs! 
DID YOU KNOW
MEN
CAN GET BREAST CANCER???
The Breast Cancer Myth
Men do not get breast cancer; it affects women only.
The Truth
Quite the contrary, each year it is estimated that approximately 2,190 men will be diagnosed with breast cancer and 410 will die. While this percentage is still small, men should also check themselves periodically by doing a breast self-exam while in the shower and reporting any changes to their physicians. 
Breast cancer in men is usually detected as a hard lump underneath the nipple and areola.  Men carry a higher mortality than women do, primarily because awareness among men is less and they are less likely to assume a lump is breast cancer, which can cause a delay in seeking 
treatment.
Thanks for stopping in and I hope you loved this pink project! Make sure to stop in all month long or sign up to follow our blog and get inspired with craft projects all year long!