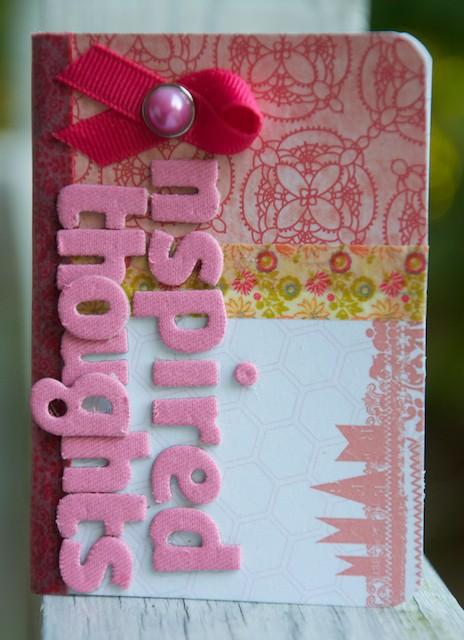 Inspired Thoughts Mini Journal Tutorial
Today's project is brought to us by the talented
Helmar
designer
Katie Nolan Denham
! Katie created a beautiful PINK breast cancer inspired journal titled "Inspired Thoughts."
Here are some notes from Katie herself and how she created this beautiful journal!
"Inspired Thoughts" Mini Journal Instructions:
Mini journals are great to tuck away in a purse.  I like to keep one in my purse for random thoughts.
To create my "Inspired Thoughts" mini journal, I simply altered a mini
composition book
.
These books usually come in packages of 3 for about $1.
I used two complementary pieces of pink paper with Helmar Craft & Hobby PVA Glue to cover the front and back of the book.
Then I trimmed the curved edges with my scissors.
I created a Breast Cancer Awareness bow by cutting one 3″ piece of pink ribbon and curving it.  I held the shape of the bow by adding a pink pearl brad.  The brad also adheres the bow to the journal.
-Katie-
(back to me now)…and WHA-LA! You now have a beautiful journal for all your thought and creative ideas. I always get ideas in the most RANDOM places and times and wish I had a journal with me. GREAT IDEA KATIE!
Where do YOU get your best crafting ideas?
*This might sound weird, but I get my best ideas when I am falling asleep or in the middle of the night*
Make sure to head over to the National Breast Cancer Foundation site and get educated and spread awareness about breast cancer and how to support and help find a cure!
Materials for "Inspired Thoughts:"
1 mini composition notebook
Helmar 450 Quick Dry Adhesive
Helmar Craft & Hobby PVA Glue
2 (4-1/2″ x 2-7/8″ each) pieces of complementary Webster's Pages double sided paper
2 complimentary rolls My Minds Eye Indie Chic Tape
3 " piece of ribbon
American Crafts Alphabet Thickers
1 misc. brad