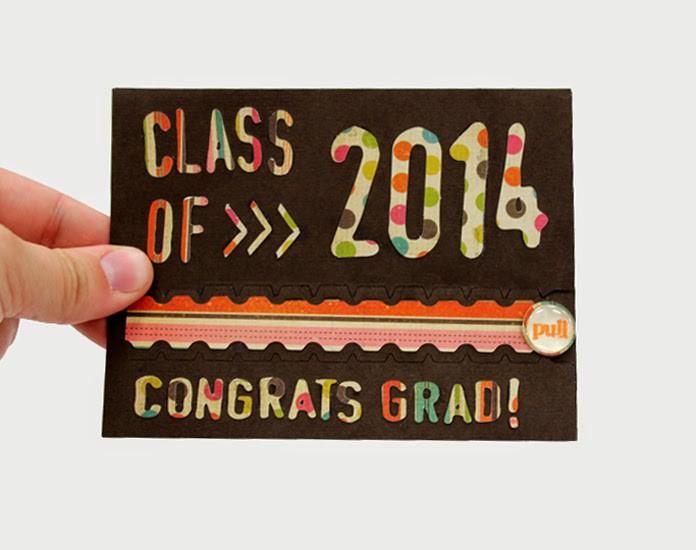 Interactive Zipper Pull Card- Congrats Grad!
It's almost time for the class of 2014 to walk across the stage here in Wisconsin!  To celebrate- I crated this fun & interactive card that will make your card one that really sticks out to them!  It's perfect for giving money or a gift card- they'll love opening this card, guaranteed!
I was opening the mail the other day and got a package that had one of these:
I have always loved opening packages that have the pull tabs- it's just fun to do.  As I was opening the package, the crafting light bulb in my head went off and I thought "Oh, wouldn't that be fun on a card!"  Of course I got right to work on that and came up with a sample:
I was so excited that it did just what I wanted it to do!  I used my Silhouette Cameo to create this card but you could use any other die cutting machine, or even stickers to make this card.  I used paper from the Fabulous Collection Kit by Simple Stories to make this card.
To make this card in the Silhouette Studio, I typed a bunch of [ symbols in a line and then rotated them to go across the card.  Make sure there is a little space in between the characters so your card can rip apart, but won't fall apart.  I also typed out my words and moved them around on the cutting window to minimize how much paper I used:
Once I had my card front cut and the letters, I glued on each individual…. letter… by….. hand…..
It was a slow and messy process and I wished dearly that I had a Xyron sticker maker!  With a Xyron, you just feed the letters in one one side and pull them out the other side and have instant stickers!  That would have been much easier…
Once I had all my letters stuck down, I sketched out "Pull" for the pull tab circle using Silhouette Sketch Pens to help identify what to do with the card:
I added a Epiphany Crafts bubble cap on top of the pull circle to give it some detail that draws attention to it.
Next I used my Silhouette Sketch Pens again to sketch out a sentiment that will only be seen once the grad opens the card by pulling the pull tab:
One thing to keep in mind when writing out your inside message is to make sure your words match up where the card will open.  If you want to stamp a sentiment, line up the stamp with a ruler.  Keep the inside of the card about a 1/2 inch smaller to the right than the front of the card, otherwise your what base will show behind the pull tab.  I cut a second piece of brown card stock (the same color and size as the top card) for the back and attached the inside of the card to it.  If your card base is a lighter color, you can just write the sentiment on the back of the card instead of making a sandwich like I did here.
Next you just need to add tape to the front of the card and place down your money, photo or gift like so:
Add a little extra tape where the zipper pull starts and ends to reinforce the card so it doesn't tear where you don't want it to.  Anything can go inside the card- money, photos or gift cards are all great gifts for grads!  I plan on adding a littlegraduation confetti too (click the link for a tutorial on how to make your own!)
Once you add tape to the front of your card (it's easiest to do the front so you can line up the tape with the zipper opening)- you can attach the front and the back of the card together and sandwich your gift in the middle.  When the grad goes to open the card, they will be able to see your secret message and get their gift!  How fun!
To make this card without the die cutting machine, you can simply use a Xacto Knife and a ruler to make a dashed line to make the pull tab.  This is really a fun idea and there are so many things you could do with it!
Do you know anyone graduating this year?