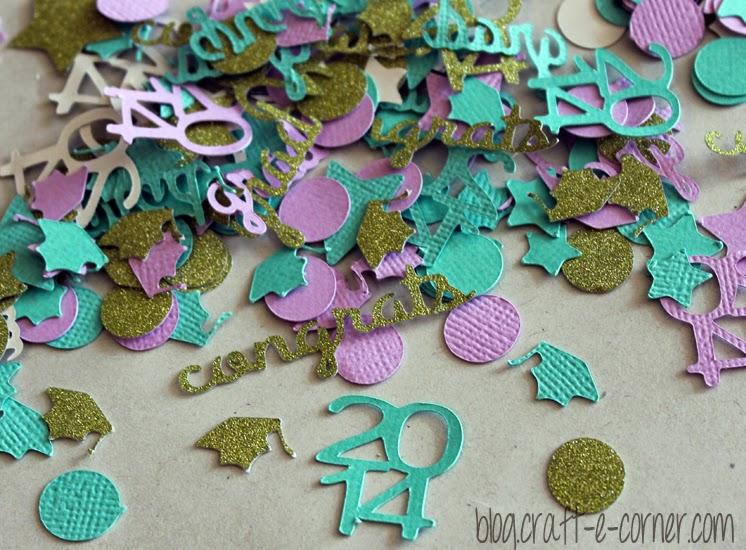 DIY Custom Graduation Confetti with Silhouette Studio
Graduation season is upon us!  If you have a grad in your life, you're bound to be throwing a party or sending a graduation gift.  Why not make your own custom confetti to decorate or include as a fun extra in a card or gift?

I used my Silhouette Cameo and Designer Edition Software to create this confetti, but other die cutting machines such as the Cricut Expression (/2), BossKut Gazelle, etc. are also capable of similar results (though the directions likely differ based on your machine)!
To make this confetti I traced images and welded letters.  Below is a quick tutorial on how to trace basic shapes, but if you would like to learn more about welding letters or shapes together, check out this tutorial on how to weld in the Silhouette studio.
To make the graduation hat confetti, I did a Google search to find a graduation cap.  Copy the image and paste it into your Silhouette software.  Next, select the trace area button (I always think it looks like a piece of blue buttered toast in the upper right hand corner).
Next check the "Select Trace Area" button.  A gray box will appear, drag it around the image or part of the image you'd like to trace.   You will see the image turn yellow as your drag the box over it.
Silhouette Studio will automatically have the "High Pass Filter" box checked (silly presets…).  Uncheck the box and adjust the "Threshold" if necessary.  You want your whole image you want to trace to be yellow.  For a basic shape like this, I did not need to adjust the threshold.
Next, click "Trace and Detach" to get just the outline of the hat.  You can then move the image away and delete it. Clicking "Trace Outer Edge" would also work for this image.
Now you can resize your hat outline into a much smaller, confetti sized, hat.  I decided at this point that I wasn't a huge fan of how the hat looked when traced so I edited it.  It is easier to pick an image that is already the shape you want once you trace, but you can always edit with the Designer Edition Software too! (If you're on the fence as to whether or not your need the Designer Edition version of the software- my answer would be a resounding YES! It's a MUST for me!)
To make lots of confetti, you'll need to replicate your image over and over again.  You can use the replicate button to do this (it looks like a flower in the menu bar) or you can copy and paste your image over and over again.
I decided to make several different shapes/words and cut them out of three different colors of paper.  I made graduation hats, circles, "2014" "Congrats" "grad" and stars – you can choose whatever your hearts desire though, it's so much fun to customize party decor!  Even the negative space from the confetti is nifty (before you go throwing it away, check out this post for some ideas on
how to recycle the leftover paper
)!
This confetti will look great scattered on the table at any graduation party.  I would even add a handful to a card, just for fun!
Here are a few tips to make this project easier!
1-Use a scraper or spatula tool to help you quickly and easily lift your confetti off your mat.
2-A hook tool is great for picking out tiny little pieces (like the middle of my 2014 characters, above).
3-If you have a spare mat, use it!  Working with more than one mat makes this process so much quicker- you can cut your first color on one mat, then while you are removing the confetti pieces, you can start up a second mat cutting the next color.
4-Choose cardstock that is colored on both sides – that way if your confetti lands "face down" it will not be as obvious.
5-Use paper that is a little heavier.  Thicker paper comes off mat's easier!
By the end of this project, I needed to clean out my blade for sure- I could see a little piece of glitter paper stuck inside.  Once I cleaned it out, it was cutting great again though!  Need to clean out your blade too?  Check out "
How to Clean A Silhouette Cameo Blade (Tutorial)
" here.
Are you are brand new to tracing?  I would highly recommend watching the "Tracing Without Tears" YouTube series, it is VERY helpful and she does an excellent job of explaining things in a detailed, yet to the point way!
Will you give this confetti a try?  What colors or shape combinations will you choose?