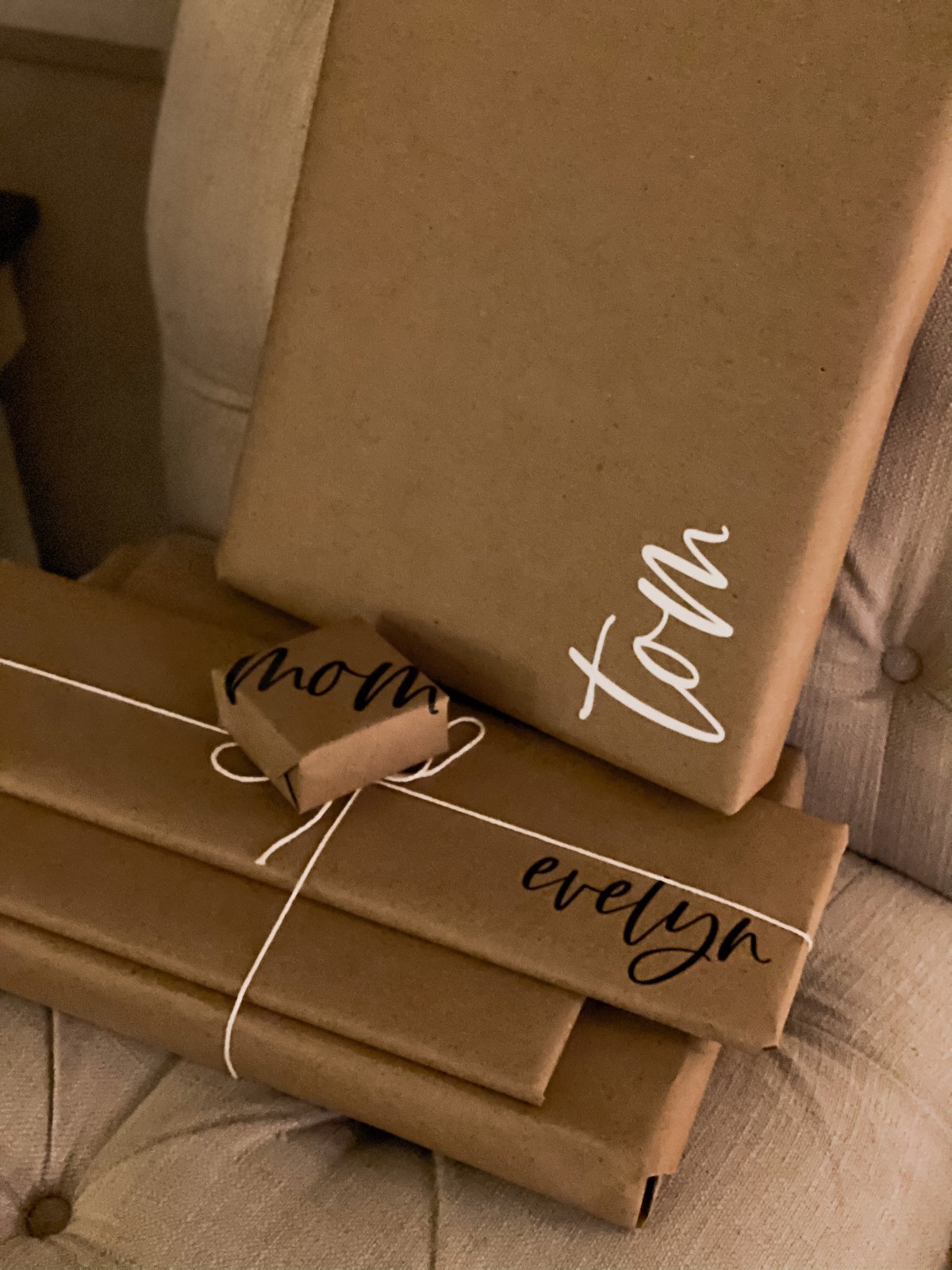 Last Minute Gift Wrapping with Cricut Joy
If you're like me, we're less than two days away from Christmas and you just finished your Christmas shopping and are just wrapping presents. 😂 Usually I like to get all fancy with our Christmas wrapping, but I had a baby two months ago and haven't been able to put a ton of thought into it this year. So if you've procrastinated like me, let me show you how I wrapped all my presents using my Cricut Joy and materials I only had in my home!
Materials:
Step One: Wrap Your Presents
We have a bunch of this kraft paper on hand that we use when we ship items. I don't have any wrapping paper, so I used this paper to wrap my presents! I picked it up at Menards (if you don't have a Menards, you can find it at Lowes or Home Depot in the paint department).
Step Two: Create Your Design
You can get as creative as you want at this point! I simply chose to write the recipients name. To add text, you'll click on "Text" in the column on the left-hand side of the screen and start typing. I used a font called Barley that I purchased from a shop on Etsy. Check it out here! Then adjust each name to the correct size you need for each present.
Step Three: Cut Your Vinyl
I used my Cricut Joy and Smart Vinyl for the tags. It doesn't really matter if you use removable or permanent vinyl — I just used removable because it's what I had on hand. I used two different colors for the decals. By the way, I'm definitely crafting on my kitchen counter. Can't beat the convenience of the Cricut Joy!
Step Four: Weed Your Vinyl + Apply Transfer Tape
Using a weeder tool, remove the excess vinyl from around the design and also inside of the design. Then apply transfer tape on top of your design! You can use a scraper tool to help burnish the transfer tape on top of the vinyl. This (photo above) is what it will look like when you've got your vinyl on the transfer tape. I lost the dot in the "i" in the process but I'll reapply it manually once I get the vinyl on the gift!
Step Five: Apply Your Decal to the Kraft Paper
Now we will take the vinyl/transfer tape combo and place it on our gift. Get it lined up right where you want it and then press down using your fingers.
I'm just using my fingers to lightly push down the vinyl. You can use a scraper tool to help adhere the vinyl to your wrapping paper. However, you'll want to make sure you don't push too hard because you might end up getting some of your wrapping paper stuck to the transfer tape and then ripping your wrapping paper in the process. This is why I just used my fingers instead of a scraper tool. Tip: Do a small sample of vinyl on scrap wrapping paper to test your materials before adding a decal to your actual gifts.
Once you feel like the vinyl is on good enough, remove the transfer tape slowly. I like to start in one of the top corners and work my way down at at 45 degree angle. If any pieces aren't sticking to your wrapping paper, simply push the transfer tape/vinyl combination down again!
Quick side-note: the dot in the "i" was on my finger all along! From here, I just manually placed it above the "i" in Caitlin. However, if you need a little extra help, you could always place the dot on the weeder tool and have that help you place it!
And then we're done!
I love how this turned out — I know it's nothing fancy, but what I really love is that I already had all of the materials on hand. I didn't have to go out and buy any extra wrapping paper, ribbon or gift tags. I just simply used what I had! What do you have on hand at your house that you could use or repurpose?
Last tip: This would be a great project to use up scrap vinyl!
Happy holidays and happy making!
-Courteney
Related Posts
Christmas Gift Tags with the Cricut Explore Air 2
Cricut Christmas Gift Card Holder with Free SVG