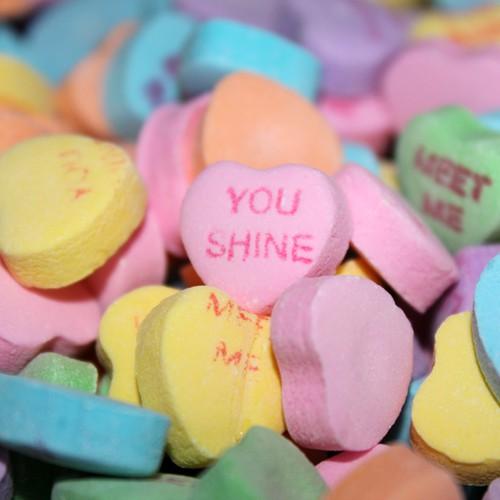 Let's Have A Valentine Candy Heart-To-Heart!
First of all let me say that all of you followers, or any of you reading this post, you ROCK! I wish their was a candy heart that said that…but instead I did find one that says you shine.
Either way, we appreciate you coming to visit our site and hope you enjoy everything we do!
Is it just me or do candy hearts just make Valentines Day official? Those little sweet hearts in such soft and fun colors just make me feel like a kid again!
 Come on, admit it! You buy them, and you look at the words and giggle.
Have you read some of the candy hearts nowadays?
Here are a few of my favorite!
HUG ME – A good squeeze from a special someone is sometimes just what the doctor ordered.
YOU SHINE – No matter what, just remember YOU are special and you SHINE!
LAUGH – Every. Single. Day.
SMILE – As much as you possible can, you have a beautiful smile!
BE HAPPY – As much negative energy as their is in the world today, block it out and work on just being you and being Happy- Find what makes you happy!
…and here is my least favorite…
Really?…Let's be honest, this makes me a little sad. I admit I do text, but don't text me – CALL me and let's chat. I miss the days where you would call your best friend or family member and talk for hours. I think this candy heart should say call me, if anything at all. The next thing we know it will say 'facebook' me, or 'poke' me, or 'like' me… I am calling it before it happens, mark my word (or candy heart)!
…anyways! Back to those delicious little sweet treats! Put them in a dish to add some fun color to your table. (I got this fun glass heart at the thrift store)
…or fill a glass tree with them to create a fun valentine tree with some winter flair! Here in WI it's the dead of winter in February so this works. By the way can I just say, today when I woke up it was -17degrees! YIKES!
Well, that's all for today! I hope you liked the post and leave a comment and share your heart thoughts!
What would YOU say on a candy heart???
Happy crafting and candy heart eating,
-Abbey-