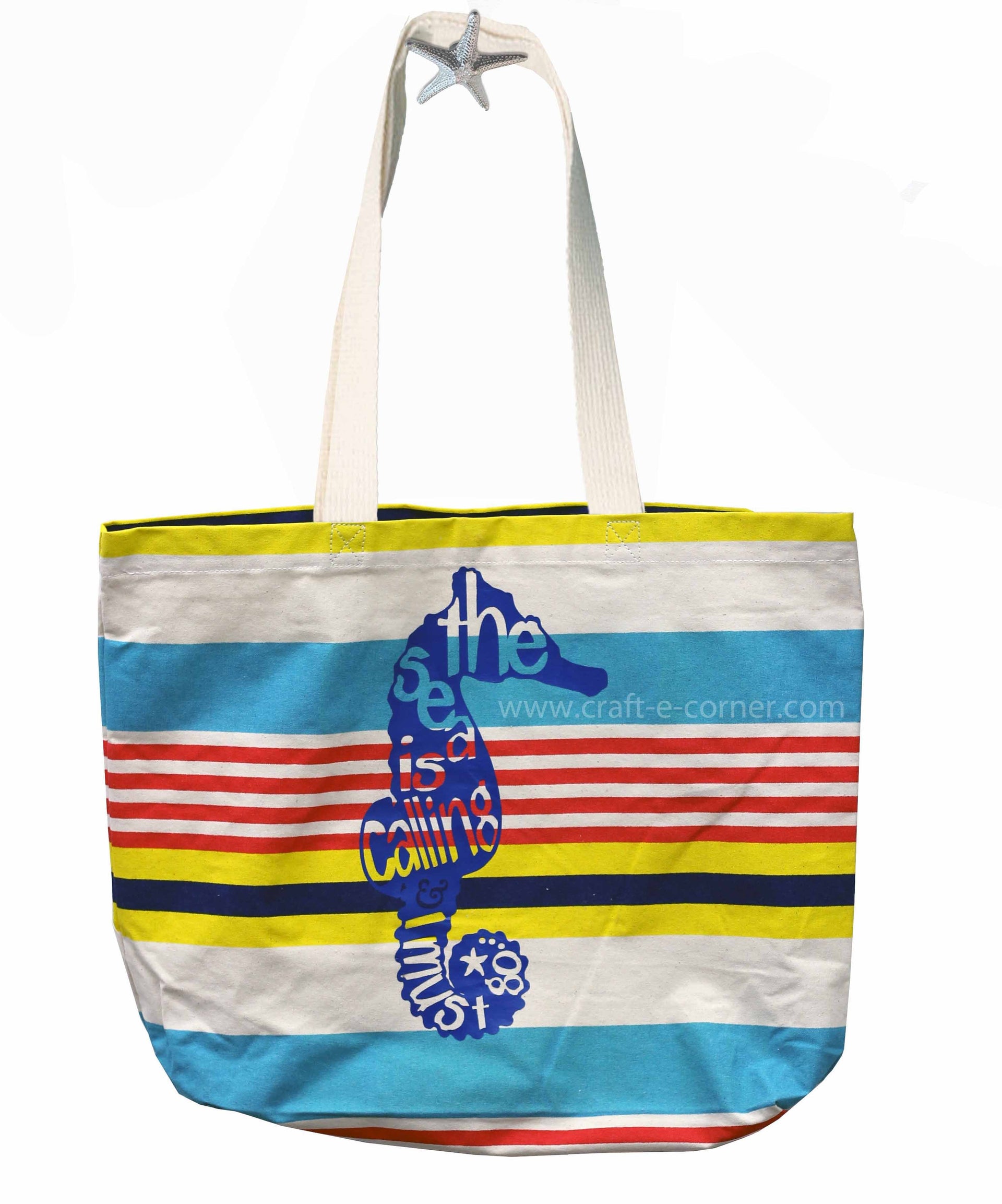 Pressing Pillows: What They Do (and How to Use Them in Heat Transfer Vinyl Projects)
I wanted to show you a project using the heat press pillows, just for fun!  We spend a lot of time at the beach and this fun striped canvas bag that was just calling to be personalized.  Here's a look at the final bag:
I used the seahorse design that is part of the 12 Exclusive Heat Transfer Vinyl Designs that I created for Craft-e-Corner.  When you open the file, you'll see this fun seahorse:
John Muir, the famous naturalist/photographer/founder of the Sierra Club, is known for saying "The mountains are calling and I must go."  I decided to change the classic saying to fit our beach bag, so this little seahorse says "The sea is calling and I must go."  To put this design on my bag, I flipped the design and then cut it out of smooth navy heat transfer vinyl.  I lined the design up on my bag and pressed it like I would normal, but noticed when I finished that the top part of the seahorse didn't stick well:
It was lifting just a bit near the seam.  There is a magnetic clasp inside of the bag that was preventing my heat press from getting enough pressure on this part of the design:
To get the pressure I needed, I used a pressing pillow:
This pressing pillow came with my heat press.  It's a squishy, heat resistant pillow that helps give you extra squish for your materials.  If you are adding HTV over a seam on a shirt, over the stitching on a hat, by a zipper or button, or have a weird magnetic clasp thing in your bag like I did, you can pop the heat press pillow under the trouble spot and press your design.  The pressing pillow will give you the extra pressure you need.
I centered the pressing pillow under the clasp, and covered everything with a thin tea towel then pressed again:
Now you can see that the heat transfer vinyl is correctly adhered to the bag:
I just love the way the bag turned out!  We are beach ready (just in time for winter ).