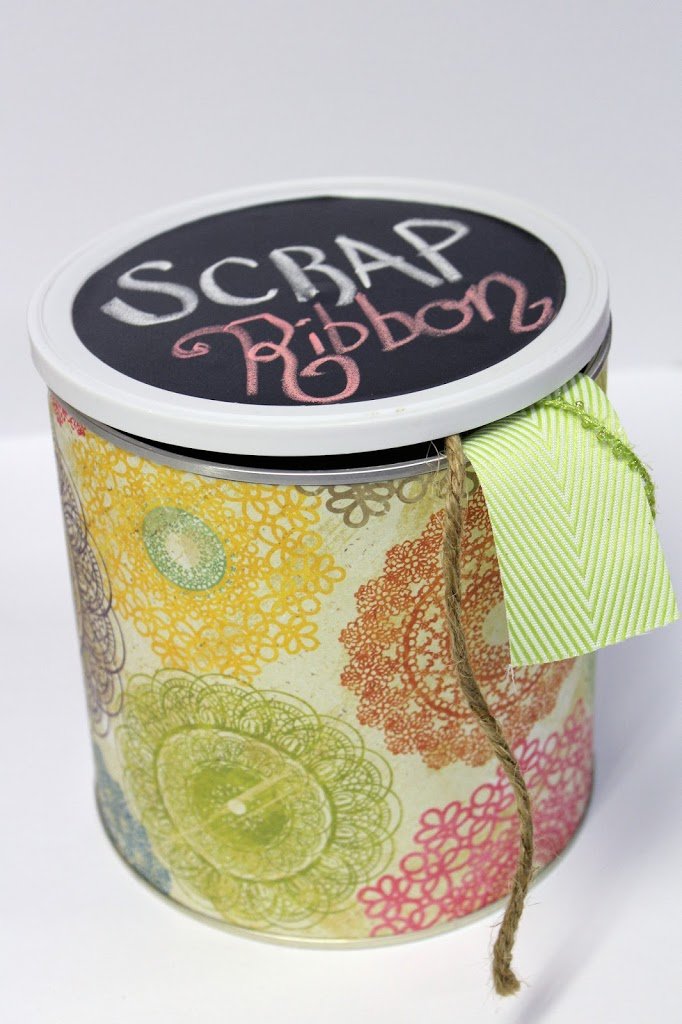 Recycled Canister Organize-her
What would you really like for Mother's Day?  Think about that for a minute.  I bet if I had to guess, one thing on the list is something money can't buy…I bet it's TIME.  Time to yourself, time to get things cleaned up or organized, time for yourself…etc.  While time isn't the gift here, with a little effort, you can afford yourself more time or give it to someone else.
The idea is to create a system of organization for your craft space.  This is the gift to create, and it's a great use for all of those used baby formula canisters, yogurt containers, coffee cans or any empty canister will work.
 First choose the scrapbook paper of choice and cut down to the size of the canister. Using an adhesive runner I simply taped the paper onto the canister.
 I wanted to create some way to label what is in the canister so I decided to cover the lid using Silhouette Chalkboard Vinyl! This way I can change what is in the canister and the label at any time.
 I measured the inside circle diameter and using my Cricut Expression 2 Machine cut the circle to size. (I changed my machine settings to 1/10″ for size so I could get as close to the exact size as possible)
 It worked out that my chalkboard circle matched up exactly with the size of my canister lid. If your measurements don't match I would make your chalkboard circle a bit smaller than the lid space.
Lastly use chalk or markers or even paint would work to write and draw whatever you wanton the lid!… That's it! Simple and a great way to store scraps and other small crafting supplies. For your smaller embellishments,you could use smaller containers (like butter or yogurt containers with lids). This would be a great way to store things in a kids play room too!
Now that you have created this cute canister, and perhaps a whole set of them, what better than to spend some time with a mom that you know to help them tackle that organization project and essentially give them the gift of time, not to mention the opportunity to spend time with her!  Happy Mother's Day!
WHAT WOULD YOU USE THIS PROJECT TO STORE?
Happy crafting, hope you liked the project!
-Abbey-