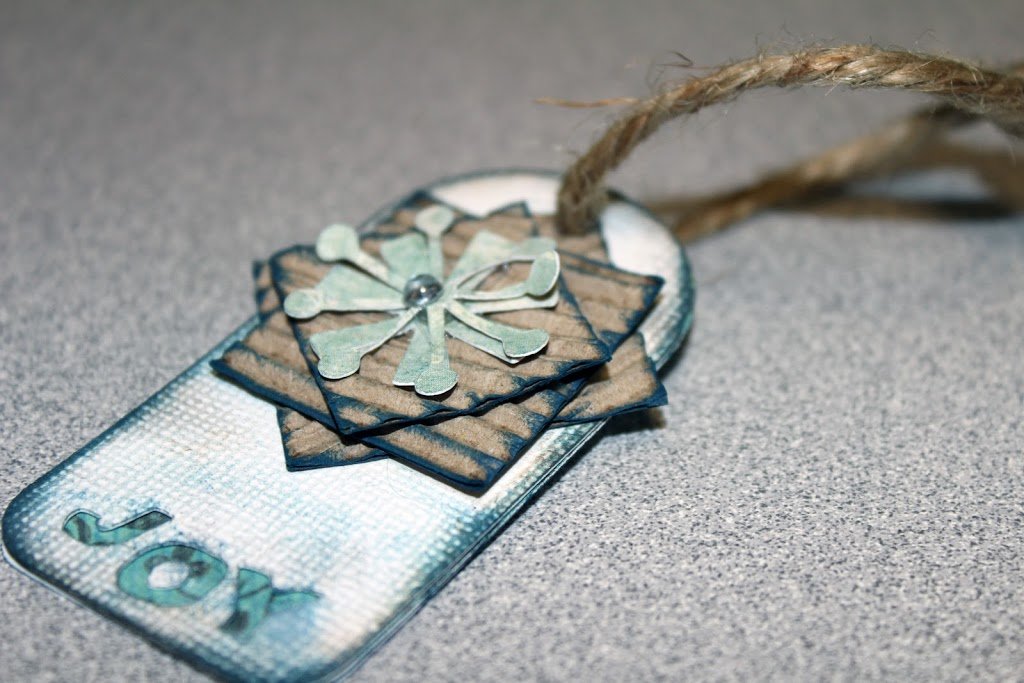 Recycled Starbucks Coffee Sleeve Christmas Tag
Last week it snowed for the first time! I was so giddy like a kid at Christmas watching the little white flakes drift to the ground. Even though the snow did not stick, and it happened to get into the 60's just a few days later, it did inspire me to craft with snowflakes!
So for this project I used 3 of my favorite things…
A Starbucks coffee sleeve (From my favorite Caramel Brule Latte Y-U-M!)

The Cosmo Cricut Jolly Days Stamp Set  (My go-to holiday stamp set this season)

Snowflakes (My favorite winter shape)
So after finishing my delicious Caramel Brule Latte from Starbucks, I kept the sleeve and cut it into a few small squares. I cut a 'Joy' tag out using the the Cricut Joys Of The Season Cartridge and inked the edges of the tag and the coffee sleeve squares using my blue Salty Sea Megan Elizabeth Ink Edgerz.
I then layered a few snowflakes that I cut out using my Cricut Christmas Cheer Cartridge and added a Megan Elizabeth Sparkle Light to the center for a little sparkle!
On the back I stamped 'Made by an elf that loves you' using the Cosmo Cricut Jolly Days Stamp Set.
This stamp set has some seriously cute holiday images and has a great combination of sentiments, snowflakes & winter figures.
The tag turned out great. Hope you loved it.
What is YOUR favorite character or shape to craft with during the holiday seasons?